Search London wiki and Pub wiki history sites
All public house, restaurants, bars etc closed for the forseeable future from 20th March 2020, but this is a history site.
Pewter Platter, 11 White Lion Street, Spitalfields
At 27 White Lion Street in 1856 & 1869, this lists as the 11 White Lion Street, in the Liberty of Norton Folgate in the 1881 census, The pub was rebuilt in its present form in 1904 and the modern rendition of the address is 9-11 Folgate Street. The pub was renamed the Water Poet in around 2000. **
Spitalfields index
A listing of historical public houses, Taverns, Inns, Beer Houses and Hotels in Spitalfields, London.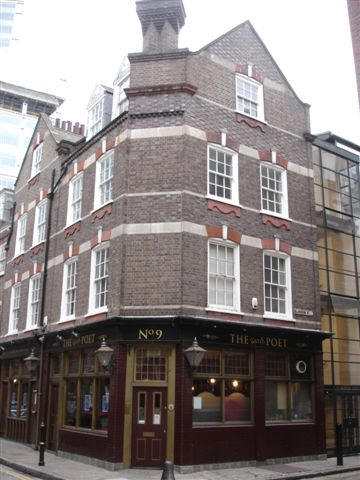 Pewter Platter, 11 White Lion Street, E1 - in November 2007
Kindly provided by Stephen Harris
Residents at this address
1792/Michael Burr / Victualler /../../Sun Fire Office records, held at Guildhall Library **

1805/Christopher Cordes, the Pewter Platter, White Lion street, Norton Folgate/../../Holdens Directory

1829/Richard Hambrook / Victualler /../../Sun Fire Office records, held at Guildhall Library **

1833-34/Joseph Sams, Pewter Platter, 27 Whitelion Street, Spitalfields/../../Pigot's Directory

1839/Jno Williams/../../../Pigots Directory **

1842/Jno. Williams/../../../Robsonís Directory **

December 1848/William Parker/Outgoing Licensee/../../Era Newspaper

December 1848/Erasmus Lawrence/Incoming Licensee/../../Era Newspaper

1851/Erasmus Lawrence/../../../Kellys Directory **

May 1853/Joseph Saxl/Outgoing Licensee/../../Era

May 1853/Henry Thomas Barratt/Incoming Licensee/../../Era

September 1853/Henry T Barratt/ Outgoing Licensee /../../The Era

September 1853/William Slater/ Incoming Licensee /../../The Era

January 1854/William Slater/Outgoing Licensee/../../Era

January 1854/Thomas Streacy/Incoming Licensee/../../Era

1855/Thomas Streacy/../../../Post Office Directory **

1856/T Streacy/../../../Post Office Directory

November 1859/Thomas Stacey, deceased/Outgoing Licensee/../../Era

November 1859/Francis Steele/Incoming Licensee/../../Era

1861/Francis Steele/Licensed Victualler/33/St James, Middlesex/Census
1861/Jane P Steele/Wife/30/Shaftesbury, Dorset/Census
1861/Jane M M Steele/Daughter/8/Hammersmith, Middlesex/Census
1861/Dulce B S Steele/Daughter/7/Hammersmith, Middlesex/Census
1861/Francis E D Steele/Son/5/Hammersmith, Middlesex/Census
1861/Georgianna E Steele/Daughter/2/Bethnal Green, Middlesex/Census
1861/Jemima Long/House Servant/22/Bishopsgte, Middlesex/Census
1861/Thomas Blows/Pot Man/21/Ablington, Cambridgeshire/Census

July 1863/Jane Patience Steele/Outgoing Licensee/../../Era

July 1863/John Halls/Incoming Licensee/../../Era

March 1864/John Halls/Outgoing Licensee/../../East London Observer

March 1864/Effingham Lucas/Incoming Licensee/../../East London Observer

September 1864/Effingham Lucas/Outgoing Licensee/../../Era

September 1864/John Fowler/Incoming Licensee/../../Era

1869/J Fowler/../../../Post Office Directory

1876/J Fowler/../../../Post Office Directory **

1881/John Fowler/Licensed Victualler, Widow/60/Northampton/Census
1881/Mary Muddleton/Barmaid/30/London, Middlesex/Census
1881/Eliza Reins/General Servant/20/London, Middlesex/Census
1881/James Fox/Servant/18/London, Middlesex/Census

1884/William Twyman/../../../Post Office Directory

1885/William Twyman/../../../Post Office Directory **

1891/William Moore/../../../Post Office Directory

1895/John Hearne/../../../Post Office Directory **

1899/Harry King/../../../Post Office Directory **

1901/Harry King/../../../Post Office Directory **

1914/Thomas Brakes/../../../Post Office Directory



** Provided By Stephen Harris