The Ship, 24 Wheeler Street, Spitalfields E1
Spitalfields index
Converted to residential use. * This is in fact named Wheler street. It is no longer a pub by 1912.
A listing of historical public houses, Taverns, Inns, Beer Houses and Hotels in Spitalfields, London.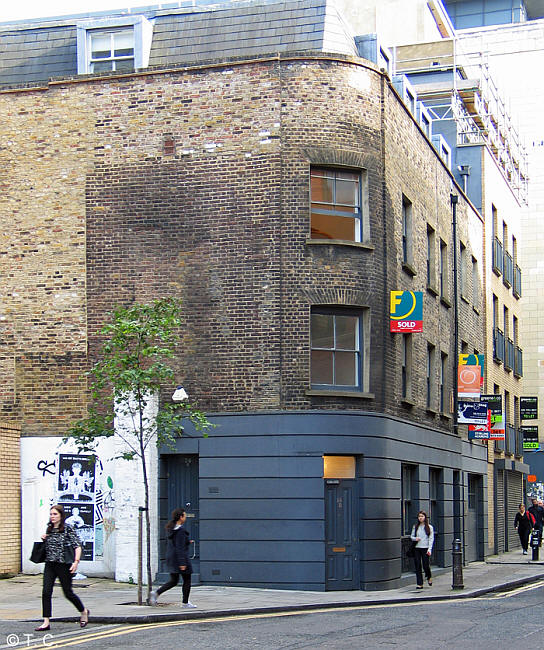 Ship, 24 Wheeler Street, E1 - in May 2014
Kindly provided by Tris
Residents at this address.
1805/Elizabeth Stapleton, the Ship, Wheeler street, Spitalfields/../../Holdens Directory

1807/Ann Lawrence / Victualler /../../Sun Fire Office records, held at Guildhall Library **

1833-34/Gabriel Dobson/../../../Pigot's Directory **

1835/Gabriel Dobson/../../../Robson's Directory **

1839/John Deffer/../../../Pigot's Directory **

1842/Jno. Deffee/../../../Robson's Directory **

1851/John Deffee/../../../Kelly's Directory **

1851/John Deffee/Publican/53/Spitalfields, Middlesex/Census
1851/Sarah R Deffee/Wife/58/Spitalfields, Middlesex/Census
1851/Mary S Deffee/Daughter/30/Bethnal Green/Census
1851/John Deffee/Son/17/Bethnal Green/Census
1851/Mona Smith/Servant/16/Bethnal Green/Census

1856/John Deffee/../../../Post Office Directory

March 1859/John Delle/Outgoing Licensee/../../Era

March 1859/Jethro Viel/Incoming Licensee/../../Era

1861/Jethro Viel/Licensed Victualler/68/Bethnal Green/Census
1861/Ann Viel/Wife/69/Bethnal Green/Census

August 1862/Jethro Viel/Outgoing Licensee/../../Era

August 1862/John Mellowship/Incoming Licensee/../../Era

January 1864/Joseph Mellowship/Outgoing Licensee/../../East London Observer +

January 1864/Edwin Herbert/Incoming Licensee/../../East London Observer +

1865/Edwin Herbert / Licensed Victualler /../../London Gazette, 24 January 1865 **

11th March 1865/Edwin Herbert/Outgoing Licensee/../../East London Observer +

11th March 1865/Mansfield Parkyns, his assignee/Incoming Licensee/../../East London Observer +

11th March 1866/Edwin Herbert/Outgoing Licensee/../../East London Observer +

11th March 1866/Mansfield Perkyns, his assignee/Incoming Licensee/../../East London Observer +

August 1866/Mansfield Parkyns/ Outgoing Licensee /../../Morning Advertiser

August 1866/James Bird/ Incoming Licensee /../../Morning Advertiser

March 1867/James Bird/Outgoing Licensee/../../Era

March 1867/Henry Maris/Incoming Licensee/../../Era

1869/Henry Maris/../../../Post Office Directory

1874/H Maris/../../../H D Miles Directory of Licensed Victuallers **

30th September 1876/Henry Maris/Outgoing Licensee/../../East London Observer +

30th September 1876/Ellijah Rudkin/Incoming Licensee/../../East London Observer +

1881/Thomas Court/Licensed Victualler/32/Koughton, Devon/Census
1881/Elizabeth Court/Wife/33/Dover, Kent/Census
1881/Fredk H Court/Son/8/London, Middlesex/Census
1881/Ernest H Court/Son/7/London, Middlesex/Census
1881/Herbert R Court/Son/4/London, Middlesex/Census
1881/Henery Mussett/Potman/22/London, Middlesex/Census
1881/Elizabeth Brandley/General Domestic Servant/17/London, Middlesex/Census
1881/George Smith/Visitor/33/London, Middlesex/Census
1881/Mary A Smith/Visitor/33/Wicklow, Ireland/Census

1884/William Miles/../../../Post Office Directory

1891/Richard Schnakenberg/../../../Post Office Directory

1891/William Rudrun/Licensed Victualler/50/Norton, Norfolk/Census
1891/Jane Rudrun/Wife/45/Maldon, Essex/Census
1891/Frederick Rudrun/Son, Assistant/20/Maldon, Essex/Census
1891/William Thomas Harret/Son in Law, Assistant/28/London/Census
1891/Alice Mary Harret/Daughter/26/Maldon, Essex/Census
1891/William Henry Harret/Grandson/1/Colchester, Essex/Census

1895/George Neale/../../../Post Office Directory

1899/George Edward Neale/../../../Post Office Directory

1909/Mrs Louisa Eleanor Motum/../../../Post Office Directory

1910/James William Allen/../../../Post Office Directory

London Evening Standard 22 June 1910
Licensing Act 1904 Notice of principal meeting to discuss by the Compensation authority on 12th July 1910
Tower
Ship, Wheeler street, Christchurch, Full, James William Allen


1911/James William Allen/Licensed Victualler, Widow/50/Plaistow, Essex/Census
1911/Ella Allen/Daughter/25/Brixton, London/Census
1911/Herbert Edwin Allen/Son, Barman/20/Hackney, London/Census
1911/Ruby Pearl Allen/Daughter/15/Peckham, London/Census



+ Provided by Friends of Tower Hamlets Cemetery Park

* Provided By Tris

** Provided by Stephen Harris