Pub history and pub wiki
The Ship, 24 Wheler Street, Spitalfields E1
Spitalfields index
Converted to residential use. * This is in fact named Wheler street. It is no longer a pub by 1912.
A listing of historical public houses, Taverns, Inns, Beer Houses and Hotels in Spitalfields, London.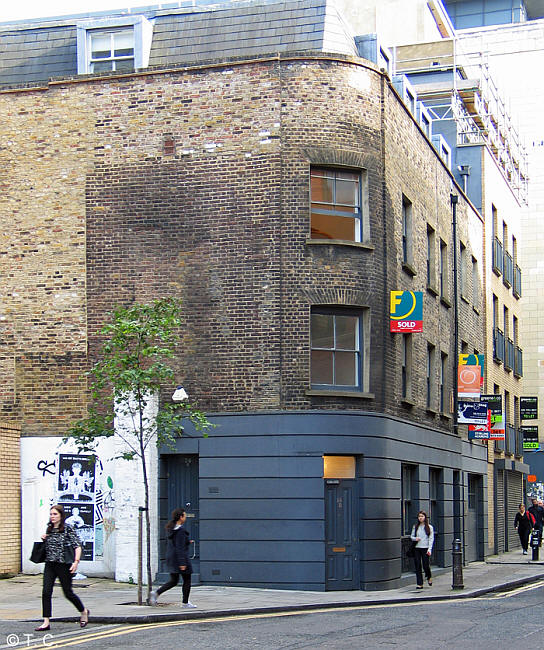 Ship, 24 Wheeler Street, E1 - in May 2014
Kindly provided by Tris
The following entries are in this format:
Year/Publican or other Resident/Relationship to Head and or Occupation/Age/Where Born/Source.
1807/Ann Lawrence / Victualler /../../Sun Fire Office records, held at Guildhall Library **

1835/Gabriel Dobson/../../../Robsonís Directory **

1839/John Deffer/../../../Pigotís Directory **

1842/Jno. Deffee/../../../Robsonís Directory **

1851/John Deffee/../../../Kellyís Directory **

1851/John Deffee/Publican/53/Spitalfields, Middlesex/Census
1851/Sarah R Deffee/Wife/58/Spitalfields, Middlesex/Census
1851/Mary S Deffee/Daughter/30/Bethnal Green/Census
1851/John Deffee/Son/17/Bethnal Green/Census
1851/Mona Smith/Servant/16/Bethnal Green/Census

1856/John Deffee/../../../Post Office Directory

March 1859/John Delle/Outgoing Licensee/../../Era

March 1859/Jethro Viel/Incoming Licensee/../../Era

1861/Jethro Viel/Licensed Victualler/68/Bethnal Green/Census
1861/Ann Viel/Wife/69/Bethnal Green/Census

August 1862/Jethro Viel/Outgoing Licensee/../../Era

August 1862/John Mellowship/Incoming Licensee/../../Era

January 1864/Joseph Mellowship/Outgoing Licensee/../../East London Observer +

January 1864/Edwin Herbert/Incoming Licensee/../../East London Observer +

1865/Edwin Herbert / Licensed Victualler /../../London Gazette, 24 January 1865 **

11th March 1865/Edwin Herbert/Outgoing Licensee/../../East London Observer +

11th March 1865/Mansfield Parkyns, his assignee/Incoming Licensee/../../East London Observer +

11th March 1866/Edwin Herbert/Outgoing Licensee/../../East London Observer +

11th March 1866/Mansfield Perkyns, his assignee/Incoming Licensee/../../East London Observer +

August 1866/Mansfield Parkyns/ Outgoing Licensee /../../Morning Advertiser

August 1866/James Bird/ Incoming Licensee /../../Morning Advertiser

March 1867/James Bird/Outgoing Licensee/../../Era

March 1867/Henry Maris/Incoming Licensee/../../Era

1869/Henry Maris/../../../Post Office Directory

1874/H Maris/../../../H D Miles Directory of Licensed Victuallers **

30th September 1876/Henry Maris/Outgoing Licensee/../../East London Observer +

30th September 1876/Ellijah Rudkin/Incoming Licensee/../../East London Observer +

1881/Thomas Court/Licensed Victualler/32/Koughton, Devon/Census
1881/Elizabeth Court/Wife/33/Dover, Kent/Census
1881/Fredk H Court/Son/8/London, Middlesex/Census
1881/Ernest H Court/Son/7/London, Middlesex/Census
1881/Herbert R Court/Son/4/London, Middlesex/Census
1881/Henery Mussett/Potman/22/London, Middlesex/Census
1881/Elizabeth Brandley/General Domestic Servant/17/London, Middlesex/Census
1881/George Smith/Visitor/33/London, Middlesex/Census
1881/Mary A Smith/Visitor/33/Wicklow, Ireland/Census

1884/William Miles/../../../Post Office Directory

1891/Richard Schnakenberg/../../../Post Office Directory

1891/William Rudrun/Licensed Victualler/50/Norton, Norfolk/Census
1891/Jane Rudrun/Wife/45/Maldon, Essex/Census
1891/Frederick Rudrun/Son, Assistant/20/Maldon, Essex/Census
1891/William Thomas Harret/Son in Law, Assistant/28/London/Census
1891/Alice Mary Harret/Daughter/26/Maldon, Essex/Census
1891/William Henry Harret/Grandson/1/Colchester, Essex/Census

1895/George Neale/../../../Post Office Directory

1899/George Edward Neale/../../../Post Office Directory

1909/Mrs Louisa Eleanor Motum/../../../Post Office Directory

1910/James William Allen/../../../Post Office Directory

1911/James William Allen/Licensed Victualler, Widow/50/Plaistow, Essex/Census
1911/Ella Allen/Daughter/25/Brixton, London/Census
1911/Herbert Edwin Allen/Son, Barman/20/Hackney, London/Census
1911/Ruby Pearl Allen/Daughter/15/Peckham, London/Census



+ Provided by Friends of Tower Hamlets Cemetery Park

* Provided By Tris

** Provided by Stephen Harris

Search for a pub, an address or person
And Last updated on: Wednesday, 03-Jul-2019 01:17:08 BST