Search London wiki and Pub wiki history sites
All public house, restaurants, bars etc closed for the forseeable future from 20th March 2020, but this is a history site.
Three Cranes, 39 Brick Lane, Spitalfields
The Three Cranes is listed at 194 Brick lane in the 1839 directory and the 1856 and 1869 directories. At 39 Brick Lane in 1891, at 89 Brick lane in 1899.
Spitalfields index
A listing of historical public houses, Taverns, Inns, Beer Houses and Hotels in Spitalfield - now in London. The Spitalfield, East London listing uses information from census, Trade Directories and History to add licensees, bar staff, Lodgers and Visitors.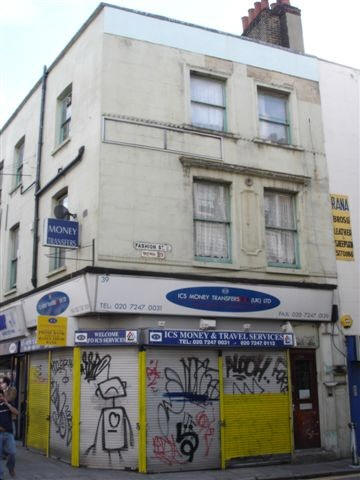 Three Cranes, 39 Brick Lane - in September 2006
Kindly provided by Stephen Harris
Residents at this address
1792/Henry Young / Victualler /../../Sun Fire Office records, held at Guildhall Library **

1835/Abraham Flint/../../../Robsonís Directory **

1839/Henry Dosschee/../../../Pigotís Directory ****

1841/Gerdt. Henry Dosscher/../../../Post Office Directory **

1842/John Linkson/../../../Robsonís Directory **

1846/Thomas Iles/../../../P.O. Directory **

1848/Thomas Iles/../../../Post Office Directory ****

1851/Thomas Iles/../../../Kellyís Directory **

1851/Thomas Iles/Licensed Victualler/45/London/Census ****
1851/Ann Iles/Wife/43/Bethnal Green/Census
1851/William Iles/Son/16/Spitalfields/Census
1851/Emma Iles/Daughter/12/Spitalfields/Census
1851/Elizabeth Iles/Daughter/10/Spitalfields/Census
1851/Sarah Iles/Daughter/8/Spitalfields/Census
1851/Eliza Iles/Daughter/6/Spitalfields/Census
1851/Susanna Iles/Daughter/4/Spitalfields/Census
1851/James Dawkins/Pot Man/20/Stratford/Census
1851/Jane Roney/Servant/21/Spitalfields/Census

1852/Thomas Iles/../../../Watkins Directory **

March 1853/Thomas Iles/ Outgoing Licensee /../../Morning Advertiser ****

March 1853/Samuel Craven Holdsworth/ Incoming Licensee /../../Morning Advertiser ****

1855/Samuel Holdsworth/../../../P.O. Directory **

1856/Samuel Holdsworth/../../../Post Office Directory ****

November 1855/Samuel Craven Holdsworth/ Outgoing Licensee /../../The Era ****

November 1855/William Leach/ Incoming Licensee /../../The Era ****

1861/William Leach/Licensed Victualler/31/Maidstone, Kent/Census ****
1861/Elizabeth Leach/Wife/27/City of London/Census
1861/William G Leach/Son/4/Spitalfields, Middlesex/Census
1861/Fredk J Leach/Son/3/Spitalfields, Middlesex/Census
1861/Henry T Leach/Son/1/Spitalfields, Middlesex/Census
1861/Mary J Leach/Mother/53/City of London/Census
1861/Fredk Leach/Brother, Watchmaker/17/St Georges east, Middlesex/Census
1861/Charlotte Roland/Servant/41/Westminster, Middlesex/Census
1861/Henry Calman/Servant/26/St Georges east, Middlesex/Census

July 1864/William Leech/Outgoing Licensee/../../Era ****

July 1864/Elizabeth Leach/Incoming Licensee/../../Era ****

1865/Mrs Leech / Public House Keeper /../../Proceedings of the Old Bailey **
1865/Elizabeth Smithers / Barmaid /../../Proceedings of the Old Bailey

1866/Mrs Elizabeth Leech/../../../P.O. Directory **

7th March 1868/Elizabeth Leach/Outgoing Licensee/../../East London Observer +

7th March 1868/John Thomas Christoffer/Incoming Licensee/../../East London Observer +

16th May 1868/John Thomas Christoffer/Outgoing Licensee/../../East London Observer +

16th May 1868/William Earles/Incoming Licensee/../../East London Observer +

1869/William Earles/../../../P.O. Directory **

1870/William Earles/../../../P.O. Directory **

July 1872/William Earles/Outgoing Licensee/../../Era Newspaper ****

July 1872/Henry Hicks/Incoming Licensee/../../Era Newspaper ****

1873/Henry Hicks/../../../P.O. Directory **

1874/H Hicks/../../../H D Miles London & Suburban Licensed Victuallers Directory **

1875/Henry Hicks/../../../P.O. Directory **

January 1877/Robert William Neale/Outgoing Licensee/../../East London Observer ****

January 1877/John Cann/Incoming Licensee/../../East London Observer ****

1881/John Cann/Licensed Victualler/39/Devon/Census ****
1881/Mary Ann Cann/Wife/34/Somerset/Census
1881/Alice Mary Cann/Daughter/11/St Lukes, Middlesex/Census
1881/Emily Cann/Daughter/9/Limehouse, Middlesex/Census
1881/Minnie Cann/Daughter/7/St Lukes, Middlesex/Census
1881/Florrie Cann/Daughter/3/Spitalfields, Middlesex/Census
1881/Elizabeth Chipley/Sister In Law, Barmaid/28/Somerset/Census
1881/William C Chipley/Nephew, Barman/14/Somerset/Census
1881/John Burge/Nephew, Barman/15/Somerset/Census
1881/Emma Rumnons/Domestic Servant/40/Suffolk/Census

1882/John Cann/../../../Post Office Directory ****

1884/John Cann/../../../Post Office Directory ****

1885/John Cann/../../../P.O. Directory **

1891/John Cann/../../../Post Office Directory ****

1891/John Cann/Licensed Victualler, Widow/49/North Devon/Census ****
1891/Alice Cann/Daughter, Barmaid/21/St Lukes, London/Census
1891/Emily Cann/Daughter, Milliner/19/Limehouse, London/Census
1891/Minie Cann/Daughter, Dressmaker/17/St Lukes, London/Census
1891/Harry Cann/Daughter/13/St Marys, London/Census
1891/Jessie Cann/Daughter/8/St Pancras, London/Census
1891/William Chipling/Nephew, Barman/24/Bridgewater/Census
1891/Elizabeth Chipling/Sister in Law, Housekeeper/39/St Lawrence/Census
1891/Henry R. Swan/Barman/27/Camberwell, London/Census
1891/James A. Hayward/Potman/23/Norfolk/Census

1895/John Cann/../../../Post Office Directory ****

1899/Robt Reueben Moss/../../../Post Office Directory ****

1912/Louis Calchman/../../../Post Office Directory ****

1914/Louis Calchman/../../../Post Office Directory ****

1915/Louis Calchman/../../../Post Office Directory ****

1921/Henry Sochart/../../../Post Office Directory ****



+ Provided by Friends of Tower Hamlets Cemetery Park

** Provided By Stephen Harris

**** Provided By kevan