Ship & Turtle Tavern, 129 & 130 Leadenhall street, St Andrew Undershaft EC3
This pub was established by 1377 and was rebuilt in 1887 and again in 1969. In its later years it was called Vino Veritas, but it closed and was demolished in 2008. ** Originally, prior to 1735, the tavern, then known as the Ship had no frontage to Leadenhall Street, but was entered solely from the court at its side, known as Shafts Court. *+
St Andrew Undershaft pub history index
A listing of historical London public houses, Taverns, Inns, Beer Houses and Hotels in St Andrew Undershaft parish, City of London. The St Andrew Undershaft, City of London Public House Trade Directory uses information from census, Trade Directories and History to add licensees, bar staff, Lodgers and Visitors.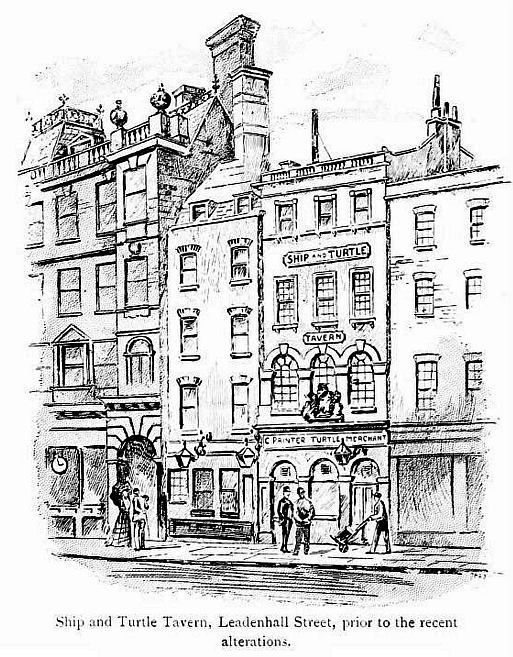 Ship & Turtle, Leadenhall Street, prior to the recent alterations
Kindly provided by John Carnaby
Ship & Turtle, Leadenhall Market - posted in 1906
Kindly provided by Colleen
The following entries are in this format:
Year/Publican or other Resident/Relationship to Head and or Occupation/Age/Where Born/Source.
In 1735, a Mrs Abigail Redbow was the landlady and presided at the bar until 1752. She was succeeded by Mrs Margaret Beaumont, who owned the house until 1787. Then widow number three, a Mrs Jones was there until her death in 1810 and afterwards the premises were passed to her daughter, Mrs Edward Lloyd Boake, who later disposed of it in 1835 to a Mrs Charlotte Brown, yet another widow. (a hundred years of widows). *+

In the 1756 - 1769 list, the Ship, Leadenhall Street is listed as a Lodge address with a start date of July 13th 1752, and seniority of 153

In the 1769 list, the Ship, Leadenhall Street is listed as the address for the Caledonian Lodge with a start date of March 9th 1761, and seniority of 260

In the 1770-1780 list, the Ship, Leadenhall Street is listed as a Lodge address with a start date of November 27th 1767, and seniority of 344

In 1775, the Ship Tavern, Leadenhall Street is listed as the address for the Masonic Helvetic Union Lodge

In 1785, the Ship Tavern, Leadenhall Street is listed as the address for the Masonic Lodge of Good Intent

28 March 1803 / Insured: George Ward at the Ship Tavern Leadenhall Street, vintner and victualler/../Records held at the LMA

1811/Henry Adams, Ship tavern, Leadenhall street/../../Holdens Directory

1811/T Mountney, Ship tavern, Leadenhall street/../../Holdens Directory

1827/Henry Adams, Ship, 29 Leadenhall street/../../Pigot's Directory

1832/James Brown, Ship, 129 Leadenhall street/../../Robsons Directory

1836/Charlotte Brown, Ship , Leadenhall street/../../Pigots Directory

The last of the widows sold the house to George Painter, whose name is justly revered by all those who have a penchant for that glorious compound, turtle soup. The Painter family around 1847, or a little before, added the name "Turtle" to its name. *+

George Painter, Tavern Keeper at the Ship & Turtle, baptised his children in Bethnal Green and Camberwell until Dec 1837 and in all registers was recorded as a cook. In May 1840 he baptised John Henry at St Andrew Undershaft and gave his occupation as Licensed Victualler of the Ship Tavern, Leadenhall.
It can be assumed that he became licensee of the Ship & Turtle sometime between 1838 & early 1840. His family held the licence to this tavern for almost 50 years! *

24 February 1840 / Insured: George Painter, the Ship and Turtle Tavern Leadenhall Street, victualler/../Records held at the LMA

1841/George Painter/../../../Post Office Directory *++

1841/G Painter/Tavern Keeper/30/../Census ***
1841/Mary Painter/../30/Middlesex/Census
1841/Mary Painter/../9/../Census
1841/George Painter/../5/../Census
1841/Annie? Painter/../7/../Census
1841/Chas Painter/../3/../Census
1841/John Painter/../1/Middlesex/Census
1841/Ellen Palmer/Female Servant/20/../Census
1841/Eliz Smith/Female Servant/24/../Census
1841/Samuel Green/Male Servant/25/../Census
1841/Thos Palmer/Male Servant/15/../Census
1841/Mary Jones/Independant/60/Middlesex/Census

1842/George Painter/../../../Robsons Directory

1843/George Painter/../../../Kellys Directory

1848/George Painter/../../../Post Office Directory

1851/George Painter/../../../Kellys Directory

1851/Mary Painter/Daughter, Tavern Keeper/19/Shoreditch, Middlesex/Census
1851/Charles Jas Painter/Son/13/Peckham, Surrey/Census
1851/John H Painter/Son/10/London, Middlesex/Census
1851/Mary Sherman/Nurse/44/Greenwich, Kent/Census
1851/Henry Howell/Man Cook/20/Kennington, Surrey/Census
1851/George Sherman/Visitor/15/London, Middlesex/Census
1851/John Manman/Porter/23/Swanley, Kent/Census
1851/Ann Winter/Kitchhenmaid/20/Southwark, Surrey/Census
1851/Georgiana Wildish/Housemaid/23/Berkshire/Census
1851/Sarah Williams/Housemaid/17/Bermondsey, Surrey/Census
1851/Jonas Smith/Waiter/21/Wilmington, Kent/Census
1851/Thomas Thornton/Stableman/23/East Clayton, Buckinghamshire/Census

1852/Geo. Painter/../../../Watkin's Directory **

1856/George Painter/../../../Post Office Directory

1861/Adeline Painter/Daughter/27/City of London/Census
1861/Charles James Painter/Son, Artist/23/Peckham, Surrey/Census
1861/Adolphus Edwd Painter/Son, Artist/18/City of London/Census
1861/Jane Light/Sister, Formerly Licensed Victualler/60/Peckham, Surrey/Census
1861/Emma Light/Niece, Florist/18/City of London/Census
1861/Georges Pascal/Visitor/16/Paris, France/Census
1861/Eliza Augar/Barmaid/21/Cookham, Berkshire/Census
1861/Charlotte Talkington/Kitchenmaid/19/Southwark, Surrey/Census
1861/William Henley/Waiter/21/Island of Jersey/Census
1861/William Langley/Porter/24/Kentucky, America/Census
1861/Frances Elizth Stradwick/Under Nursemaid/18/City of London/Census
1861/Sophia Rossen/Upper Nursemaid/20/City of London/Census
1861/Alfred Coleman/Coachman/23/City of London/Census
1861/Thomas Selby/Errand Boy/13/City of London/Census

1869/George Painter/../../../Post Office Directory

May 1870/G Painter/Outgoing Licensee/../../London City Press

May 1870/C J Painter and A E Painter/Incoming Licensee/../../London City Press

1871/Charles Painter/Tavern Keeper/33/Peckham Rye, Surrey/Census
1871/Adolphus Painter/Turtle Merchant/28/London, Middlesex/Census
1871/Herbert Evans/Clerk/22/Southwark, Surrey/Census
1871/George Hanner/Waiter/23/Bethnal Green, Middlesex/Census
1871/George Huggett/Waiter/18/Sevenoaks, Kent/Census
1871/William Dachtler/Page/17/Grange Road, Surrey/Census
1871/Charles Hammond/Scullery Man/15/Hampstead, Middlesex/Census
1871/William Hughes/Porter/21/Cork, Ireland/Census
1871/Thomas Webber/Kitchen Porter/39/Middlesex/Census
1871/William Bryan/House Keeper/23/Sheerness, Kent/Census
1871/Emma Cungtull/Servant, Widow/32/Blackfriars, Surrey/Census
1871/Harriet May/Barmaid/23/Colchester, essex/Census
1871/Ann Lemons/Housemaid/22/Peterboro, Northampton/Census
1871/Charlotte Shout/Housemaid/21/Warwickshire/Census
1871/Sarah Stephens/Scullery Maid/27/Woodhouse, Huntingdonshire/Census
1871/Emma Leean/Kitchen Maid/23/London, Middlesex/Census

1881/Adolphus Painter/Tavern Keeper/38/London, Middlesex/Census
1881/Emma Craighill/Housekeeper, Widow/62/London, Middlesex/Census
1881/Annie Carter/Barmaid/36/Broad Hembury, Devon/Census
1881/Annie Skippen/Housemaid/23/London, Middlesex/Census
1881/Emily G Pope/Housemaid/19/Camberwell, Surrey/Census
1881/Charles A Carter/Porter (Inn)/20/Blackheath, Kent/Census
1881/Ellis E Coe/Porter (Inn)/21/Topham, Norfol/Census
1881/Joseph Vergin/Sculleryman/25/London, Middlesex/Census
1881/Fredk W Bailey/Waiter (Inn)/19/London, Middlesex/Census
1881/George Bailey/Waiter (Inn)/21/London, Middlesex/Census
1881/George W Nevill/Sculleryman/23/London, Middlesex/Census
1881/James Nye/Waiter (Inn)/17/London, Middlesex/Census
1881/Thomas W Day/Waiter (Inn)/22/London, Middlesex/Census

1882/Charles & Adolphus Painter/../../../Post Office Directory

1884/C & A Painter/../../../Business Directory of London **

1885/Charles James Painter & Adolphus Edward Painter/../../../City of London Sessions, records held at the Corporation of London Records Office **

1891/Annie Latimer/Manageress of Tavern, Coffee, Widow/45/Oxford/Census
1891/Alice Latimer/Daughter/18/Oxford/Census
1891/Frederic D Latimer/Son/16/Oxford/Census
1891/Violet E Latimer/Daughter/14/Oxford/Census
1891/Alice R Alexander/Niece, Assistant in Tavern/18/Oxford/Census
1891/Frances J Messer/Assistant in Tavern/26/Newport. Monmouth/Census
1891/Flortence J Weedon/Assistant in Tavern/21/Oxford/Census
1891/Louisa A Jayes/Housemaid/19/Reigate, Surrey/Census
1891/Ellen Jayes/Housemaid/18/Reigate, Surrey/Census
1891/Henry Pilbeam/House Porter/21/Ashford, Kent/Census
1891/Walter Jerrert/Waiter/19/Old Ford, London/Census

1895/Charles James Painter/../../../Post Office Directory *++

1915/Pimm's Ltd/../../../Post Office Directory *++



* Provided By Roger Bent

*+ Provided By John Carnaby

*++ Provided By Ewan

** Provided By Stephen Harris

*** Provided By Jenny

And Last updated on: Sunday, 22-Nov-2020 11:56:41 GMT