Queens Hotel, St Martins le Grand, St Anne & St Agnes EC1
St Anne & St Agnes pub history index
This hotel replaced the former Bull & Mouth Inn in 1831. The name Bull & Mouth remained in common use until the hotel's demolition in 1888 ** Opposite to the Post Office, on the left-hand side of St. Martin's-le-Grand, stood for many years the Bull and Mouth Hotel, the most central and important coaching-house in the days before railways. There have been many controversies on the name of this house — Bull and Mouth — without, I believe, any quite satisfactory settlement of the question being arrived at.

When the last of the mail coaches retired from business, and was taken off the road, the old Bull and Mouth was remodelled, almost rebuilt, and re- christened the Queen's Hotel. It was then carried on for many years by Mr. Quartermaine East.
As other and more commodious hotels arose, such as the Castle and Falcon on the opposite side of the way, and then the Manchester, a little further north in Aldersgate Street — the trade of the Queen's fell off, and when the growing exigencies of the ever-expanding Post Office required more space, not only the Queen's Hotel, but an adjoining church was swallowed up, and on their site has been erected another gigantic pile of buildings to accommodate the never-ending demands of our postal service.
A listing of historical London public houses, Taverns, Inns, Beer Houses and Hotels in St Anne & St Agnes, City of London. The St Anne & St Agnes, City of London listing uses information from census, Trade Directories and History to add licensees, bar staff, Lodgers and Visitors.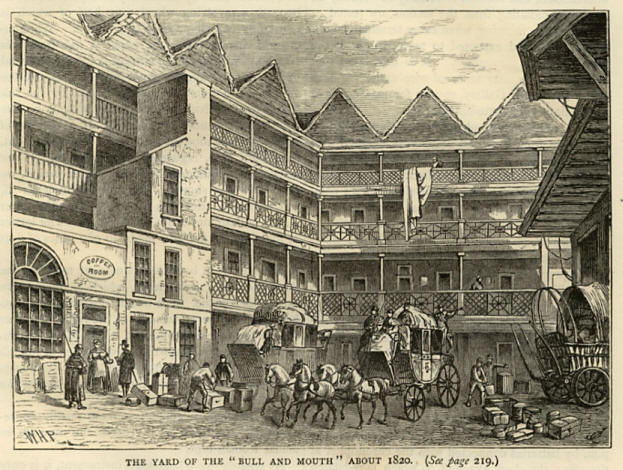 Bull & Mouth, St Martins - circa 1820
Kindly provided by Colleen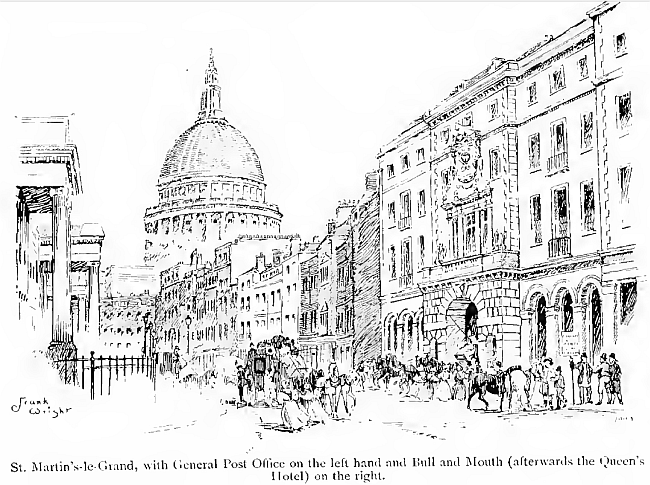 St. Martin's-le-Grand , with General Post Office on the left and Bull and Mouth (afterwards the Queens Hotel) on the right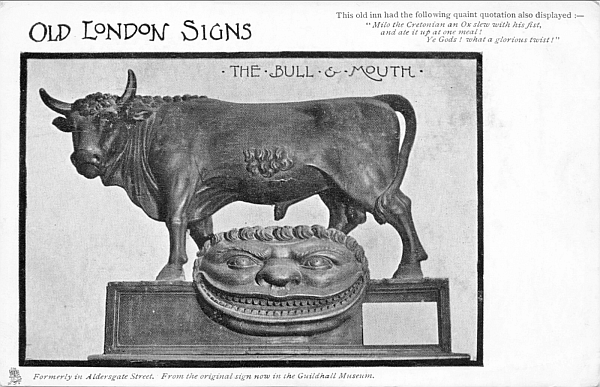 The Bull & Mouth, formerly in Aldersgate street. From the original sign now in the Guildhall Museum - postcard circa 1920
Kindly provided by Vincent O'Loughlin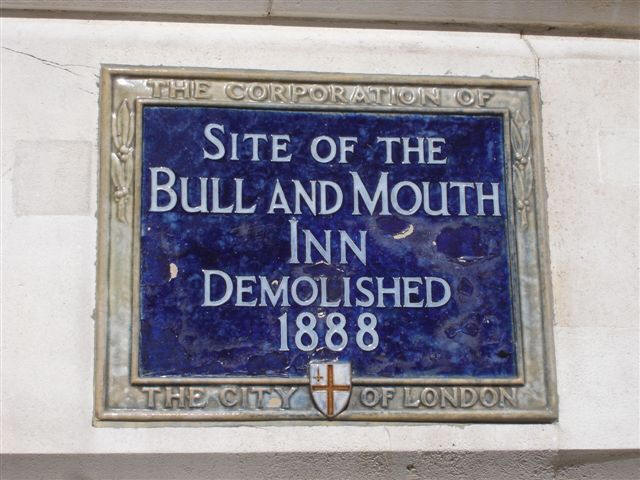 Queens Hotel, St Martin le Grand, EC1 sign - in May 2007
Kindly provided by Stephen Harris
The following entries are in this format:
Year/Publican or other Resident/Relationship to Head and or Occupation/Age/Where Born/Source.
Three earlier records from when this pub was called the Bull & Mouth. :

1811/John Willan, inn keeper and coach proprietor, Bull and Mouth Inn, Bull and Mouth street/../../Holdens Directory

1811/Mary Francis / Chambermaid //../../../Proceedings of the Old Bailey **

1827/Richard Greenwood, Bull & Mouth Inn, Bull & Mouth street/../../Pigot's Directory

1832/Sherman & Co/Bull & Mouth Inn/../../Robsons Directory

1834/Harriott Beck & Charlotte Taplin / Victuallers /../../Sun Fire Office records, held at Guildhall Library **

1836/James Turner & Harriott Beck / Victuallers /../../Sun Fire Office records, held at Guildhall Library **

1836/Edward Sherman, Bull & Mouth Hotel & Tavern, St Martins le grand/../../Pigots Directory

1841/Edward Sherman/../../../Post Office Directory *

Bull & Mouth :
1851/Ann Fairs/Housekeeper/36/Chelmsford, Essex/Census
1851/Sophia Fairs/Barmaid/30/Maldon, Essex/Census
1851/Charlotte Phipps/Barmaid/35/Harlington, Hertfordshire/Census
1851/Emily Jaytee/Barmaid//27/Croydon, Surrey/Census
1851/Mary Ward/Scullerymaid/38/Frestead, Essex/Census
1851/Margaret Gerson/Kitchenmaid/19/Newcastle, Ireland/Census
1851/Elizabeth Price/Chambermaid/40/Shropshire/Census
1851/Ann Kendell/Needlewoman/23/Shoreditch, Middlesex/Census
1851/Mary Ann Child/Housemaid/23/City of London/Census
1851/Jane Fisher/Housemaid/29/Lowestoft, Suffolk/Census
1851/Winifred Mark/Housemaid/28/St Lueks, Middlesex/Census
1851/Sarah Hodgkin/Housemaid/29/Melton, Kent/Census
1851/Hannah Garner/Housemaid/26/Blackheath, Kent/Census
1851/Louisa Hawkins/Housemaid/29/Stoneham, Suffolk/Census
1851/Emily Croft/Housemaid/20/Pimlico, Middlesex/Census
1851/Margaret Scott/Housemaid/21/Penrith, Cumberland/Census
1851/Ann Edwards/Housemaid/24/Finsbury, Middlesex/Census
1851/Anthony Blest/Clerk of the Kitchen, Widow/54/Harwich, Essex/Census
1851/Charles Doubleday/Servant/26/Uppingham, Nottinghamshire/Census
1851/George Guyatt/Servant/25/Stockbridge, Hampshire/Census
1851/William Green/Servant/23/St Lukes, Middlesex/Census
1851/Alfred Buckman/Servant/18/Hartfield, Sussex/Census
1851/John Gist/Servant/22/Switzerland/Census
1851/William Withers/Servant/25/City of London/Census
1851/Joseph Williams/Waiter/34/City of London/Census
1851/Thomas Richards/Pantryman/30/Carnarvon/Census
1851/William Timbs/House Porter/18/Crayford, Kent/Census
1851/John Cook/House Porter/31/Suffolk/Census
1851/Charles Holman/Boots/25/Rocester, Kent/Census
1851/James Bailey/Knife Man/31/../Census

Bull & Mouth Tap :
1851/Emily Bosley/Helper of the Bull & Mouth tap, Wife/26/Suffolk/Census
1851/Rebecca Jackson/Sister/21/Buckinghamshire/Census
1851/John Jackson/Visitor, Glass Finisher/22/Blackwall, Middlesex/Census
1851/William Bosley/Son/8 months/City of London/Census
1851/Louisa Couch/House Servant/24/City of London/Census
1851/Charlotte Graves/House Servant/14/City of London/Census
1851/William J Prichard/Potman/20/Liverpool/Census

1856/Edward Sherman/../../../Post Office Directory

1861/Edward Sherman/Hotel Keeper/84/Berkshire/Census
1861/Geo James Harding/Waiter/27/London/Census
1861/Jas Tibball/Waiter/34/Braintree, Essex/Census
1861/Robt Pasfield/Waiter/25/Egham, Surrey/Census
1861/Fredk Bolton/Waiter/23/Norwich, Norfolk/Census
1861/Henry Stables/Porter/30/Camberwell, Surrey/Census
1861/H James Webber/Waiter/35/Zurich, Germany/Census
1861/Wm Sutton/Carpenter/24/Carmarthen, Wales/Census
1861/Stephen Cox/Porter/32/Aldbourne, Wiltshire/Census
1861/Hester Knott/Chambermaid/39/Westminster, Middlesex/Census
1861/John Churchill/Porter, widow/40/Wiltshire/Census
1861/Mary Strange/Needle Woman, widow/40/London/Census
1861/Sarah Ann Hammond/Barmaid/23/Epping, Essex/Census
1861/Cecelia Hetherington/Needle Woman/21/Hackney, Middlesex/Census
1861/Mary Ann Parsons/Still Room maid/20/Kennington, Surrey/Census
1861/Rebecca Cornish/Housemaid/29/Warlingworth, suffolk/Census
1861/Rhoda Standwick/Housemaid/21/Elnerington, Somerset/Census
1861/Ann White/Housemaid, widow/28/Lambeth, Surrey/Census
1861/Caroline Farrier/Housemaid/21/Brentwood, Essex/Census
1861/Mary Caldon/Housemaid/21/London/Census
1861/Emma Long/Manageress/29/London/Census
1861/Fanny Price/Housekeeper/40/Sunderland/Census
1861/Eliza Chandler/Accountant/27/London/Census
1861/Elizth Emma Watkins/Accountant/22/Raleigh, Essex/Census
1861/Sophia Jeffery/Housemaid/20/London/Census
1861/Julia Banfield/Kitchenmaid/30/Peckham, Kent/Census
1861/Thos Brittain/Kitchen Boy/11/Engram, Essex/Census
1861/Susan Langport/Kitchenmaid/22/Brixton, Surrey/Census
1861/O K Kurmore/Physician/31/Ireland/Census
1861/E Herbert/Merchant/34/Ireland/Census
1861/Mary Woodwait/Housemaid/23/Pearton Hall, Suffolk/Census
1861/John Angell/Porter/29/Chippenham, Wiltshire/Census
+ Visitors

1869/Edward Henry/../../../Post Office Directory *

July 1869/Edward Henry Saunderson/Outgoing Licensee/../../Era

July 1869/William Quartermain East/Incoming Licensee/../../Era

1879/William Q East/../../../Post Office Directory **

1880/William Q East/../../../Post Office Directory **

1881/William Quartermain East/Inn Keeper Employing 34 Men 36 Women/52/Acton, Oxford/Census
1881/Charlotte Isabella East/Inn Keepers Wife/45/London, Middlesex/Census
1881/Samuel Bateman East/Inn Keepers Son/23/New Cross, Kent/Census
1881/Elizabeth Townsend East/Inn Keepers Daughter In Law/27/London, Middlesex/Census
1881/Amelia East/Inn Keepers Daughter/15/London, Middlesex/Census
1881/Eliza East/Inn Keepers Daughter/14/Greenwich, Kent/Census
1881/Gertrude Maud East/Inn Keepers Daughter/13/London, Middlesex/Census
1881/Charlotte Marmeline East/Inn Keepers Daughter/11/London, Middlesex/Census
1881/William Norwood East/Inn Keepers Son/3/London, Middlesex/Census
1881/Percy White East/Inn Keepers Son/3/London, Middlesex/Census
1881/Violet East/Inn Keepers Daughter/1/Epsom, Surrey/Census
1881/Muriel Bateman East/Inn Keepers Grand Daughter/3 months/London, Middlesex/Census
1881/Eliza Angus/Hotel Housekeeper/35/Maidenhead, Berkshire/Census
1881/Ellen Alexander Belford/Hotel Clerk/25/Ipswich, Suffolk/Census
1881/Kate Mary O'Connor/Hotel Clerk/26/Lisbord Kerry, Ireland/Census
1881/Susan Elizabeth Young/Hotel Clerk/26/Greenwich, Kent/Census
1881/Lucy Viola Sabine/Hotel Clerk/27/Paternoster Row City/Census
1881/Richard Alexander Johnson/Visitor, Retired Silk Merchant/43/Middlesex/Census
1881/John Martin/Visitor, Dealer In Furs (Broker)/54/Exeter, Devon/Census
1881/Joseph Pick/Lodger, Commercial Traveller/43/Thrussington, Leicester/Census
1881/James Hinds/Lodger, Commissionaire/47/Stamford, Lincoln/Census
1881/William John Rowland/Lodger, Commercial Traveller/39/Chester, Cheshire/Census
1881/Thomas Thompson/Lodger, Draper/60/Melnethorth, Kinross, Scotland/Census
1881/William Rob Gastner/Lodger, Glove Manufacturer/36/Germany/Census
1881/Phillips Fahs/Lodger, Commercial Traveller/62/Germany/Census
1881/Alfred Giles/Lodger, Mechanical Engineer/44/Cheshire/Census
1881/Thomas William Brown/Lodger, Tea Merchant/39/Chelmsford, Essex/Census
1881/Eliza Ann Martin/Lodger/39/Liverpool Edghill/Census
1881/Amelia Georgina Martin/Lodger/34/Liverpool Edghill/Census
1881/Mary Jane Martin/Lodger/37/Liverpool Edghill/Census
1881/Thomas Jaques Martin/Lodger, Insurance Manager/41/Liverpool Edghill/Census
1881/Eliza Martin/Lodger/68/Liverpool/Census
1881/Simon Landsberry/Lodger, Merchant/46/Warsaw, Poland/Census
1881/Julius Hamblum/Lodger, General Merchant/35/Berlin, Germany/Census
1881/Richard Kellett Gaff/Lodger, Commercial Traveller/45/Old Castle Meath/Census
1881/Joseph Schiver/Waiter (Inn)/23/Germany/Census
1881/Charles William Reinholtt/Waiter (Inn)/22/Germany/Census
1881/Charles Genge William Lumpel/Waiter (Inn)/28/Germany/Census
1881/Robert Graham Coathorn/Lodger, Insurance Secretary (Serv)/34/Scotland/Census
1881/Antonius Caust/Lodger, Commercial Traveller/30/Lyons, France/Census
1881/William H Hopkinson/Lodger, Commercial Traveller/24/Grantham, Lincoln/Census
1881/William Otto Dubrans/Waiter (Inn)/21/(F), Germany/Census
1881/James Robb/Lodger, Draper/28/Hexham, Northumberland/Census
1881/Stury Moffatt/Lodger, Iron Monger/23/Hexham, Northumberland/Census
1881/Joseph L Robinson/Lodger, Provision Salesman/29/Liverpool, Lancashire/Census
1881/Jules Souhaus/Lodger, General Merchant/31/Germany/Census
1881/William Henry Dixon/Lodger, Ships Owner (Now On Shore)/51/Liverpool, Lancashire/Census
1881/Henry Bithery/Billiard Marker/18/Luton, Bedford/Census
1881/Isac Blaxall/Plateman (Inn)/22/Warlingworth, Suffolk/Census
1881/David Smith/Lodger, Draper/41/Ayrshire, Scotland/Census
1881/Harry Kenwood/Cook/18/St Leonards, Sussex/Census
1881/Herbert Charles Johns/Kitchen Porter/21/London, Middlesex/Census

1882/William Q East/../../../Post Office Directory



* Provided By Ewan

** Provided By Stephen Harris

References : Lots of references are made to two sources on the internet archive :
Edward Callows, Old London Taverns &