Search London wiki and Pub wiki history sites
All public house, restaurants, bars etc closed for the forseeable future from 20th March 2020, but this is a history site.
Rising Sun, 61 Carter Lane, St Anns Blackfriars EC4
St Anns Blackfriars pub history index
In 1851 and earlier, listed as the Sun, and addressed at 16 & 17 Shoemaker Row, Blackfriars in 1864 & earlier; This pub was built in around 1820 or maybe as early as 1805. **
Here is Shoemaker row in 1832
A listing of historical London public houses, Taverns, Inns, Beer Houses and Hotels in St Anns Blackfriars, City of London. The St Anns Blackfriars, City of London Public House Trade Directory uses information from census, Trade Directories and History to add licensees, bar staff, Lodgers and Visitors.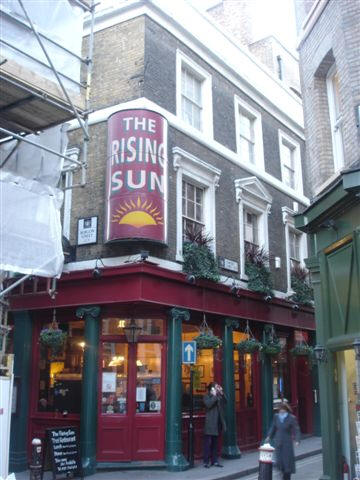 Rising Sun, 61 Carter Lane, EC4 - in February 2008
Kindly provided by Stephen Harris
The following entries are in this format:
Year/Publican or other Resident/Relationship to Head and or Occupation/Age/Where Born/Source.
1805/John Bam, Rising Sun, 15 Shoemaker row, Blackfriars/../../Holdens Directory

1829/J Hawkins, Rising Sun, 17 Shoemaker row, Broadway/../../Pigots Directory

1832/William Sizeland/../../../Robsons Directory

1833-34/William Sizeland, Rising Sun, 17 Shoemaker row, Broadway/../../Pigots Directory

1842/William Sizeland/../../../Robsons Directory

1843/William Sizeland/../../../Kellys Directory

1848/Joshua Mead/../../../Post Office Directory

1851/Joshua Mead/../../../Kellys Directory

1851/Thomas Brice/Licensed Victualler/46/Taunton, Somerset/Census
1851/Julia A Brice/Wife/38/Taunton, Somerset/Census
1851/Louisa Bowyer/Barmaid/24/Long acre, Middlesex/Census
1851/Susan Gibson/House Servant/25/Chelmsford, essex/Census
1851/Charles Brown/Potman/26/Highbury, Middlesex/Census

July 1853/Thomas Brice/Outgoing Licensee/../../Era

July 1853/William Allen/Incoming Licensee/../../Era

1856/William Allen/../../../Post Office Directory

1860/Charles Thomas Wood/../../../Post Office Directory

1861/Charles M Wood/Licensed Victualler/42 St Martins in Fields, Middlesex//Census
1861/Martha Wood/Wife/38/Fulham, Middlesex/Census
1861/Catherine Wood/Daughter/13/St Giles, Middlesex/Census
1861/Emily Mary Wood/Daughter/3/City of London/Census
1861/Elizabeth Ronbie/Servant/15/City of London/Census
1861/Mary Ann Coggan/Niece/11/Isleworth, Middlesex/Census
1861/Thomas Dossett/Potman/25/Isleworth, Middlesex/Census

1867/C G Hill/../../../Post Office Directory

1869/Charles Gray Hill/../../../Post Office Directory

1871/Charles Gray Hill/../../../Post Office Directory

1876/Michael Ullmer/../../../P.O. Directory **

1881/John Smith/Licensed Victualler/39/Embleton, Northumberland/Census
1881/Elizabeth Smith/Wife/41/St Pancras, Middlesex/Census
1881/Thomas H Smith/Son/10/Greenwich, Kent/Census
1881/John G Smith/Son/6/Greenwich, Kent/Census
1881/Jessie A J Smith/Daughter/4/Newington, Middlesex/Census
1881/Eleanor H Feuton/Niece, Visitor/15/Walham Green, Middlesex/Census
1881/Annie Western/Barmaid/23/Hackney, Middlesex/Census
1881/Charles Bird/Barman/25/Islington, Middlesex/Census

1882/John Smith/../../../Post Office Directory

1884/John Smith/../../../Post Office Directory

1891/George Herbert Millar/../../../Post Office Directory

1894/George Herbert Millar/../../../Post Office Directory **

1895/John Deeks/../../../Post Office Directory

1899/Thomas George Brewster/../../../Post Office Directory

1904/Jacob Rathbone/../../../Post Office Directory **

1910/Jacob Rathbone/../../../Post Office Directory

1911/Jacob Rathbone/Licensed Victualler/34/Paris, France/Census
1911/Fanny Rathbone/Wife, Assistant/28/Russia/Census
1911/Lionel Joshua Rathbone/Son/1 year 7 months/City of London/Census
1911/Ada Parish/Nurse/30/Brockley, London/Census
1911/Minnie Hughes/Cook/32/Chelsea, London/Census
1911/Elizabeth Walker/Barmaid/26/Stratford, London/Census
1911/Rosina Cowley/Barmaid/29/Stepney, London/Census
1911/Bertha Foggo/Servant/21/London/Census

1915/Jacob Rathbone/../../../Post Office Directory

1922/Jacob Rathbone/../../../Post Office Directory **

1938/Hy Walter Seear & Son/../../../Post Office Directory

1950/Mr & Mrs W Davis/../../../Black Eagle Journal ***

1950/Mr & Mrs F W Ogden/../../../Black Eagle Journal ***



** Provided By Stephen Harris

*** Provided By Alex Wilkinson