Search London wiki and Pub wiki history sites
All public house, restaurants, bars etc closed for the forseeable future on 20th March 2020, but this is a history site. But how about the landlords give their tenants a break, no business, then please charge them no rent.
Three Castles / Cockpit, 7 St Andrews Hill EC4 5BY
St Anns Blackfriars pub history index
This very long-established pub originally actually was a cock pit, but was re-named the Three Castles in 1849 when cock fighting was made illegal. It was rebuilt in its present form in around 1865. In relatively recent times, although pre-1984, it reverted back to the name Cockpit. ** Still open for business in 2019.
A listing of historical London public houses, Taverns, Inns, Beer Houses and Hotels in St Anns Blackfriars, City of London.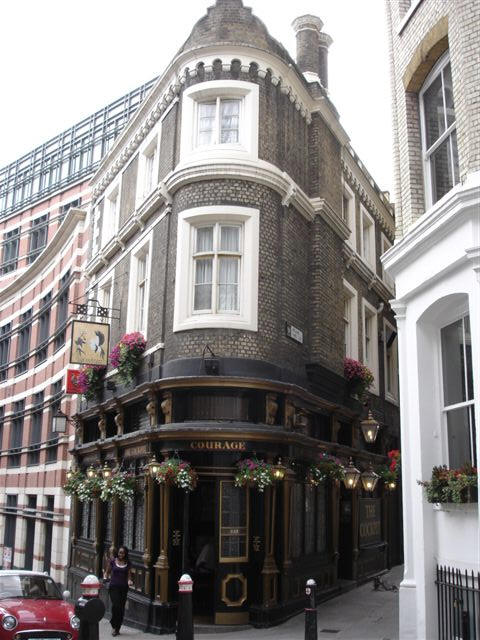 Three castles, 7 St Andrews Hill - in August 2006
Kindly provided by Stephen Harris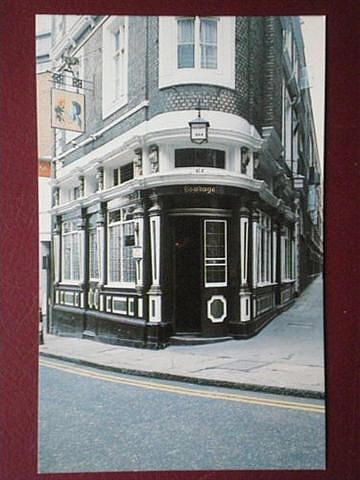 Cockpit, 7 St Andrews Hill EC4
Kindly provided by Colleen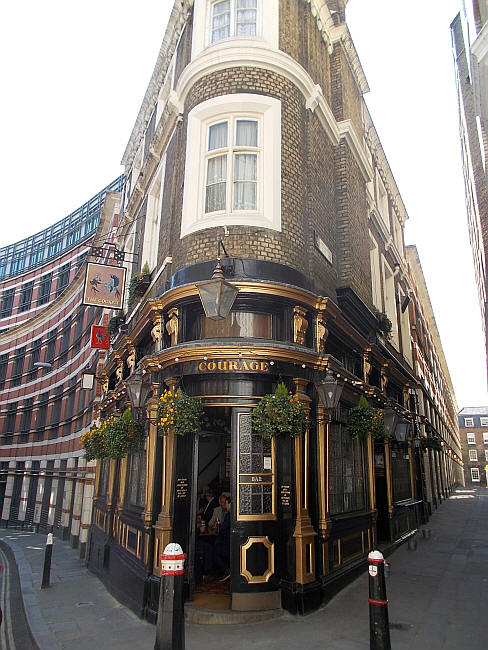 Cockpit, 7 St Andrews Hill EC4 - in May 2019
The following entries are in this format:
Year/Publican or other Resident/Relationship to Head and or Occupation/Age/Where Born/Source.
1805/William Evans, victualler, 7 St Andrews hill/../../Holdens Directory

1825/Mr & Mrs Winter, Three Castles, St. Andrews hill, Doctors Commons /../../Licensed Victuallers Association

1825/John Hunt/../../../Proceedings of the Old Bailey **

April 1827/John Hunt/../../../Licensed Victuallers Association

1832/Thomas Alford/../../../Robsons Directory

1842/Thomas Alford/../../../Robsons Directory

1843/James Hill, Wine Merchant, 7 St Andrews hill/../../Post Office Directory

1848/John Walker/Wine & Spirit Merchant/../../Post Office Directory

1851/John Walker/Wine & Spirit Merchant/../../Kellys Directory

1851/Benjamin Vernon/Publican/28/City of London/Census
1851/Mary Vernon/Wife/28/York/Census
1851/William Midgley/Barman/22/Peckham, Surrey/Census
1851/Elizabeth Lloyd/House Servant/18/Hampshire/Census

December 1851/John Walker/ Outgoing Licensee /../../The Era

December 1851/Benjamin Vernon/ Incoming Licensee /../../The Era

1856/Benjamin Vernon/../../../Post Office Directory

December 1859/Frederick John Abbott/Outgoing Licensee/../../London City Press

December 1859/John Newby/Incoming Licensee/../../London City Press

1861/Mary A Lewis/Housekeeper/40/London/Census
1861/William Knight/Barman/25/London/Census
1861/Alfred Brewer/Barman/16/Deptford, Surrey/Census
1861/Thomas Webb/Potman/18/Farringdon, Berkshire/Census
1861/Isabella Holt/House Servant/26/London/Census

1862/John Newby/../../../Post Office Directory

January 1862/John Newby/Outgoing Licensee/../../Era

January 1862/John James Pearce/Incoming Licensee/../../Era

1869/Richard Corish/../../../Post Office Directory

1881/James G Burden/Licensed Victualler/43/Abingdon, Berks/Census
1881/Ellen Hastic/General Servant Domestic/45/Scotland/Census
1881/John Humphrey/Barman/45/Scotland/Census

1882/James George Burden/../../../Post Office Directory

1884/George Fisher/../../../Post Office Directory

1891/Hy Brown/../../../Post Office Directory

1895/William Henry Ampleford/../../../Post Office Directory **

1899/Johan Holmboe Strangbye/../../../Post Office Directory **

1904/Frederick Upton/../../../Post Office Directory **

1906/Frederick Upton/../../../Post Office Directory

1910/Archibald Douglas Ayrton Lansdell/../../../Post Office Directory

1911/Frederick Saunders Lamb/Licensed Victualler/41/Marylebone, London/Census
1911/Louisa Saunders Lamb/Wife, Assistant/40/St Pancras, London/Census
1911/Roland Saunders Lamb/Son/5/Acton, London/Census
1911/Gwendoline Louisa Lamb/Daughter/5 months/City of London/Census
1911/Mary Ann Saunders Betts/Aunt, Widow/77/City of York/Census
1911/Alfred Whalley/Barman/23/Westminster, London/Census

1915/William Thomas Binks/../../../Post Office Directory

1922/Mrs Ethel Martha Snook/../../../Post Office Directory **

1934/Mrs Ethel Martha Snook/../../../Post Office Directory

1938/Mrs Ethel Martha Snook/../../../Post Office Directory

1944/Herbert Fairhurst/../../../Post Office Directory

1983/../COCKPIT: 7 St Andrew's Hill. Courage. Renamed the Three Castles after the abolition of cock-fighting in the middle of the eighteenth century, the pub reverted to its old name in recent times. /../../Pub Directory



** Provided By Stephen Harris