Rising Sun, 38 Cloth Fair, St Bartholomew EC1A
St Bart pub history index
This pub is reputed to have been present by 1616, at that time as the Starre Tavern. **
A listing of historical public houses, Taverns, Inns, Beer Houses and Hotels in Saint Bartholomew, Central London. The Saint Bartholomew,; London listing uses information from census, Trade Directories and History to add licensees, bar staff, Lodgers and Visitors.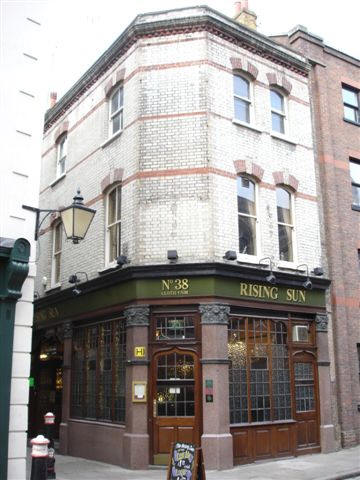 Rising Sun, 38 Cloth Fair - in December 2006
Kindly provided by Stephen Harris
Residents at this address.
1809/Susannah Marshall, victualler, Rising Sun, Cloth fair/../../Holdens Directory

1811/Peter Kirby, Rising Sun, Cloth fair/../../Holdens Directory

1823/Thomas Martin / Victualler/../../Sun Fire Office records held at Guildhall Library **

1823/John Kliser / Wooden Clock Maker/../../Sun Fire Office records held at Guildhall Library **

1823/Robert Collins / Dealer in Singing Birds/../../London Gazette, 12 April 1823 **

1825/Thomas Martin / Victualler/../../Sun Fire Office records held at Guildhall Library **

1832/E Goodman/../../../Robsons Directory

1833-34/Elizabeth Goodman/../../../Pigot�s Directory

1839/John Thompson/../../../Pigot�s Directory **

1841/John Thompson/../../../P.O. Directory **

1842/Jno Thompson/../../../Robsons Directory

1843/John Thompson/../../../Kellys Directory

1848/John Thompson/../../../Post Office Directory

1851/John Thompson/../../../Kellys Directory

1851/John Thompson/Licensed Victualler/55/Wales/Census
1851/Ann Thompson/Daughter/16/London/Census
1851/John Thompson/Son/14/London/Census
1851/Amelia Thompson/Daughter/12/London/Census
1851/Harriett Cole/Servant/32/Essex/Census
1851/Thos James/Lodger/48/Germany/Census
1851/Mary Phillips/Lodger/19/Germany/Census
1851/Benjamin Plaff/Lodger/38/Germany/Census

1856/John Thompson/../../../Post Office Directory

1861/John Thompson/Licensed Victualler, Widow/66/../Census
1861/Amelia Thompson/Daughter, Assistant/22/St Bartholomew, Middlesex/Census
1861/Harriet Cole/House Servant/42/Essex/Census
1861/Thomas Ridgyare/Waiter/17/Rotherhithe/Census

March 1866/John Thompson/Outgoing Licensee/../../London City Press

March 1866/John Thompson, his son/Incoming Licensee/../../London City Press

1869/Charles Samworth/../../../Post Office Directory

1870/Thos. Henry Barnes/../../../P.O. Directory **

October 1870/W H Butcher/Outgoing Licensee/../../London City Press

October 1870/A Nott/Incoming Licensee/../../London City Press

1871/James Jordan/Manager of Public House/25/St Pancras/Census
1871/John Crockford/Barman/17/Clerkenwell/Census

1880/Robert Taylor/../../../P.O. Directory **

1881/William Clark/Licensed Victualler, Widow/39/,,/Census
1881/Jane A Drivey/Sister In Law, Widow/34/Soho, Middlesex/Census
1881/Georgina Cooke/Barmaid/36/../Census
1881/Mark Trayler/Potman/17/Essex/Census

1883/William Charles Smeaton Clark / Licensed Victualler & Builder/../../London Gazette, 11 December 1883 **

1891/George Dann/../../../Post Office Directory

1891/Ambrose Dawn/Publican/57/Great Yarmouth, Norfolk/Census
1891/Walter Thomas Fox/Barman/28/Great Yarmouth, Norfolk/Census

1894/George Dann/../../../City of London Directory **

1895/George Dann/../../../Post Office Directory

1899/Samuel Death/../../../Post Office Directory

1901/Nellie Trayling/Manageress Licensed Victualler/21/Purleigh, Essex/Census
1901/Daisy French/Barmaid/19/Bayswater, London/Census
1901/Da Bonny/Barmaid/28/Walworth, London/Census
1901/Alberta Carr/Barman/18/Hunsdon, Hertfordshire/Census
1901/Jane Plummer/Cook, Widow/47/Newmarket, Cambridgeshire/Census

1910/John Harris/../../../Post Office Directory

1911/Ada Mary Bonny/Manageress to Licensed Victualler/49/Walworth, Surrey/Census
1911/Eliza Fowler/Cook/60/Rotherhithe, Surrey/Census
1911/Agnes Florence England/Barmaid/24/Bow, Essex/Census
1911/Charles Valentine/Barmaid/35/Latchingdon, Essex/Census

1915/John Harris/../../../Post Office Directory

1921/S. N. Plicht/../../../Hughes Directory *

1934/Samuel Michael Plight/../../../Kellys Directory

1938/Samuel Michael Plight/../../../Post Office Directory

1944/Samuel Michael Plight/../../../Post Office Directory *



* Provided By Ewan

** Provided By Stephen Harris