George, 25 Old Bailey, St Bartholomew EC4
St Bart pub history index
In 1851, this address is also the 'errand cart office', and listed in St Sepulchre census, as it is in 1901 census. The pub was situated on the west side of Old Bailey at the junction with Fleet Lane which is visible in the 1991 A-Z but noted as demolished in the 1991 pub listing. Neither this street nor the pub are still standing. *
A listing of historical public houses, Taverns, Inns, Beer Houses and Hotels in Saint Bartholomew, Central London. The Saint Bartholomew,; London listing uses information from census, Trade Directories and History to add licensees, bar staff, Lodgers and Visitors.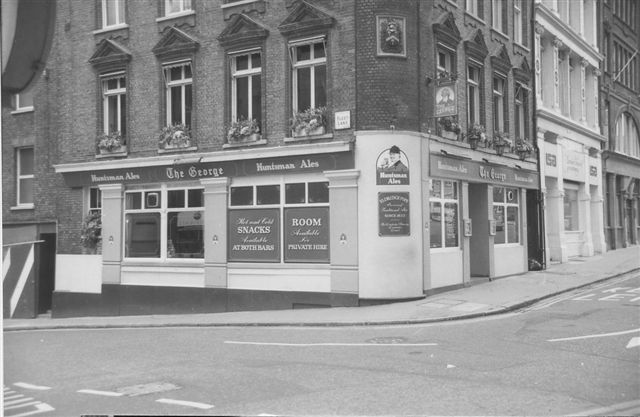 George, 25 Old Bailey, EC4 - in 1986
"From the Archives of East London and City CAMRA".
The following entries are in this format:
Year/Publican or other Resident/Relationship to Head and or Occupation/Age/Where Born/Source.
1809/Mr Townley, George, Old Bailey/../../Licensed Victuallers Association

1815/Joseph Seeley / Victualler/../../Proceedings of the Old Bailey **

1824/Joseph Seeley / Victualler/../../Proceedings of the Old Bailey **

1825/Joseph Seeley / Victualler/../../Proceedings of the Old Bailey **

1827/Joseph Seeley / Victualler/../../Proceedings of the Old Bailey **

1833-34/Mary Seelie, George, 25 Old Bailey/../../Pigots Directory

1836/Joseph Wells / Victualler/../../Proceedings of the Old Bailey **

1837/Mary Wells / Victualler/../../Proceedings of the Old Bailey **

1839/Hannah Phillips/../../../Pigot's Directory **

1841/Hannah Phillips/Licensed Victualler/35/../Census
1841/James Phillips/../25/Middlesex/Census
1841/William Giddings/../15/../Census
1841/Mary Raven/Independant/40/../Census
1841/Mary Harrison/Female Servant/25/../Census
1841/William Andrews/Male Servant/15/../Census
..

1843/Mrs Hannah Phillips, George Inn, 25 Old Bailey/../../Kellys Directory

1848/Mrs Hannah Phillips, George, 25 Old Bailey/../../Post Office Directory

1851/Mrs Hannah Phillips/../../../Kellys Directory

1851/Hannah Phillips/Licensed Victualler, Widow/53/Lambeth, Surrey/Census
1851/James Phillips/Son/34/City of London/Census
1851/Anne Phillips/Daughter/32/Hemel Hempstead, Hertsfordshire/Census
1851/William Giddins/Nephew, Assistant/26/Lambeth, Surrey/Census
1851/William Dennis/Servant/16/Billericvay, Essex/Census
1851/Mary Honor/Servant/50/Biddenden, Kent/Census

1856/Mrs Hannah Phillips/../../../Post Office Directory

February 1861/Stephen Miller/Outgoing Licensee/../../London City Press

February 1861/James Carman/Incoming Licensee/../../London City Press

1862/James Carman/../../../Post Office Directory **

1869/James Carman/../../../Post Office Directory

February 1870/J Carman/Outgoing Licensee/../../Era

February 1870/J Freshwater/Incoming Licensee/../../Era

October 1870/J Freshwater/Outgoing Licensee/../../London City Press

October 1870/J Porter/Incoming Licensee/../../London City Press

1872/James Porter/../../../Post Office Directory **

1874/Theophilus Shapcott, George, 25 Old Bailey EC/../../Licensed Victualler & Hotelier Directory

1881/Theophilus Shapcott/Licensed Victualler/45/Exeter, Devon/Census
1881/Ellen Shapcott/Wife/35/Marylebone, Middlesex/Census
1881/Caroline Passmore/Niece, Barmaid/17/Pimlico, Middlesex/Census
1881/Alice Shapcott/Niece, Barmaid/18/Exeter, Devon/Census
1881/John Shapcott/Nephew, Barman/22/Exeter, Devon/Census
1881/Jane Sambell/Barmaid/25/../Census
1881/Francis Goodwin/Barmaid/23/Offord, Suffolk/Census
1881/Sarah Noad/Housemaid/30/Barking, Essex/Census
1881/Eliza Lincoln/Cook/22/Horsham, Suffolk/Census

1882/Theophilus Shapcott/../../../Post Office Directory

1884/Theophilus Shapcott/../../../Post Office Directory

1886/Theophilus Shapcott/../../../Business Directory of London **

1891/Sidney Shapcott/../../../Post Office Directory

1892/Sidney Shapcott/../../../Post Office Directory **

1895/Sidney Shapcott/../../../Post Office Directory

1899/Sidney Shapcott/../../../Post Office Directory

1901/Sidney Shapcott/Licensed Victualler/38/Islington/Census
1901/Lilian Maud Shapcott/Wife/29/Islington/Census
1901/Lilian E J Shapcott/Daughter/9/City of London/Census
1901/Ellen Maud Shapcott/Daughter/8/City of London/Census
1901/Jessie Margaret Shapcott/Daughter/6/City of London/Census
1901/Gertrude Rose Shapcott/Daughter/2/City of London/Census
1901/Sidney J Shapcott/Son/5 months/City of London/Census
1901/Elizabeth Shapcott/Cousin, Barmaid/32/Finsbury/Census
1901/Sarah Noad/Domestic Servant/49/Essex/Census
1901/Mary Auguste Schuster/Barmaid/19/Bishop Stortford/Census
1901/Elizabeth Ada Brown/Cook/32/London East/Census
1901/Maud L Manley/Barmaid/26/Kennington/Census

1905/Sidney Shapcott, George, 25 Old Bailey EC/../../Post Office Directory

1906/Sidney Shapcott, George, 25 Old Bailey EC/../../Post Office Directory

1910/Sidney Shapcott/../../../Post Office Directory

1911/Alice Maud Ward/Manageress/30/Poole, Dorset/Census
1911/William Thomas Ward/Agent/39/Hamburg, Germany/Census
1911/Violet Chew/Barmaid/30/Dover/Census
1911/Constance Hedges/Barmaid/25/London/Census
1911/Ernest Low/Potman/19/Forest Gate/Census
1911/Thomas Bennet Scoble/Kitchen Porter/17/Bow/Census
1911/Mahala Harris/Servant/18/East Ham/Census

1915/Mrs Margaret Mahony/../../../Post Office Directory

1921/George Thomas Balshaw, George, 25 Old Bailey EC4/../../Hughes Directory

1927/George Augustus Stevenson, George, 25 Old Bailey EC4/../../Post Office Directory

1934/George Augustus Stevenson/../../../Kellys Directory

1938/George Augustus Stevenson/../../../Post Office Directory

1942/George Augustus Stevenson, George, 25 Old Bailey EC4/../../Post Office Directory

1944/Mrs Jeanette A Smowton, George, 25 Old Bailey EC4/../../Post Office Directory

1983/../George, 25 Old Bailey EC4 : Eldridge Pope/../../Pub Directory

1991/../George, 25 Old Bailey EC4 : Eldridge Pope. Pub demolished./../../Pub Directory



* Provided By Tris

** Provided By Stephen Harris