Hand & Shears, 1 Middle street, Cloth Fair, St Bartholomew EC1
St Bart pub history index
This pub has a claimed foundation date of 1123 - it was certainly present by Tudor times. It was rebuilt in its present form in 1849 and remains open. ** The address is also given as 1 King Street (now Kinghorn Street) in the 1839 directory. *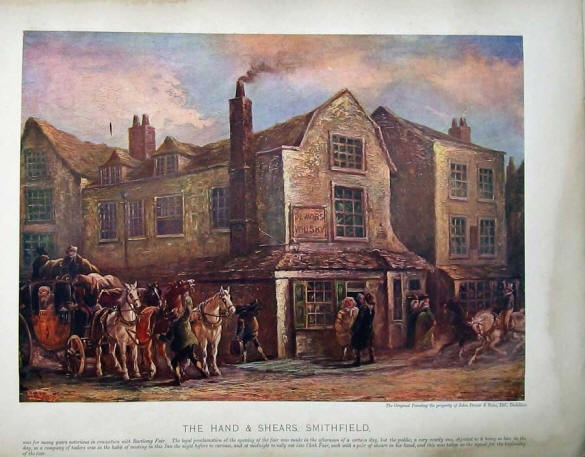 Hand & Shears, 1 Middle Street, EC2 prior to its rebuilding in 1849
Kindly provided by both Colleen & Stephen Harris
A listing of historical public houses, Taverns, Inns, Beer Houses and Hotels in Saint Bartholomew, Central London. The Saint Bartholomew,; London listing uses information from census, Trade Directories and History to add licensees, bar staff, Lodgers and Visitors.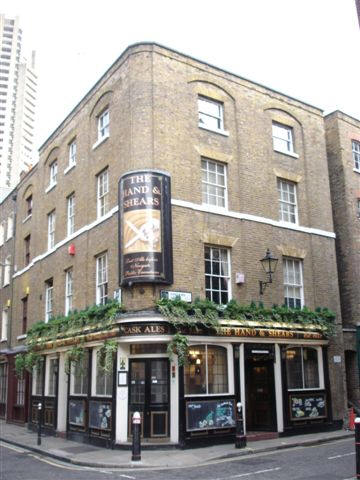 Hand & Shears, 1 Middle Street - in December 2006
Kindly provided by Stephen Harris
The following entries are in this format:
Year/Publican or other Resident/Relationship to Head and or Occupation/Age/Where Born/Source.
1684/Mr Dawson/../../../London Gazette, 30 October 1684 **

1809/William Southey / Victualler /../../Sun Fire Office records held at Guildhall Library **

1809/Mr Fotherby, Sheers, Clothfair/../../Licensed Victuallers Association

1818/Thomas Crossland / Victualler /../../Sun Fire Office records held at Guildhall Library **

1822/Thomas Crossland / Victualler /../../Sun Fire Office records held at Guildhall Library **

1833/Thomas Wilson / Victualler /../../Sun Fire Office records held at Guildhall Library **

1836/Thomas Wilson / Public House Keeper /../../Proceedings of the Old Bailey **

1836/Sarah Wilson / Niece /../../Proceedings of the Old Bailey **

1838/Thomas Wilson / Public House Keeper /../../Proceedings of the Old Bailey **

1838/Ann Wilson / Wife /../../Proceedings of the Old Bailey **

1838/Sarah Wilson / Niece /../../Proceedings of the Old Bailey **

1838/Mary Cannon / Servant /../../Proceedings of the Old Bailey **

1839/Thomas Wilson/../../../Pigots Directory **

1841/Thomas Wilson/../../../P.O. Directory **

1841/Thomas Wilson/Licensed Victualler/65/../Census
1841/Ann Wilson/../60/../Census
1841/Amelia Butler/../9/Middlesex/Census
1841/Ann banham/Servant/15/Ireland/Census
1841/William Sandall/Servant/20/Middlesex/Census

1848/James Robbins / Wine & Brandy Merchant and Licensed Victualler /../../London Gazette, 29 February 1848 **

1851/James A Baker/../../../Kellys Directory

1854/Mary Baker / Outgoing Licensee /../../The Era, Sunday 5 March 1854 **

1854/Alfred Webster / Incoming Licensee /../../The Era, Sunday 5 March 1854 **

1856/A Webster/../../../Post Office Directory

1859/Alfred Webster / Licensed Victualler /../../London Gazette, 30 August 1859 **

July 1859/A Wenster/Outgoing Licensee/../../London City Press

July 1859/G Speck/Incoming Licensee/../../London City Press

1861/William Hart/Victualler/26/Clerkenwell, Middlesex/Census
1861/Elizabeth Hart/Wife/25/Southwark/Census
1861/James Wilton/Barman/19/../Census
1861/Jane Chapman/House Servant/18/Dagenham/Census

1864/William Hart / Public House Keeper /../../Proceedings of the Old Bailey **
1864/Lucy Hart / Wife /../../Proceedings of the Old Bailey

13 April 1865 - Letters of Administration of the Personal estate and effects of William Hart late of the "Hand and shears" Public House Cloth Fair Smithfield in the City of London Licensed Victualler a Widower deceased who died 19 March 1865 at the "Hand and Shears: Public House aforesaid were granted at the Principal Registry to William Hart of 5 Ridley Road Dalston in the County of Middlesex Gentleman the Son of the said deceased he having been sworn.

1865/William Hart / Licensed Victualler, deceased / Died in or about the month of March 1865 /../../London Gazette, 9 June 1865 **

18 February 1867 : The Will of Bazill Adnett late of the "Black Bull" New Gravel Lane Shadwell in the County of Middlesex deceased who died 24 January 1867 at the "Black Bull" aforesaid was proved at the Principal Registry by the oaths of Bazill William Adnett of the "Black Bull" aforesaid Licensed Victualler the Son and Elizabeth Farrell of the "Hand and Shears" Cloth Fair in the City of London Widow the Sister the Executors.

1869/Thomas R Farrell/../../../Post Office Directory

1870/Thomas R Farrell/../../../Post Office Directory **

1871/Charles Tilley/Licensed Victualler/24/Kettering, Northampton/Census
1871/Catherine Tilley/Wife/23/St Mary Axe, Middx/Census
1871/Mary Ann Tilley/Mother/54/Kettering, Northampton/Census
1871/Thomas Tilley/Brother/17/Kettering, Northampton/Census
1871/Martha Tilley/Daughter/11 months/London, Middx/Census
1871/James Clealy/Lodger, Shoe Maker/21/Cork, Ireland/Census
1871/Hannah James/Visitor, Tailoress/19/Whitechapel, Middx/Census

1880/William Calder/../../../Post Office Directory **

1881/Alfred Gordon/Licensed Victualler/28/Bideford, Devon/Census
1881/Catherine Gordon/Wife/22/Hatchin (I), Surrey/Census
1881/Alfred D Gordon/Son/8 months/ City Of London, Middlesex/Census
1881/William T Dawton/Potman/17/Rochester, Kent/Census
1881/Edmund James/Lodger, Butcher Journeyman/50/Brightlingsea, Essex/Census
1881/James Somerville/Lodger, Hosier/50/Abrystwith, Wales/Census
1881/George Wright/Lodger, General Labourer/24/Hayward Heath, Sussex/Census

1882/William Brown/../../../Post Office Directory *

1884/William Brown/../../../Post Office Directory

1891/Frederick Roper/../../../Post Office Directory

1891/John Roper/Licensed Victualler/41/Hull/Census
1891/Emma S Roper/Wife/32/London/Census
1891/Emily Morgan/Visitor/27/Exeter/Census

1895/John Roper/../../../Post Office Directory

1896/John Roper/../../../Post Office Directory **

1899/Arthur William Priddy/../../../Post Office Directory

1900/Arthur William Priddy/../../../Post Office Directory **

1901/Albert W Priddy/Licensed Victualler/44/Litterton High, Somerset/Census
1901/Louisa Priddy/Wife/38/Stepney, London/Census
1901/Martha L Priddy/Daughter/11/Stepney, London/Census
1901/Gerty Taylor/Cook/35/Stepney, London/Census
1901/William Mitchell/Boarder, Warehouseman/38/Stepney, London/Census
1901/Banjamin Phipp/Boarder, Butcher, Widow/58/Sunbury, Middlesex/Census

1903/Amy Baldacci / Manager, widow /../../Proceedings of the Old Bailey **
1903/George William Jenks / Pot Man /../../Proceedings of the Old Bailey

1905/William David Moors & Mary Ann Moors/../../../Family History *

1910/Conrad Marcus Lubeck/../../../Post Office Directory

1911/Conrad Marcus Lubeck/Publican/43/Hamburg, Germany/Census
1911/Maria Johanna Lubeck/Wife/53/Berlin, Germany/Census
1911/Helena Grethe/Barmaid/29/London/Census
1911/Alfred Manton/Potman/32/London/Census
1911/Jane Leddy Ansell/Cook, Widow/44/Hammermsith/Census

1915/Conrad Marcus Lubeck/../../../Post Office Directory

1921/Jack Nickolls/../../../P.O. Directory **

1934/Hon Hy Lygon/../../../Kellys Directory

1938/Percy William Hills/../../../Post Office Directory

1944/Percy William Hills/../../../Post Office Directory *

1946/Mrs Lilian Beatrice Smith/../../../Post Office Directory



* Provided By Beatrice Day

** Provided By Stephen Harris

*** Provided By Ewan