Search London wiki and Pub wiki history sites
All public house, restaurants, bars etc closed for the forseeable future from 20th March 2020, but this is a pub history site.
Black Dog, 83 Shoe lane, St Brides EC4A
St Bride pub history index
In the 1851 census this is listed as Market House. At some point between 1972 and 1977, this pub was rebuilt at 76 Shoe Lane and renamed the Cartoonist. **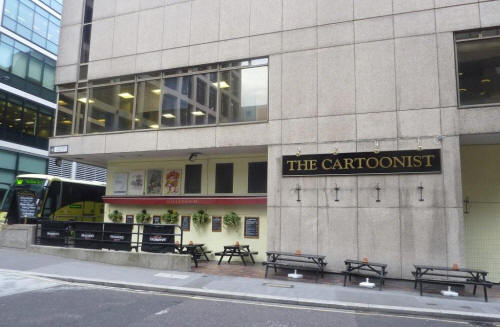 Cartoonist, 76 Shoe Lane - in October 2010
Kindly provided by Stephen Harris
A listing of historical London public houses, Taverns, Inns, Beer Houses and Hotels in St Brides, London. The St Brides, London listing uses information from census, Trade Directories and History to add licensees, bar staff, Lodgers and Visitors.
The following entries are in this format:
Year/Publican or other Resident/Relationship to Head and or Occupation/Age/Where Born/Source.
1814/Thomas Jordan / Victualler /../../London Gazette, 7 May 1814 **

1824/John Jackson / Victualler /../../Sun Fire Office records held at Guildhall Library **

1833-34/John Jackson/../../../Pigots Directory

1839/John Jackson/../../../Pigot's Directory **

1842/Thomas Ashwell/../../../P.O. Directory **

1848/Christopher Green/../../../Post Office Directory

1851/Thomas Ashwell/../../../Kelly's Directory **

1851/Thomas Ashwell/Licensed Victualler/46/Huntingdon/Census
1851/Harry Chapper/Barman/44/Hertfordshire/Census
1851/Alfred Well/Potboy/16/Ch Ferry/Census
1851/Anne Ashwell/Visitor/6/Marylebone, Middlesex/Census

1854/Thomas Ashwell / Public House Keeper /../../Proceedings of the Old Bailey **

1856/Thomas Ashwell/../../../Post Office Directory

1862/Thomas Ashwell/../../../Post Office Directory

1869/Michael Walker/../../../Post Office Directory

1866/Michael Walker/../../../P.O. Directory **

1869/Michael Walker/../../../Post Office Directory **

1871/Michael Walker/Licensed Victualler, Widow/46/Roundlay, Yorkshire/Census
1871/Thomas Boulter/Barman/22/Wilksham, Wilts/Census
1871/George Newby/Visitor/17/City, London/Census
1871/Henry Bullon/Barman/18/Boston, America/Census
1871/Walter Flather/Barman/20/City, London/Census
1871/Elizabeth Clark/General Servant/37/Bradford, Yorkshire/Census

1872/Michael Walker/../../../P.O. Directory **

1874/Michael Walker/../../../Post Office Directory **

1881/Joseph W Taunton/Publican/27/St Martins in the Fields, Middlesex/Census
1881/John Dyke/Barman/21/Dougatt, Somerset/Census
1881/Robert Loeber/Barman/18/Westminster, Middlesex/Census
1881/William Smith/Barman/19/Southwark, Surrey/Census
1881/Sarah Webster/Housekeeper/37/Oxford Street, Middlesex/Census

1882/Joseph Taunton/../../../Post Office Directory

1884/Joseph Taunton/../../../Business Directory of London **

1886/Joseph Taunton/../../../Business Directory of London **

1891/Joseph Taunton/../../../Post Office Directory

1891/James Elms/Barman/27/Rotherhithe, Surrey/Census
1891/Edwin H Warwick/Barman/21/Whittlesea, Hampshire/Census
1891/Arthur B Eaton/Barman/20/Canterbury, Kent/Census
1891/Edward Ely/Barman/19/Hammersmith, Middlesex/Census
1891/Sarah C Morrison/Housekeeper, Widow/37/London/Census

1899/Joseph Taunton/../../../Post Office Directory

1905/Joseph Taunton/../../../Post Office Directory **

1906/Joseph Taunton/../../../Morris' Business Directory of London **

1910/Joseph Taunton/../../../Post Office Directory

1911/Florence Ingham/Manageress/29/Chelsea, London/Census
1911/Ethel Annie Steward/Barmaid/26/Poplar, London/Census
1911/Emma Lott/Cook, Widow/49/Chipping Norton, Oxfordshire/Census
1911/William James Barber/Barman/48/Bethnal Green, London/Census
1911/Percy Home/Barman/21/St Sepulchre, London/Census
1911/James Richard Granville/Barman/20/Kansas City USA/Census

1921/Ernest Mogford/../../../Post Office Directory

My father was a tenant of Mann, Crossman, Paulin and held the tenancy from about 1936 until about 1958. My cousin, Mrs. C. Lombard, then took over the tenancy and I believe she was the last. *

1934/Mrs Minnie A Robinson/../../../Kellys Directory

1938/Mrs Minnie A Robinson/../../../Post Office Directory

1944/Mrs Minnie A Robinson/../../../Post Office Directory



* Provided By Alfred Robinson

** Provided By Stephen Harris