Search London wiki and Pub wiki history sites
All public house, restaurants, bars etc closed for the forseeable future from 20th March 2020, but this is a pub history site.
Harrow, 21 Whitefriars, St Brides London EC4
St Bride pub history index
This pub is believed to have been present by 1769. It was rebuilt in its present form in 1826. At 21 Primrose Hill and 21 Whitefriars at various times. **
A listing of historical London public houses, Taverns, Inns, Beer Houses and Hotels in St Brides, London. The St Brides, London listing uses information from census, Trade Directories and History to add licensees, bar staff, Lodgers and Visitors.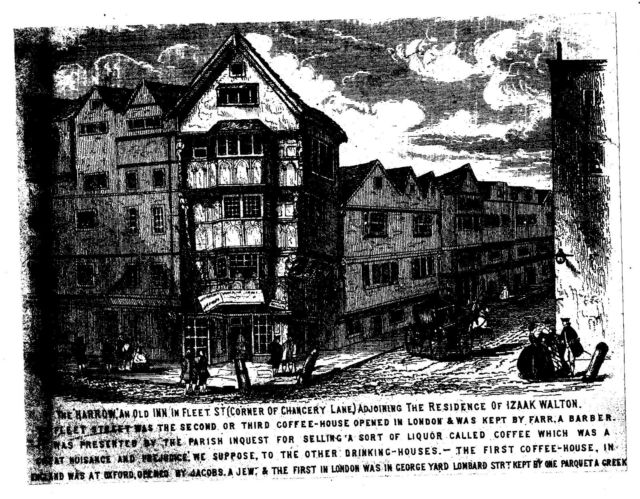 Harrow, Fleet Street (corner of Chancery lane) adjoining the residence of Izaak Walton - in 1840
Kindly provided by Colleen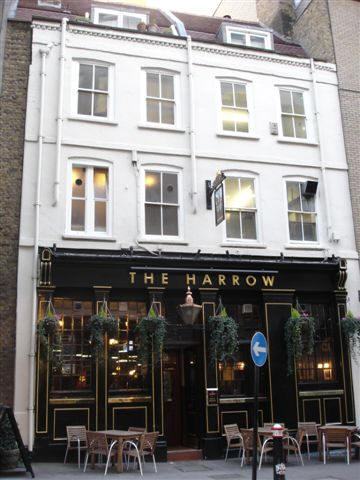 Harrow, 22 Whitefriars Street - in February 2007
Kindly provided by stephen Harris
The following entries are in this format:
Year/Publican or other Resident/Relationship to Head and or Occupation/Age/Where Born/Source.
1839/Robert Wright/../../../Pigotís Directory **

1842/Robert Wright/../../../Robsons Directory

1851/Richard Donoghue/../../../Kellys Directory **

1851/Richard Donoghue/Licensed Victualler/32/Camberwell, Surrey/Census
1851/Charlotte Donoghue/Wife/26/Islington, Middlesex/Census
1851/Rosina Donoghue/Sister in Law, Asssiatnt/21/Middlesex/Census
1851/Thos Walford/Brother in Law/14/Kingsland, Middlesex/Census
1851/Jas W Sims/Visitor, Clerk/33/Scotland/Census

May 1853/John Beard/Outgoing Licensee/../../Era

May 1853/Richard Harris/Incoming Licensee/../../Era

1856/Richard Harris/../../../Post Office Directory

February 1861/Thomas Archer/Outgoing Licensee/../../London City Press

February 1861/Louisa Bonse/Incoming Licensee/../../London City Press

February 1864/Henry John Styles/Outgoing Licensee/../../London City Press

February 1864/William Laver/Incoming Licensee/../../London City Press

1869/D Stubbins/../../../Post Office Directory

1875/John Graves/../../../P.O. Directory **

1881/Henry Bull/Publican/65/Worthing, Sussex/Census
1881/Annie Bull/Wife/40/Devizes, Wiltshire/Census
1881/Catherine Bull/Daughter, Barmaid/17/Bow, Middlesex/Census
1881/Alice Bull/Daughter, Milliner/14/Bow, Middlesex/Census
1881/Henry Bull/Son/11/Bow, Middlesex/Census
1881/William Bull/Son/9/Bow, Middlesex/Census
1881/Ellen Bull/Daughter/10/Bow, Middlesex/Census
1881/Frederick Bull/Son/7/St Brides, Middlesex/Census
1881/Samuel Bull/Son/5/St Brides, Middlesex/Census
1881/Bertha Bull/Daughter/1/St Brides, Middlesex/Census

1882/Henry Bull/../../../Post Office Directory

1884/Henry Bull/../../../Post Office Directory

1891/Charles Woodruff/../../../Post Office Directory

1891/Charles Woodruff/Publican/36/Paddington, London/Census
1891/Helen Woodruff/Wife/33/Hackney, London/Census
1891/Charles Ward/Potman/33/Lambeth, London/Census

1895/Charles Alfred Riley/../../../Post Office Directory

1899/Charles Alfred Riley/../../../Post Office Directory

1911/Charles A Riley/Licensed Victualler/46/Poplar, Middlesex/Census
1911/A E Riley/Wife/41/Marylebone, Middlesex/Census
1911/Agnes E W Riley/Daughter/18/St Brides, City of London/Census
1911/Grace Ethel Riley/Daughter/16/St Brides, City of London/Census
1911/Hellen Blanch Riley/Daughter/13/St Brides, City of London/Census
1911/Charles A Riley/Son/6/St Brides, City of London/Census
1911/Lillian Hanson/Niece, Assistant/25/Bow, London/Census
1911/Sarah Phillips/Visitpr/59/St Thomas Launceston, Cornwall/Census

1921/Charles Alfred Riley/../../../Post Office Directory



** Provided By Stephen Harris

Provided By Kevan