Search London wiki and Pub wiki history sites
All public house, restaurants, bars etc closed for the forseeable future from 20th March 2020, but this is a history site.
King Lud, 1 Ludgate Circus, St Brides London EC4
St Bride pub history index
At 78 Ludgate Hill EC4 by 1882; The pub was built in 1870 and closed in 2005 - it is now split between a bank and a café. **
A listing of historical London public houses, Taverns, Inns, Beer Houses and Hotels in St Brides, London. The St Brides, London listing uses information from census, Trade Directories and History to add licensees, bar staff, Lodgers and Visitors.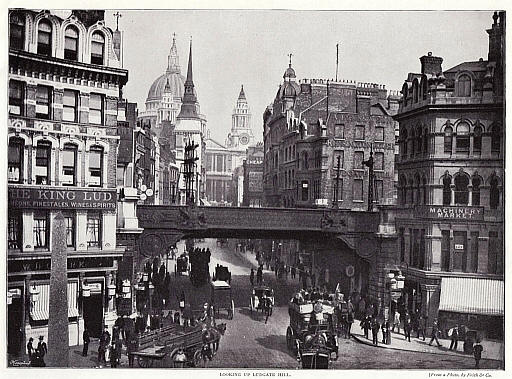 King Lud, Ludgate Circus - in 1896
Kindly provided by Colleen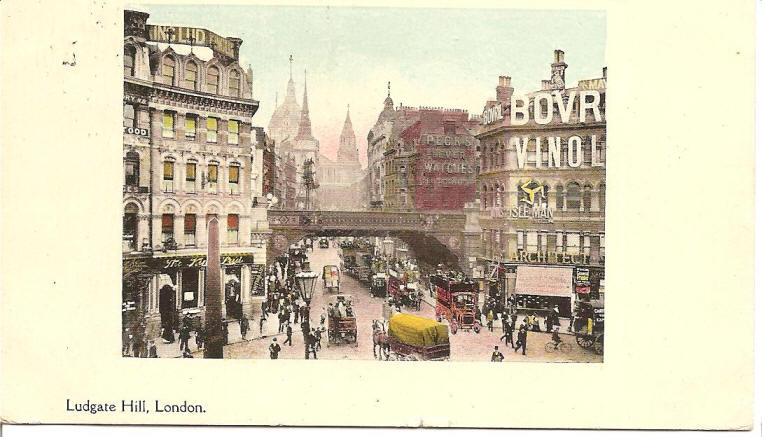 Old King Lud, 12 Ludgate Circus, EC4 in 1909, the King Ludd is the building at the left of the photo.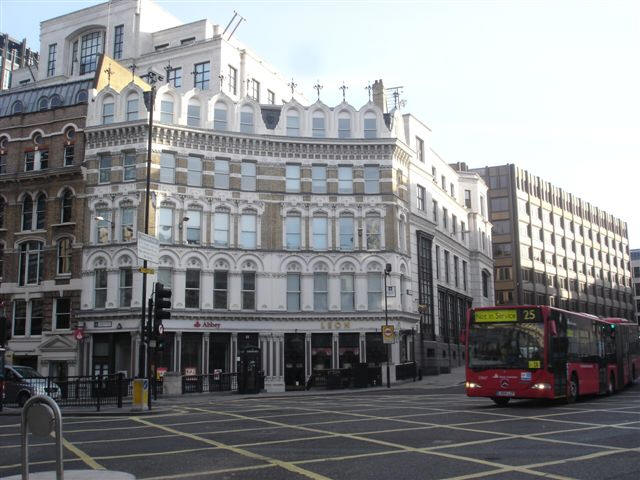 Old King Lud, 12 Ludgate Circus, EC4 - in February 2008
Both Kindly provided by Stephen Harris
The following entries are in this format:
Year/Publican or other Resident/Relationship to Head and or Occupation/Age/Where Born/Source.
1880/John Charles Bell/../../../Post Office Directory **

1881/Edward N Dale/Manager to Licensed Victualler/35/Camberwell, Surrey/Census
1881/Alice Dale/Wife/25/Deptford, Kent/Census
1881/Wiliam N Dale/Son/1/City of London, Middlesex/Census
1881/Charles N Dale/Son/7 months/City of London, Middlesex/Census
1881/Henry Hooper/Barman/21/Radlette, Hertford/Census
1881/Alfred Brislow/Barman/20/London, Middlesex/Census
1881/George Edwards/Barman/21/London, Middlesex/Census
1881/Eliza Hine/Barmaid/24/Peckham, Surrey/Census
1881/Ruth Clark/Barmaid/21/Staplehurst, Kent/Census
1881/Martha J Jones/Barmaid/21/Wales/Census
1881/Mary Ann Shaw/Barmaid/20/Rotherhithe, Kent/Census
1881/Alice F Hedger/Barmaid/19/Ewhurst, Surrey,/Census
1881/Emily Jones/Cook/21/Camberwell, Surrey/Census
1881/Elizabeth Jones/Housemaid/16/Camberwell, Surrey/Census
1881/Elizabeth Walker/Nurse/17/Bloomsbury/Census

1882/John Charles Bell/../../../Post Office Directory

1882/Emily Street / Barmaid /../../Proceedings of the Old Bailey **
1882/Mary Warton / Barmaid /../../Proceedings of the Old Bailey
1882/Frederick Wenn / Barman /../../Proceedings of the Old Bailey
1882/Charles Beresford / Barman /../../Proceedings of the Old Bailey

1884/Stephen James Kelson / Barman /../../Proceedings of the Old Bailey **

1891/Wm Henry Clark/../../../Post Office Directory

1896/Isaac Levy/../../../Post Office Directory **

1899/Levy & Franks/../../../Post Office Directory

1900/Levy & Franks/../../../Post Office Directory **

1911/Henry Albert Lloyd/Manager/36/Bristol, Gloucestershire/Census
1911/Edith Lloyd/Wife, assiatnt/27/Mile End, London/Census
1911/Lena Lloyd/Daughter/2/Kennington, London/Census
1911/Christina Elvia Brigden/Barmaid/18/Dublin, Ireland/Census
1911/Ada Rose Minks/Barmaid/19/Walworth, London/Census
1911/Alice Waters/Barmaid/22/Gravesend, Kent/Census
1911/Mabel K Watts/Barmaid/20/Kingston, London/Census
1911/Percy Charles Hore/Barman/22/Poplar, London/Census
1911/Stanley Walter Copping/Barman/25/Stowmarket, Suffolk/Census
1911/Frederick William Stevenson/Potman/22/Soho, London/Census
1911/Gertrude Scull/Housemaid/29/Bristol, Gloucestershire/Census
1911/Annie Brown/Cook/30/Burnham on Crouch, Essex/Census
1911/Rose Jane Ollett/Kitchenmaid/22/Greenwich, London/Census
1911/Frances Maud Rhodes/Kitchenmaid/22/Borough, London/Census
1911/Veronica Johnston/Nurse/16/Teddington, London/Census

1944/Levy & Franks Ltd/../../../Post Office Directory

1946/Levy & Franks Ltd/../../../Post Office Directory **



** Provided By Stephen Harris

Provided By Kevan