Search London wiki and Pub wiki history sites
All public house, restaurants, bars etc closed for the forseeable future from 20th March 2020, but this is a history site.
Kings & Keys, 142 Fleet Street, St Brides London EC4
St Bride pub history index
The name is derived from the amalgamation of two licences of separate former pubs, the Cross Keys and the Three Kings. This pub closed in 2008 and is now in cafe use. **
A listing of historical London public houses, Taverns, Inns, Beer Houses and Hotels in St Brides, London.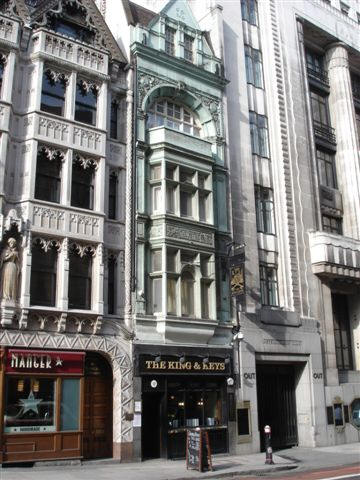 King & Keys, 142 Fleet Street, EC4 - in May 2007
Kindly provided by Stephen Harris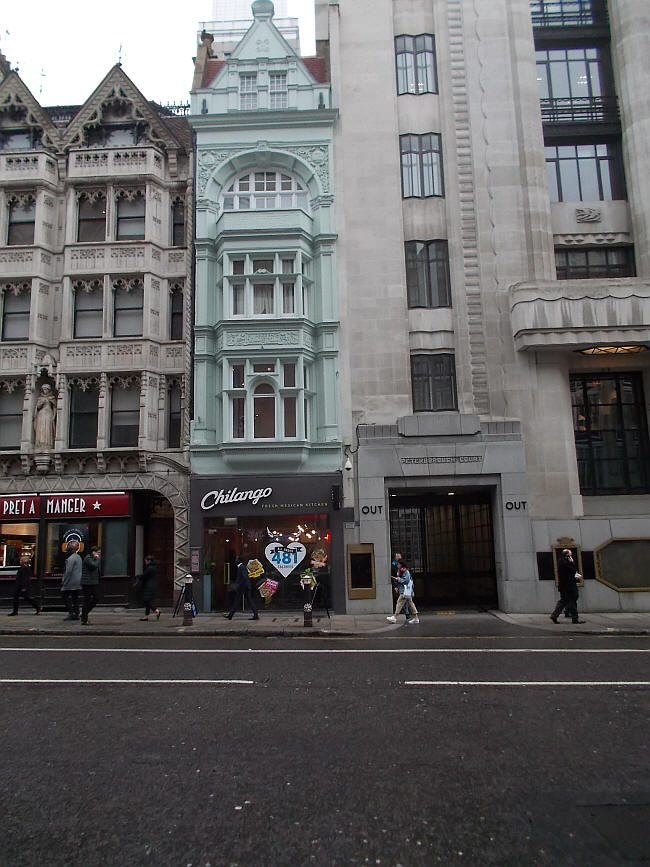 Previously the King & Keys, 142 Fleet Street, EC4 - in February 2019
The following entries are in this format:
Year/Publican or other Resident/Relationship to Head and or Occupation/Age/Where Born/Source.
1805/James Harrison, Kings and Key, 142 Fleet street/../../Holdens Directory

1827/Harrison/../../../Licensed Victuallers Association

1829/J Payne, King & Key, 142 Fleet street/../../Robsons Directory

1832/John Payne, King & Key, 142 Fleet street/../../Robsons Directory

1839/Charles West/../../../Pigot's Directory **

1841/John Simpson/../../../P.O. Directory **

1841/John Simpson/Victualler/33/Middlesex/Census
1841/Mary Simpson/../35/Middlesex/Census
1841/Edward Bridges/Victualler/17/Middlesex/Census
1841/Ann Frances/Female Servant/41/Middlesex/Census
1841/Ann Osborn/Female Servant/25/Middlesex/Census

1842/John Simson, King & Key, 142 Fleet street/../../Robson's Directory **

1851/Charles Sargent/../../../Kellys Directory

1851/Jno Sergeant/Licensed Victualler/41/Cornwall/Census
1851/Grace Sergeant/Sister, Domestic/38/Cornwall/Census
1851/Jane Sergeant/Sister, Domestic/34/Stratton, Cornwall/Census
1851/Margaret Davis/Cook/41/Radnor, South Wales/Census
1851/Fred Perry/Waiter/19/Stoke Newington/Census
1851/Thos Prior/Servant/30/Buckinghamshire/Census
1851/Jno Still/Lodger, Gentleman/33/Surrey/Census
1851/Thos Perkins/Lodger, Gentleman/41/Manchester/Census

July 1853/John Sargent/Outgoing Licensee/../../Era

Charles Balaam Pegler is at the Fountain & Star, 4 Castle court (1851) and Kings & Keys, 142 Fleet street (1853–61). Charles was on census night 7 Apr 1861 and as luck would have it traced a transcription of the relevant census return. Charles Pegler, "retired victualler", aged 35 and born Christchurch [Southwark], Surrey, was living at Park Cottages, Hammersmith. With him were three of his children, all born Fleet Street between 1854 and 1859 (plus three servants). I found St Bride Fleet Street baptismal entries in respect of two of the children (Oct 1857 and Nov 1859 respectively), the parents in both instances being Charles & Eliza Pegler. Eliza Pegler (née Vickers) was not with her husband at census 1861: she was visiting Charles's uncle, Thomas Miller, and family at Melcombe Regis, Dorset at the time. Charles Balaam Pegler, aged 45, was buried at Lambeth, Surrey on 28 Dec 1871. ***

July 1853/Charles Pegler/Incoming Licensee/../../Era

1856/Charles Pegler/../../../Post Office Directory

February 1861/Charles Pegler/Outgoing Licensee/../../London City Press

February 1861/James Johnston/Incoming Licensee/../../London City Press

May 1862/James Johnston/Outgoing Licensee/../../Era

May 1862/John Drummond/Incoming Licensee/../../Era

1865/Mr John Drummond, Kings and Key, 142 Fleet street /../../Licensed Victuallers Association

1869/G W Godfrey/../../../Post Office Directory

1870/Wm. Godfrey/../../../P.O. Directory **

1878/Geo Wm Godfrey/../../../Post Office Directory **

1881/George W Godfrey/Licensed Victualler/40/London, Middlesex/Census
1881/Robert T Godfrey/Brother, Licensed Victualler/31/London, Middlesex/Census
1881/Emma L Godfrey/Sister In Law, Housekeeper/27/London, Middlesex/Census
1881/Mary Price/General Servant/24/London, Middlesex/Census
1881/Thomas Behenna/Potboy/20/Wallworth Common/Census

1882/George William Godfrey/../../../Post Office Directory

1884/Henry Cole/../../../Post Office Directory

1886/Henry Cole, Kings & Keys, 142 Fleet street/../../Post Office Directory

1891/Henry Cole/../../../Post Office Directory

1891/Herbert Carter/Manager Publican/29/Brixton, Surrey/Census
1891/Eleanor M A Carter/Wife/26/Clapham, Surrey/Census
1891/Catherine S Parker/Barmaid/23/Long Acre, London/Census
1891/Louisa Butterfill/Barmaid/20/Seven Dials, London/Census

1894/Henry Cole / Licensee /../../Proceedings of the Old Bailey **

1895/Henry Cole/../../../Post Office Directory

1899/Henry Spiro/../../../Post Office Directory

1911/Sidney Chambers/Licensed Victualler Manager/42/Mile End Old Town/Census *
1911/Sarah Ann Chambers/Wife, Assistant/42/Blackfriars/Census
1911/Henrietta Martin/Barmaid/25/Woolwich/Census
1911/Eliza Hayes/Barmaid/40/Kensington/Census
1911/Hannah Lewis/Charwoman, Widow/48/Snow Hill EC/Census

1915/Richard Hy Eade/../../../Post Office Directory **

1921/Richard Hy Ead/../../../Post Office Directory **

1938/Pioneer Catering Co Ltd/../../../Post Office Directory **

1944/Pioneer Catering Co Ltd/../../../Post Office Directory **



* Provided By John Brown

** Provided By Stephen Harris

*** Provided By Barrie MacKay