Red Lion, 31 Poppins Court, Fleet Street, St Brides EC4
St Bride pub history index
This pub closed in the mid-1970s and a replacement pub opened in 1976. This was called the Popinjay and had the address 112-120 Fleet Street, being built into part of the Daily Express building. It closed in around 1992 and is now demolished. **
A listing of historical London public houses, Taverns, Inns, Beer Houses and Hotels in St Brides, London. The St Brides, London listing uses information from census, Trade Directories and History to add licensees, bar staff, Lodgers and Visitors.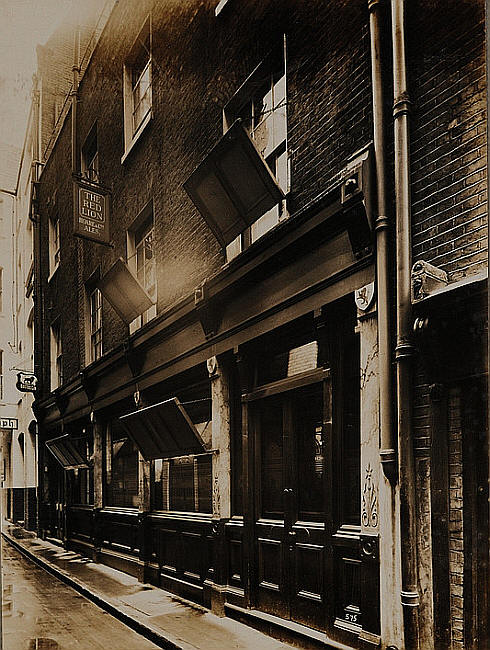 Red Lion, 31 Poppins Court, Fleet Street, St Brides EC4
Residents at this address.
Manchester Lodge Freemasons membership initiated July 6th 1814, Thomas Coates Dale, Victualler, Poppins court, 1814

1820/Thomas Coates Dale / Victualler /../../Sun Fire Office records held at Guildhall Library **

1833-34/John Carter/../../../Pigot's Directory

1839/Benjamin Hill/../../../Pigot's Directory **

1841/Benjamin Hill/../../../Post Office Directory

1841/Benjamin Hill/Victualler/30/Middlesex/Census
1841/Mary Hill/../35/../Census
1841/Eliza Owen/Female Servant/20/Middlesex/Census
1841/James Frank/Male Servant/15/Middlesex/Census

1843/Benjamin Hill/../../../Kellys Directory

February 1848/Mary Hill/Outgoing Licensee/../../Era

February 1848/James Toomer/Incoming Licensee/../../Era

1851/James Hadland/../../../Kelly's Directory **

1851/James Hadland/Victualler/30/Oxfordshire/Census
1851/Mary Hadland/Wife/35/Brimpton, Berkshire/Census
1851/Mary E Hadland/Daughter/9 months/St Brides, London/Census
1851/Harriett Hadland/Sister, Barmaid/23/Oxfordshire/Census
1851/John Harris/Cousin, Glazier/21/Oxfordshire/Census
1851/Martha Cullin/Nurse Maid/2/Greenhithe, Kent/Census
1851/John Farmer/Waiter/24/Bristol/Census

1856/J Hadland/../../../Post Office Directory

1869/Charles Peck/../../../Post Office Directory

1881/John Hyde/Publican/57/(BS), Spain/Census
1881/Frances Hyde/Wife/31/Southwark, Surrey/Census
1881/Ellen Hyde/Daughter/7/City of London, Middlesex/Census
1881/Fanny Hyde/Daughter/5/City of London, Middlesex/Census
1881/George Hyde/Son/2/City of London, Middlesex/Census
1881/William Hyde/Son/7 months/City of London, Middlesex/Census
1881/Elizabeth Norlan/Barmaid/18/Southwark, Surrey/Census
1881/Anne Whale/Servant/20/City of London, Middlesex/Census

1882/John Hyde/../../../Post Office Directory

1884/Valentine Day/../../../Post Office Directory

1891/Valentine Day/../../../Post Office Directory

1895/Mrs Emily Loftin/../../../Post Office Directory

1899/Percy Tremlett Day/../../../Post Office Directory

1911/Thomas James Twamley/Licensed Victualler/34/Stratford on Avon/Census
1911/Brede Twamley/Wife, Assistant/37/Kerry, Ireland/Census
1911/Freda E;leanor Dickinson/Barmaid/20/Salisbury/Census
1911/Essy Paul/Barmaid/20/Poplar/Census
1911/Dora Everett/Housemaid/20/Wood green/Census

1921/Thomas James Twamley/../../../Post Office Directory

1929/Thomas James Twamley / Licensed Victualler, Deceased / Died 11 December 1929 /../../London Gazette, 28 February 1930 **

1934 - 1936/executors of Twamley/../../../Freehold

1937 - 1964/Mrs Twamley remarried, now Mrs Brooks/../../../Freehold



** Provided By Stephen Harris