Search London wiki and Pub wiki history sites
All public house, restaurants, bars etc closed for the forseeable future on 20th March 2020, but this is a history site. But how about the landlords give their tenants a break, no business, then please charge them no rent.
Scotch Stores, 35 Whitefriars, St Brides London EC4
St Bride pub history index
In 1843 and earlier, it is addressed as at 35 Water lane, it being the Coach and Horses at the time. I am presuming that Water lane followed the original line of the River Fleet before the river was boarded over. For many years now it has been called the Coach & Horses since at least 1938; as it was in 1859 and earlier. This pub was rebuilt in its present form in 1898. ** This Grade II Listed building was a former Charrington's pub, later run by Greene King. Acquired by Pubs of Distinction and renamed the Hack & Hop around 2014. *
A listing of historical London public houses, Taverns, Inns, Beer Houses and Hotels in St Brides, London. The St Brides, London listing uses information from census, Trade Directories and History to add licensees, bar staff, Lodgers and Visitors.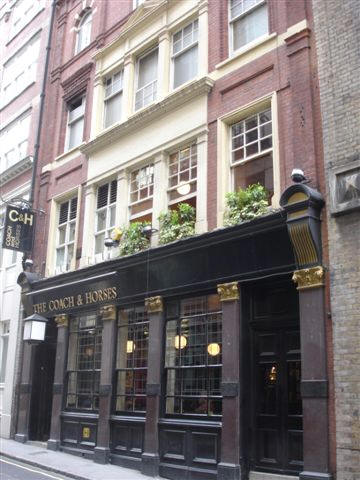 Scotch Stores, 35 Whitefriars Street, EC4 - in May 2007
Kindly provided by Stephen Harris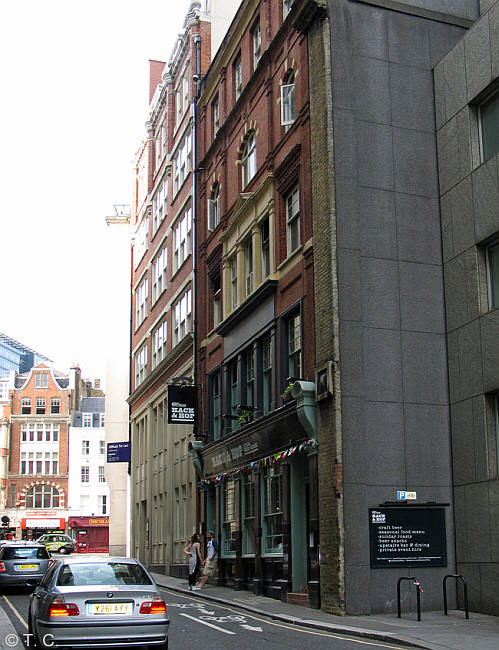 Scotch Stores, 35 Whitefriars Street EC4 - in July 2014
Kindly provided by Tris
The following entries are in this format:
Year/Publican or other Resident/Relationship to Head and or Occupation/Age/Where Born/Source.
1805/John Moult/Victualler, 35 Water lane, Fleet street/../../Holdens Directory

1825/Mr Adamson/Coach & Horses, Water lane, Fleet street/../../Licensed Victuallers Association

1832/John Leighton/Coach & Horses, 35 Water lane, Fleet street/../../Robsons Directory

1833-34/Jno Leighton/Coach & Horses, 35 Water lane/../../Pigots Directory

1841/Edward Kennett/Licensed Victualler/40/../Census
1841/Martha Kennett/../35/Middlesex/Census
1841/Edward Kennett/../10/Middlesex/Census
1841/James Meredith/Male Servant/20/../Census
1841/Margaret Cronan/Female Servant/25/../Census

1842/E Kennett/Coach & Horses, 35 Water lane/../../Robsons Directory

1843/Edward Kennett/Coach & Horses, 35 Water lane/../../Kellys Directory

1848/Thomas Genge/../../../Post Office Directory

1851/Thomas Genge/../../../Kelly's Directory **

1851/James Rutter Willis/Licensed Victualler/42/Woodbridge, Suffolk/Census
1851/Catherine Willis/Wife/34/Hertfordshire/Census
1851/Elizabeth E Willis/Daughter/18/Lambeth, Surrey/Census
1851/Henry Chas Willis/Son/9/Walworth, Surrey/Census
1851/James Rutter Willis/Son/6/Walworth, Surrey/Census
1851/Emily Sarah Willis/Daughter/4/Walworth, Surrey/Census
1851/Alfred Robert Willis/Son/2/Walworth, Surrey/Census
1851/William H Whinnie/Visitor, Bookbinder/21/Scotland/Census
1851/Philip Godfrey/Visitor, Traeller/43/Exeter, Devon/Census

1856/James Cole/../../../Post Office Directory

July 1859/J King/Outgoing Licensee/../../London City Press

July 1859/F Smith/Incoming Licensee/../../London City Press

January 1862/Samuel Henry Lake/Outgoing Licensee/../../Era

January 1862/Alfred Emery/Incoming Licensee/../../Era

May 1862/Alfred Emery/Outgoing Licensee/../../Era

May 1862/Andrew Campbell/Incoming Licensee/../../Era

1869/Mrs Jane Brewster/../../../Post Office Directory

October 1870/Jane Brewster/Outgoing Licensee/../../London City Press

October 1870/J H H Linschmitt/Incoming Licensee/../../London City Press

1871/Johann Hermann Henrich Linschmitt/Licensed Victualler/54/Holstein Allona, Germany/Census
1871/Mary Linschmitt/Wife/40/Hoxton, Middlesex/Census
1871/Kate G Rees/Barmaid/18/City, London/Census
1871/Maria Bennett/Barmaid/19/Kingsland, Middlesex/Census
1871/George Butcher/Cellerman/30/Camberwell, Surrey/Census
1871/Maris M K Wichmann/Cook/22/Meldorf, Holstein/Census

1878/George Frederick Davis/../../../Post Office Directory **

1881/George F Davis/Publican/27/Cambridge/Census
1881/Mary E Davis/Wife/33/Southwark, Surrey/Census
1881/Gertrude M Graves/Visitor/25/London, Middlesex/Census
1881/Ethell Wood/Barmaid/20/Southwark, Surrey/Census
1881/Maria Hovey/General Servant/22/../Census

1882/Geo Fredk Davis/../../../Post Office Directory

1884/George F Davis/../../../Post Office Directory

1891/Geo Fredk Davis/../../../Post Office Directory

1891/George F Davis/Licensed Victualler, Widow/46/Cambridge/Census
1891/Lizzie Mooring/Barmaid/24/Evenley, Northamptonshire/Census
1891/Florence Truss/Servant/13/Croughton, Oxfordshire/Census
1891/Robert Leadbettr/Potman/17/Chelsea/Census

1895/George Fredk Davis/../../../Post Office Directory

1896/George Frederick Davis / Deceased / Died 18 September 1896 /../../London Gazette, 13 October 1896 **

1899/William Higgins/../../../Post Office Directory

1901/Christian Lauterwasser/Licensed Victualler/34/Germany, Foreign Subject/Census
1901/Emily Lauterwasser/Wife/28/Tunbridge Wells, Kent/Census
1901/Charles Lauterwasser/Son/3/Southwark, London/Census
1901/Ellen Murray/Cook/29/Camberwell, London/Census
1901/Margaret Gibbs/Domestic Servant/20/Tunbridge Wells, Kent/Census
1901/Flornce Walker/Nurse/17/Strand, London/Census
1901/Thomas Grey/Potman/37/Lameth, Surrey/Census
1901/Jacob Lauterwasser/Visitor, Commission Agent/31/Germany, Foreign Subject/Census

1911/Christian Lauterwasser/Licensed Victualler/44/Ilsfield, Wurtemberg/Census
1911/Emily Lauterwasser/Wife/39/Tunbridge Wells/Census
1911/Lilly Moores/Barmaid/23/Liverpool/Census
1911/Rosina Saunders/Barmaid/22/Southall street, City/Census
1911/Alln White/Housemaid/28/Battersea, London/Census

1915/Robert Ernest Thorpe/../../../Post Office Directory **

1963/Frederick W Smith/Coach & Horses/../../BT Telephone Directory



* Provided By Tris

** Provided By Stephen Harris