Search London wiki and Pub wiki history sites
All public house, restaurants, bars etc closed for the forseeable future on 20th March 2020, but this is a history site
Ship, 27 Lime Street, St Dionis Backchurch, City of London EC3
Since 1985, this pub has operated in what are effectively the cellars of the former pub (2006). ** Closed in 2010. Now in restaurant use. *
St Dionis Backchurch pub index
A listing of historical London public houses, Taverns, Inns, Beer Houses and Hotels in St Dionis Backchurch parish, City of London. The St Dionis Backchurch, City of London Public House Trade Directory uses information from census, Trade Directories and History to add licensees, bar staff, Lodgers and Visitors.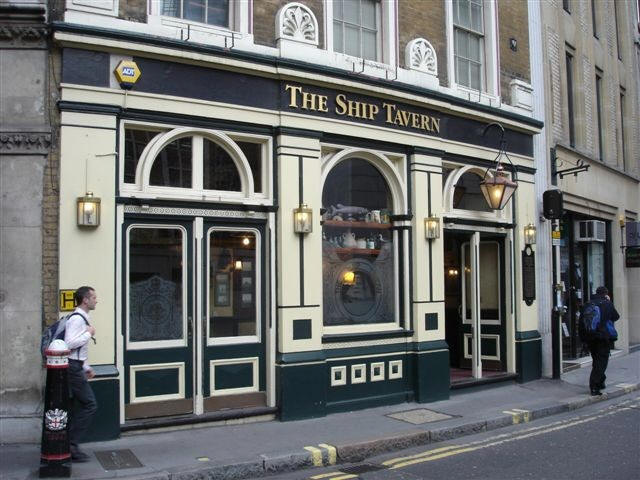 Ship Tavern, 27 Lime Street - in September 2006
Kindly Provided by Stephen Harris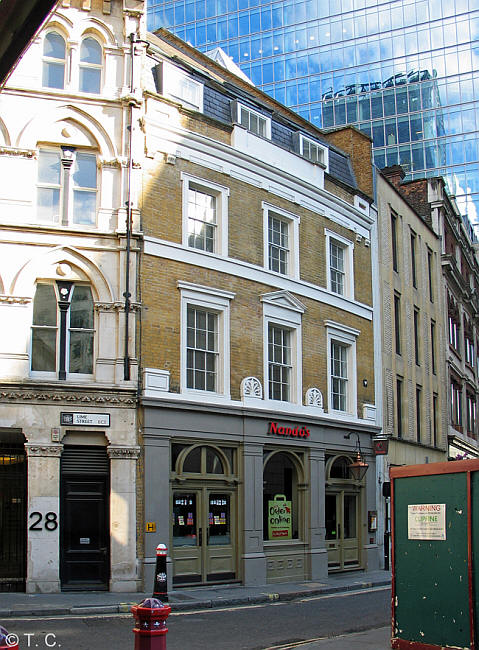 Ship, 27 Lime Street EC3 - in July 2014
Kindly provided by Tris
The following entries are in this format:
Year/Publican or other Resident/Relationship to Head and or Occupation/Age/Where Born/Source.
1825/Mr Rowbottom, Ship Tavern, Lime street/../../Licensed Victuallers Association

1829/W Robottom, Ship Tavern, 27 Lime street, Leadenhall street/../../Robsons Directory

1833-34/John Coverly, Ship Tavern, 27 Lime street/../../Pigots Directory

1836/John Coverly, Ship Tavern, 27 Lime street/../../Pigots Directory

1839/John Richards/../../../Pigots Directory

1841/John Richards/../../../Post Office Directory

1848/John Richards/../../../Post Office Directory

1851/John Richards/../../../Kellys Directory

1851/John Richards/Inn Keeper/50/Cornwall/Census
1851/Sarah Richards/Wife/46/Hertfordshire/Census
1851/Mary Ann Weller/Niece/23/Middlesex/Census
1851/Sarah Deverall/Cook/48/Colne, Wiltshire/Census
1851/Henry Jennings/Waiter/37/Stepney, Middlesex/Census
1851/Joseph Hunt/Potman/19/Reading, Berkshire/Census

1856/John Richards/../../../Post Office Directory

1861/Mary A Weller/Housekleeper in charges of tavern/36/London, Middlesex/Census
1861/Henry Jennings/Wasiter/49/London, Middlesex/Census
1861/Mary A Cook/Barmaid/25/London, Middlesex/Census
1861/James Byrne/Cook/42/London, Middlesex/Census
1861/William I Dowding/Cellerman & Waiter/30/London, Middlesex/Census

1869/James Connelly/../../../Post Office Directory

1871/James Connolly/Licensed Victualler/58/Ireland/Census
1871/Sarah Connolly/Wife/58/Grays, Essex/Census
1871/Mary Boloe/Barmaid/28/Southwark/Census
1871/Sarah Hacker/Barmaid/26/Tottenham, Middlesex/Census
1871/Ann Smith/Domestic Servant/45/Suffolk/Census
1871/Sarah Baynham/Waitress/30/Blackfriars, Surrey/Census
1871/Maria Kemp/Domestic Servant/22/Banham, Norfolk/Census
1871/Marian Farthing/Domestic Servant/25/Somerset/Census
1871/Robert Drummond/Porter/20/Cheshire/Census

1881/Richard J Dart/Licensed Victualler/45/Twickenham, Middlesex/Census
1881/Thomas Green Dallman/Brother In Law, Licensed Victualler/35/Shacklewell, Middlesex/Census
1881/Ann Dallman/Sister, House Keeper/32/Twickenham, Middlesex/Census
1881/Amelia Frances Rowell/Barmaid/18/Edmonton, Middlesex/Census
1881/Ellen Closh/Barmaid/22/Deptford, Kent/Census
1881/Kate Ellen Dayer/Barmaid/21/Poplar, Middlesex/Census
1881/Eliza Lipson/Domestic Servant/37/Southampton, Hampshire/Census
1881/Elizabeth Leyton/Domestic Servant/19/Poplar, Middlesex/Census

1882/Richard James Dart/../../../Post Office Directory

1884/Keene & Rushton/../../../Post Office Directory

1891/Mrs Jane Keene/../../../Post Office Directory

1895/Mrs Jane Keene/../../../Post Office Directory

1899/Percival C Keene/../../../Post Office Directory

1910/James George Brown/../../../Post Office Directory

1911/Miss Bowles/Barmaid/22/Chatham/Census
1911/Miss Cummings/Barmaid/25/Croydon/Census
1911/Miss Topp/Manageress/27/Brighton/Census

1915/Ernest William Ross/../../../Post Office Directory **

1934/Mrs Ruth Mary Groves/../../../Kellys Directory

1938/Mrs Ruth Mary Groves/../../../Post Office Directory

1944/William Jas Groves/../../../Post Office Directory

The licence of the Ship is held jointly by Mr Wm J Groves and Mr W A Ross although as the former is eighty three years of age, Mr Ross and his wife take care of the house and live on the premises. The Ross family have been at the Ship for more than forty years, the present licensee's father coming there in 1912. After the death of his father and his mother, Mr W A Ross took over the licence (with his step father, Mr Groves), in 1946.

Mr W A Ross served in the Merchant Navy and the R N R during World War II, making many Atlantic crossings with troopships - Black Eagle Quarterly Journal [1955] ***

1991/../Ship Tavern, 27 Lime Street, Grand Met-Trumans/../../Pub Directory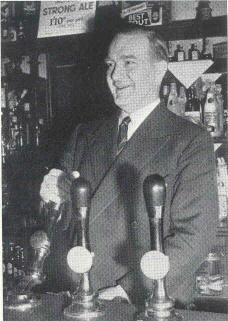 Mr W A Ross, joint licensee of the Ship, Lime Street in 1955
Kindly provided by Alex Wilkinson
J Groves, died March 16th, 1957, licensee of the Ship since 1939, at the age of 85 years - Black Eagle Quarterly Journal ***
* Provided By Tris

** Provided by Stephen Harris

*** Provided by Alex Wilkinson