Search London wiki and Pub wiki history sites
All public house, restaurants, bars etc closed for the forseeable future on 20th March 2020, but this is a history site. But how about the landlords give their tenants a break, no business, then please charge them no rent.
Boars Head, 66 Fleet street, St Dunstan in West EC4
St Dunstan in West pub history Index
The Access to Archives site has just suggested that the Boars Head existed as early as 1441-42, i.e. "John, bishop of Bath and Wells, to grant a messuage called the Boar's Head next to the Bolt-in-Tun in Fleet Street in the parish of St. Dunstan-in-the-West to the prior and convent of the Carmelites in Fleet Street. London." in Henry V1 20.
BOAR'S HEAD, No. 66, Fleet Street, is dated 1616, but I find the " Boar's Head" Alley is mentioned at least eighty years previous. In 1775, "Sarah Fortescue, a widow, victuallar at the " Boar's Head Ale House," was presented for keeping a disorderly house. - Memorials of Temple Bar 1870
Mooney's was founded as a company in 1888, it acquired the Boar's Head, which was actually its fourth pub in London, in 1895, and the pub's name after that was the Irish House, which was what Mooney's called most of its pubs in the UK (there was one near London Bridge called Mooney's Dublin House) and according to Kelly's directories the pub in Fleet Street never became the Tipperary until 1968. ***

A listing of historical London public houses, Taverns, Inns, Beer Houses and Hotels in St Dunstan in West, City of London.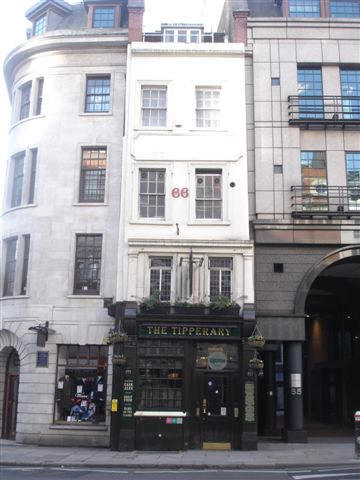 Boar's Head, 66 Fleet Street, EC4 - in February 2008
Kindly provided by Stephen Harris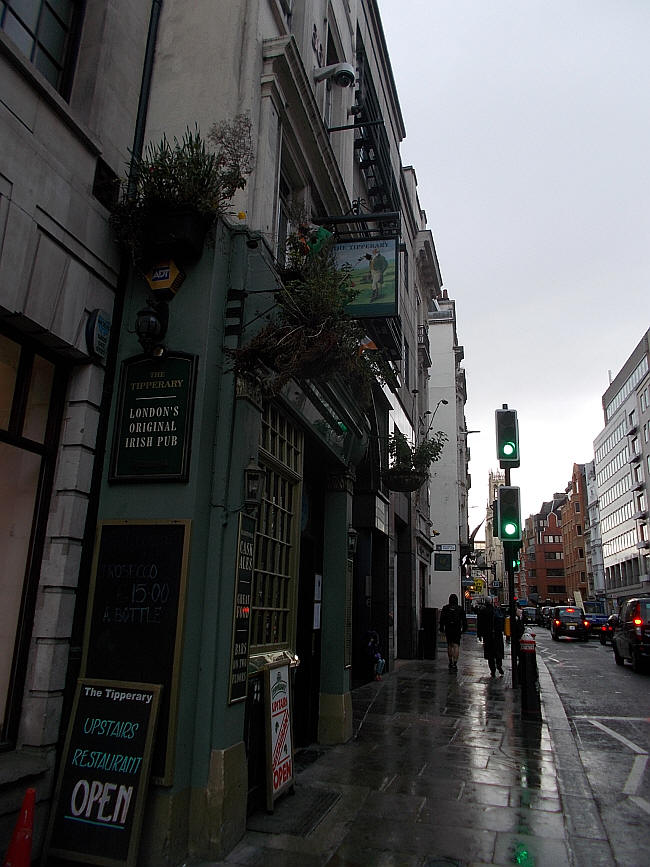 Tipperary, 66 Fleet Street, EC4 - in February 2019
Residents at this address
In 1775, "Sarah Fortescue, a widow, victuallar at the " Boar's Head Ale House," was presented for keeping a disorderly house.

1791/William Haslewood, victualler, Boars Had, Fleet street/../../LMA - Access to Archives

1792/James Swaddall, victualler, Boars Had, Fleet street/../../LMA - Access to Archives

1794/James Swaddall, victualler, Boars Had, Fleet street/../../LMA - Access to Archives

1800/Job Nightingale, victualler, Boars Had, Fleet street/../../LMA - Access to Archives

1824/Charles Abbott, victualler, Boars Had, Fleet street/../../LMA - Access to Archives

1826/Philip James Antill, victualler, Boars Had, Fleet street/../../LMA - Access to Archives

April 1827/Antill/../../../Licensed Victuallers Association

28th March 1828/Philip James Antill marries Ann Maria Gage at St Dunstan West by licence/../../../Marriages

1832/David Botcherby, 66 Fleet street/../../Robsons Directory

1833-34/David Botcherby/../../../Pigots Directory

1839/William Barker/../../../Pigots Directory

1841/William Barker/../../../Post Office Directory

1842/William Barker/../../../P.O. Directory **

1842/William Barker, Boars Had, 66 Fleet street/../../Robson's Directory **

1848/Mrs Ann Walbancke/../../../Kellys Directory

February 1849/Ann Walbancke/ Outgoing Licensee /../../The Era

February 1849/Edward Weston/ Incoming Licensee /../../The Era

1851/Edward Weston/../../../Kellys Directory

1851/Edward Weston/Publican/27/Marylebone/Census
1851/Ann Weston/Wife/37/Chwlmsford/Census
1851/Edward Weston/Son/5/Hackney/Census
1851/Henry Weston/Son/4/Poplar/Census
1851/Tom Weston/Son/3/St Dunstan West/Census
1851/Ann Quinn/Cook/26/Chwlmsford/Census
1851/Jane Brown/Housemaid/19/Wapping/Census

1853/Edward Weston/../../../Post Office Directory

May 1853/Edward Weston/Outgoing Licensee/../../Era

May 1853/Charles Cheel/Incoming Licensee/../../Era

1856/Charles Cheel/../../../Post Office Directory

July 1859/R Rose/Outgoing Licensee/../../London City Press

July 1859/W M Rose/Incoming Licensee/../../London City Press

February 1861/William Marshall Rose/Outgoing Licensee/../../London City Press

February 1861/George Prince James/Incoming Licensee/../../London City Press

1861/George Prince James/Victualler/37/Wimborne, Dorset/Census
1861/Maria James/Wife/34/Ringwood, Hampshire/Census
1861/Francis M James/Daughter/7/Wimborne, Dorset/Census
1861/Georgina M James/Daughter/4/Wimborne, Dorset/Census
1861/Adol M James/Son/2/Southwark, Surrey/Census
1861/Francis Stickland/Aunt, Assistant, Widow/60/Rushton, Dorset/Census
1861/Maria Barman/Aunt, Assistant, Widow/62/Rushton, Dorset/Census
1861/Hannah Adams/Domestic Servant/16/Covent Garden, Middlesex/Census
1861/Jane Fry/Domestic Servant/21/Poole, Dorset/Census
1861/Henry Byme/Potman/18/St Giles, Middlesex/Census

1862/George P James/../../../Post Office Directory

October 1862/George Prince James/Outgoing Licensee/../../Morning Post

October 1862/John Clark/Incoming Licensee/../../Morning Post

1869/William Warrington/../../../Post Office Directory

1870/William Warrington/../../../Post Office Directory **

1871/William Warrington/Licensed Victualler/51/Ludlow, Shropshire/Census
1871/Mary Flower/Sister, Housekeeper/48/Ludlow, Shropshire/Census
1871/Thomas Barnes/Boarder, Accountant/52/Sandy Hazels, Bedfordshire/Census
1871/Mary Connor/Servant/29/Cork, Ireland/Census
1871/Edward Barker/Potman/21/Clerkenwell, Middlesex/Census
1871/Sarah J Darlapon/Barmaid/21/Paddington, Middlesex/Census

1874/W Warrington/../../../Licensed Victualler & Hoteliers Directory

1878/William Newman/../../../Post Office Directory **

1881/Joseph Balderson/Publican/55/Taventry, Northampton/Census
1881/Roselia Balderson/Wife/52/Kingsland, Middlesex/Census
1881/Edwin Balderson/Son, Sadler/24/Richmond Victoria, Australia/Census
1881/Amelia Balderson/Daughter/19/Portland Do, Australia/Census
1881/Sarah Rose/General Servant/21/Cambridge/Census

1882/Joseph Balderson/../../../Post Office Directory

1884/Joseph Balderson/../../../Post Office Directory

1885/Joseph Balderson/../../../Post Office Directory **

1886/Thomas Weatherley, Boars Head, 66 Fleet street/../../Post Office Directory

1886/Thomas Weatherley/../../../Business Directory of London **

1889/James Bloxham/../../../Post Office Directory

1891/Robert Carter/../../../Post Office Directory

1893/Mrs Lily Rantzen/../../../Post Office Directory **

1896/George Albert Reid/../../../Post Office Directory

1898 - Now the Irish House

1898/J. G. Mooney & Co. Ltd/../../../Post Office Directory

1901/John Mulderry/Manager Public House/34/Ireland/Census
1901/William Barrett/Barman/24/Ireland/Census
1901/Edward Monahan/Barman/23/Ireland/Census
1901/William Dolan/Bar Attendant/22/Ireland/Census
1901/Robert Tarrent/Bar Attendant/20/Ireland/Census
1901/Emily Boxall/Cook/42/City, London/Census

1904/J. G. Mooney & Co. Ltd/../../../Post Office Directory

1908/J. G. Mooney & Co. Ltd/../../../Post Office Directory

1911/Denis Kennedy/Public House Manager/29/Tipperary/Census
1911/James Jackman/Assistant/25/Wexford/Census
1911/Patrick Brown/Assistant/24/Dublin/Census
1911/James Downes/Assistant/20/Clare, Killard/Census
1911/Ellen Wilkinson/Housekeeper/51/London/Census

1913/J. G. Mooney & Co. Ltd/../../../Post Office Directory

1918/J. G. Mooney & Co. Ltd/../../../Post Office Directory

1921/J. G. Mooney & Co. Ltd/../../../Post Office Directory **

1938/J. G. Mooney & Co. Ltd/../../../Post Office Directory **

1950/J. G. Mooney & Co. Ltd/../../../Post Office Directory **



** Provided By Stephen Harris

*** Provided By Martyn Cornell