Search London wiki and Pub wiki history sites
All public house, restaurants, bars etc closed for the forseeable future from 20th March 2020, but this is a pub history site.
Cock Tavern, 201 Fleet street, St Dunstan in West EC4
St Dunstan in West pub history Index
It was originally established in 1549 on the north side of Fleet Street at No. 190. In the 1600s the pub was called the Cock & Bottle. The original pub closed in 1886 and was demolished to accommodate a new branch of the Bank of England (itself now a pub). A replacement Cock Tavern was built in 1888 at No. 22 Fleet Street on the south side of the road. **
A listing of historical London public houses, Taverns, Inns, Beer Houses and Hotels in St Dunstan in West, City of London.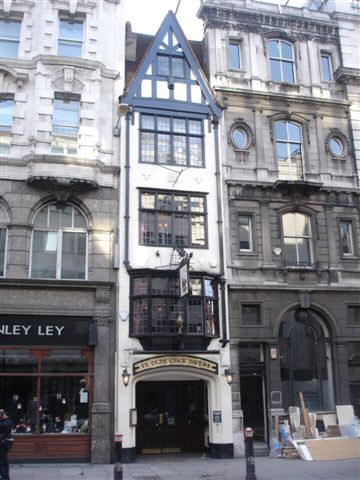 Old Cock Tavern, 201 Fleet Street, EC4 - in February 2008
Kindly provided by Stephen Harris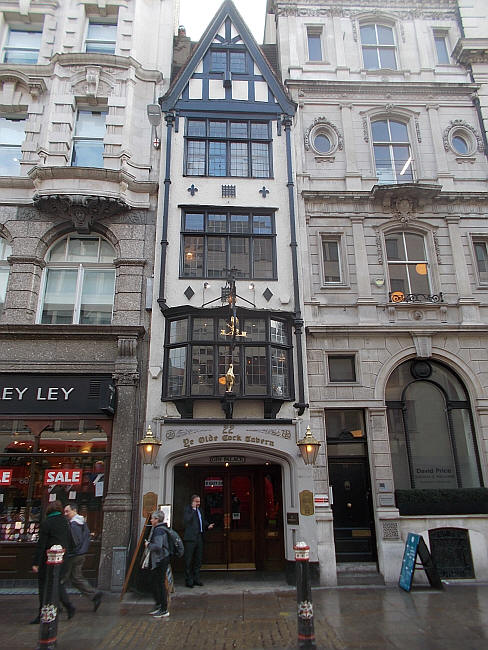 Old Cock Tavern, 201 Fleet Street, EC4 - in February 2019
Residents at this address
1668/Mrs Knipps/../../../Samuel Pepys Diaries **

1811/Joseph Ward, Cock Tavern, 201 Fleet street /../../Holdens Directory

1825/Mr. William Colnett, Cock Tavern, Fleet street /../../Licensed Victuallers Association

1827/William Colnett, Cock Tavern, Fleet street/../../Licensed Victuallers Association

1829/William Colnett, Cock Tavern, 201 Fleet street/../../Robsonís Directory

1832/William Colnett, Cock Tavern, 201 Fleet street/../../Robsonís Directory

1833-34/Henry William Colne, Cock, 201 Fleet street/../../Pigots Directory

1839/William Colnett/../../../Pigots Directory

1841/William Colnett/../../../Post Office Directory **

1842/William Colnett, Cock Tavern, 201 Fleet street/../../Robsonís Directory **

1843/William Colnett, Cock Tavern, 201 Fleet street/../../Kellys Directory

1848/William Colnett/../../../Post Office Directory

1851/William Colnett/../../../Kellys Directory

1856/William Colnett/../../../Post Office Directory

1860/William Colnett/../../../The Draper & Clothier, Travellersí Hand-Book **

1869/William Colnett/../../../Post Office Directory

1870/William Colnett/../../../Post Office Directory **

1871/Ann Lance/Housekeeper/36/St Pancras, Middlesex/Census
1871/Mary A Hart/Cook/52/Whitford, Essex/Census
1871/Alice Morden/Kitchenmaid/33/Ely, Cambridgeshire/Census
1871/Ellen Morden/Housemaid/36/Ely, Cambridgeshire/Census
1871/Annie Oates/Scullerymaid/34/Manchester/Census
1871/Charles Ranwell/Porter/37/Middlesex/Census

1870/Mrs Eliza Colnett, Cock Tavern, 201 Fleet street/../../Licensed Victualler & Hotelier Directory

1878/Mrs Eliza Calnett/../../../Post Office Directory **

1881/Eliza Calnett/Licensed Victualler, Widow/65/Greenwich, Kent/Census
1881/Julia Calnett/Daughter/30/Tunbridge Wells, Kent/Census
1881/Walter Calnett/Son, Manager Licensed Victualler/32/Tunbridge Wells, Kent/Census
1881/Annie Lance/Housekeeper/45/St Pancras, Middlesex/Census
1881/Beatrice Clay/Kitchen Maid/25/Fulham, Middlesex/Census
1881/Agnes Severs/Domestic Servant/24/Wales/Census
1881/Kate Marhews/Scullery Maid/21/Middlesex/Census
1881/William Mobbs/Porter/39/Middlesex/Census

1882/Mrs Eliza Calnest/../../../Post Office Directory **

1884/Spiers & Pond Ltd./../../../Business Directory of London **

1885/Spiers & Pond Ltd/../../../Post Office Directory **

1886/Spiers & Pond Ltd, Cock Tavern, 201 Fleet street/../../Post Office Directory

1893/George Lander King/../../../Post Office Directory **

1921/George Wallace Wright, Cock Tavern, 22 Fleet street./../../Post Office Directory **

1950/Thos. F Smith/../../../Post Office Directory

1971/../Ye Olde Cock tavern, 22 Fleet Street EC4/../../Pub Directory

1983/../COCK TAVERN, 22 Fleet Street EC4 : Trumans/../../Pub Directory

2018/../Ye Olde Cock Tavern, 22 Fleet Street, London, EC4Y 1AA,City of London/../../Pub Directory



** Provided By Stephen Harris