Search London wiki and Pub wiki history sites
All public house, restaurants, bars etc closed for the forseeable future on 20th March 2020, but this is a history site. But how about the landlords give their tenants a break, no business, then please charge them no rent.
Magpie & Punch Bowl, 58 Bishopsgate Street Within, St Ethelburga, City of London EC2
St Ethelburga Index
At 58 Bishopsgate Street within in 1856 and up to 1895; This old pub was destroyed by an IRA bomb in 1995. It was subsequently rebuilt at the base of a modern office block and on re-opening was given the name 'City House', which is still in use today **
A listing of historical London public houses, Taverns, Inns, Beer Houses and Hotels in St Ethelburga parish, City of London. The St Ethelburga, City of London Public House Trade Directory uses information from census, Trade Directories and History to add licensees, bar staff, Lodgers and Visitors.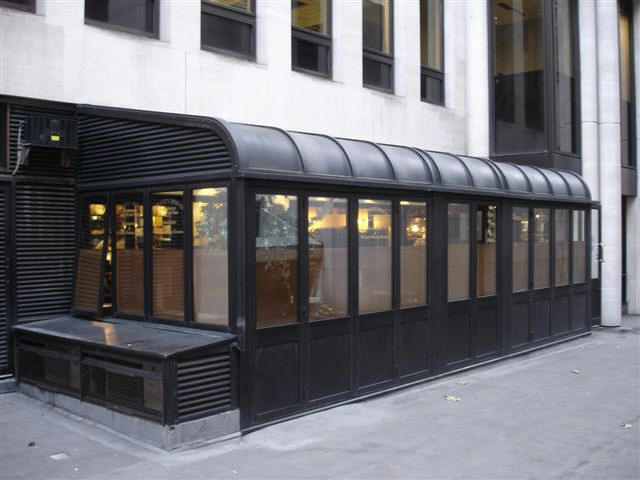 Magpie & Punchbowl, 86 Bishopsgate - in December 2006
Kindly provided by Stephen Harris
The following entries are in this format:
Year/Publican or other Resident/Relationship to Head and or Occupation/Age/Where Born/Source.
1805/Ann Clark, the Magpye and Punch Bowl, 57 Bishopsgate Within/../../Holdens Directory

1839/Jacob Robinson/../../../Pigots Directory

1841/Jacob Robinson/Wine Merchant/35/../Census
1841/Mary Ann Robinson/../25/../Census
1841/Ellen Robinson/../1 month/../Census

1851/Paul St Watts/../../../Kellys Directory

1856/Edward J Winbush/../../../Post Office Directory

1861/Edward J Winbush/Licensed Victualler/39/St Marys, Warwick/Census
1861/Sarah Winbush/Wife/33/Bermondsey, London/Census
1861/Edward T Winbush/Son/8/St Ethelburga, London/Census
1861/John Winbush/Son/7/St Ethelburga, London/Census
1861/Sarah Winbush/Daughter/5/St Ethelburga, London/Census
1861/Joseph S Winbush/Son/3/St Ethelburga, London/Census
1861/William Winbush/Son/2/St Ethelburga, London/Census
1861/Alfred Winbush/Son/5 months/St Ethelburga, London/Census
1861/Richard Bloxham/Barman/26/Cheacomb, Northamptonshire/Census
1861/Louisa Bullock/Barmaid/17/St Marys, Warwick/Census
1861/Alfred Clarridge/Potman/16/Cherrington, Warwick/Census
1861/Harriett Hale/Housemaid/25/Croydon, Surrey/Census
1861/Helen Sims/Nurse Maid/19/Hackney, Middlesex/Census

1862/Edw J Winbush, Punch Bowl, Bishopsgate street Within/../../Licensed Victuallers Association

1869/Edward John Winbush/../../../Post Office Directory

1871/Edward John Winbush/Licensed Victualler/48/Warwick, Warwickshire/Census
1871/Sarah Winbush/Wife/43/Bermondsey, Surrey/Census
1871/Edward Thos Winbush/Son, Apprentice Cook/18/London, Middlesex/Census
1871/John Winbush/Son, Artist/17/London, Middlesex/Census
1871/Joseph S Winbush/Son/13/London, Middlesex/Census
1871/William Winbush/Son/12/London, Middlesex/Census
1871/Alfred Winbush/Son/10/London, Middlesex/Census
1871/Charles Stephen Winbush/Son/8/London, Middlesex/Census
1871/Helena V/Daughter/4/London, Middlesex/Census
1871/George Cook/Barman/28/Groton, Suffolk/Census
1871/Daniel Puffett/Barman/25/Berkshire/Census
1871/Christopher Wills/Bar Youth/17/London, Middlesex/Census
1871/Emma Beauchamp/Housemaid/21/Shoreditch, Middlesex/Census
1871/Abby Wilborne/Cook/29/St Margarets, Herts/Census

1881/Caroline Dean/Housekeeper, Widow/54/Limehouse, Middlesex/Census
1881/Honora Reardon/General Servant, Widow/31/Ireland/Census
1881/Henry B Rawlins/Licensed Victuallers Manager/28/Marylebone, Middlesex/Census
1881/Nathaniel Rolles/Barman/18/Blackfriars, Surrey/Census
1881/Ernest Baldry/Barman/18/Pimlico, Middlesex/Census
1881/George York/Barman/18/Plumstead, Kent/Census
1881/Albert E Parker/Barman/18/Hounslow, Middlesex/Census

1882/Henry Hobson Finch/../../../Post Office Directory

1884/Henry H Finch/../../../Post Office Directory

1891/Henry Hobson Finch/../../../Post Office Directory

1895/Henry Hobson Finch/../../../Post Office Directory

1899/Henry Hobson Finch/../../../Post Office Directory

1901/John C Borkett/Public House Manager/30/Wandsworth, LOndon/Census
1901/Emily C Borkett/Wife, Housekeeper/29/Woolwich, Kent/Census
1901/Eliza Amies/Cashier/21/Foulsham, Norfolk/Census
1901/Florence E Rance/Cook/24/Kennington, London/Census
1901/GErtrude Burkin/General Servant/18/Sydenham, Kent/Census
1901/George E Nevin/Barman/19/Reigate, Surrey/Census
1901/Albert E Deve/Barman/19/Upton Park, Essex/Census
1901/Hanry J Martin/Barman/18/Holborn, London/Census
1901/Frederick K Rockett/Barman/18/Highbury, London/Census
1901/Ernest Hilder/Barman/19/Pitsford, Northamptonshire/Census
1901/Frank C Adams/Barman/18/Hackney, London/Census
1901/William Way/Barman/18/Paddington, London/Census
1901/Ernest A James/Barman/19/../Census

1921/H H Finch Ltd/../../../Post Office Directory

1938/H H Finch Ltd/../../../Post Office Directory

1944/H H Finch Ltd/../../../Post Office Directory



** Provided By Stephen Harris