The Mail Coach, 1 Camomile Street, St Ethelburga EC3A
St Ethelburga Index
The pub was rebuilt in (I think) the 1970s and now exists as a basement bar in a modern office block. ** Now demolished. ***
A listing of historical London public houses, Taverns, Inns, Beer Houses and Hotels in St Ethelburga parish, City of London. The St Ethelburga, City of London Public House Trade Directory uses information from census, Trade Directories and History to add licensees, bar staff, Lodgers and Visitors.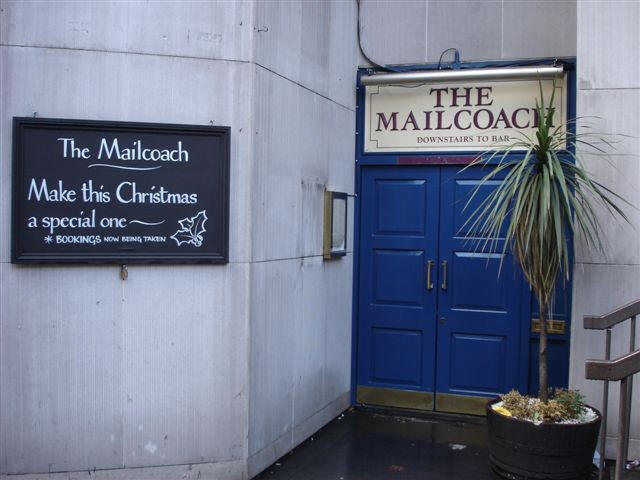 Mailcoach, 1 Camomile Street - in September 2006
Kindly provided by Stephen Harris
Residents at this address.
1805/Thomas Bayfield, victualler, 1 Camomile street/../../Holdens Directory

1811/Henry Whiffin, Coachmakers Arms, 1 Camomile street/../../Holdens Directory

1821/John Lynch/victualler/../../Sun Fire Office records held at the London Metropolitan Archives *

1827/James Hall, Mail Coach, 1 Camomile street, Bishopsgate street/../../Pigots Directory

1839/James Deal/../../../Pigot's Directory *

1841/J Deal/../../../Post Office Directory

1841/James Deal/Victualler/30/Middlesex/Census
1841/Jacob Deal/Independant/60/../Census
1841/Rachel Deal/../45/../Census
1841/Jane Cranley/Female Servant/20/../Census
1841/William Routh/Porter/50/../Census
1841/Henry Clark/Porter/20/../Census

1843/James Deal/../../../Post Office Directory

1856/James Deal/../../../Post Office Directory *

1861/Luke G Campbell/Licensed Victualler/31/Bermondsey, Surrey/Census
1861/Betsey Campbell/Wife/20/City of London/Census
1861/Margaret Campbell/Mother, Assistant, Widow/69/Bermondsey, Surrey/Census
1861/Marty Hayes/Servant/21/Limerick, Ireland/Census
1861/Henry Bestard/Servant/21/City of London/Census
1861/Thomas Robertson/Visitor/6/Margate, Kebt/Census

March 1866/Luke Glen Campbell/Outgoing Licensee/../../London City Press

March 1866/Charles Gooding/Incoming Licensee/../../London City Press

26th August 1868 - Charles Perducci, aged 17 was indicted for stealing a watch chain , the property of John Cox.
Mr John Cox said he kept the Mail Coach, Camomile Street. Another witness, Miss Ellen Harman, also stated that she lived at the Mail Coach. *+

1869/John Cox/../../../Post Office Directory

July 1869/John Cox/Outgoing Licensee/../../Era

July 1869/John Joseph Smith/Incoming Licensee/../../Era

1871/Mary Jane Smith/Wife, Licensed Victualler/39/Wimborne, Dorset/Census
1871/Hannah Smith/Sister/24/Liverpool, Lancasire/Census
1871/Kate Bland Smith/Daughter/7/Old Kent Road, Kent/Census
1871/Alice Bland Smith/Daughter/6/Old Kent Road, Kent/Census
1871/James Poldell/Barman/23/Newington, Surrey/Census

April 1872/John Cox/Outgoing Licensee/../../Era Newspaper

April 1872/George William Banjamin/Incoming Licensee/../../Era Newspaper

1881/Frederick Rose/Licensed Victualler/28/Worcester/Census
1881/Rosie E Rose/Wife/27/Burstowe, Norfolk/Census
1881/Sidney S Fiske/Visitor/3/St Pancras, Middlesex/Census
1881/Elizabeth Welford/Barmaid/20/Holloway, Middlesex/Census
1881/Emily Horsley/Cook/30/Camberwell, Surrey/Census

1882/Frank Rimel/../../../Post Office Directory

1884/Sarah Bright/../../../Post Office Directory

1891/George Wm Flatman/../../../Post Office Directory

1895/George W Flatman/../../../Post Office Directory

1899/Louis Hepburn Cross/../../../Post Office Directory

1901/Clara M Whitmore/Manageress Publi House/23/Herne Hill, London/Census
1901/Ledia Prudence/Housemaid/23/Limehouse, London/Census
1901/Alice Prudence/Barmaid/18/Limehouse, London/Census

1910/Charles Richard Weston/../../../Post Office Directory

1915/William Henry Hislop/../../../Post Office Directory *

1921/William Henry Hislop/../../../Post Office Directory

1929/William Henry Hislop/../../../Post Office Directory **

1938/William Younger & Co Ltd/../../../Post Office Directory

1944/William Younger & Co Ltd/../../../Post Office Directory



* Provided By Ewan

*+ Provided by Ken Ripper

** Provided By Stephen Harris

*** Provided By Tris