Search London wiki and Pub wiki history sites
All public house, restaurants, bars etc closed for the forseeable future on 20th March 2020, but this is a history site. But how about the landlords give their tenants a break, no business, then please charge them no rent.
Ship, 17 Ivy Lane, St Faith under St Pauls, London EC4
St Faith under St Paul index
Aka (Old) Ship, Three Tuns Passage. This pub is now demolished. ** The Old Ship Tavern in Ivy Lane London bombed in War (1942 perhaps) . Leasehold (63 years) purchased 30 05 1907 for £5297 (mortgage taken over). *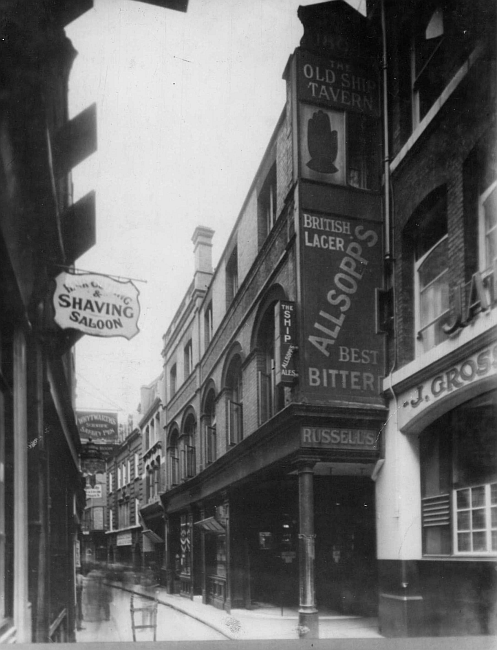 Old Ship, Ivy Lane, London EC4
Kindly provided by Ray Anderson
A listing of historical London public houses, Taverns, Inns, Beer Houses and Hotels in St Faith under St Pauls parish, City of London. The St Faith under St Pauls, City of London Public House Trade Directory uses information from census, Trade Directories and History to add licensees, bar staff, Lodgers and Visitors.
The following entries are in this format:
Year/Publican or other Resident/Relationship to Head and or Occupation/Age/Where Born/Source.
1821/Robert Hawkins / Victualler /../../Sun Fire Office records, held at Guildhall Library **

1829/John Pridham, Ship, 17 Ivy Lane, Newgate street/../../Robsons Directory

1832/John Pridham / Victualler /../../Sun Fire Office records, held at Guildhall Library **

1836/Samuel Steer, Ship, 17 Ivy Lane, Newgate street/../../Pigots Directory

1837/Samuel Steer / Victualler /../../Sun Fire Office records, held at Guildhall Library **

1839/Samuel Steer/../../../Pigots Directory

1841/Samuel Steer/../../../Post Office Directory

1841/Samuel Steer/Licensed Victualler/38/../Census
1841/Catherine Steer/../40/../Census
1841/Samuel Steer/../10/Middlesex/Census
1841/William Steer/../1/Middlesex/Census
1841/Sarah Steer/Ind/55/../Census
+ Servants etc

1843/Samuel Steer/../../../Kellys Directory

1848/Samuel Steer/../../../Post Office Directory

1851/Samuel Steer/../../../Kellys Directory

1851/Samuel Steer/Victualler/47/Mortonhampstead, Devon/Census
1851/Catherine Steer/Wife/50/../Census
1851/Samuel W Steer/Son/20/Marylebone, Middlesex/Census
1851/George Steer/Son/18/Marylebone, Middlesex/Census
1851/William Steer/Son/17/St Faiths, Middlesex/Census
1851/Mary Ann Steer/Servant/21/St Brides/Census
1851/Kitty Sulliavan/Servant/20/Ireland/Census
+ Visitors

1856/Samuel Steer/../../../Post Office Directory

December 1860/Jonathan Flowers/Outgoing Licensee/../../Era

December 1860/John Ford Hanniford/Incoming Licensee/../../Era

1861/John Ford Hanniford/Licensed Victualler/36/Newton Abbott, Devon/Census
1861/Julia Hannaford/Wife/30/Calne, Wiltshire/Census
1861/Emma Rebecca Hill/Barmaid/30/St Pancras, London/Census
1861/Ellen Collins/Servant/30/West Street, Bristol/Census
1861/Francis Hill/Potman/22/Southwark St Johns/Census

1869/James Perry/../../../Post Office Directory

1881/Isabel F Payne/Manageress/23/(B S), Portugal/Census
1881/Anney Marshall/Servant/20/Limerick/Census
1881/William Barber/Servant/17/Brighton, Sussex/Census
1881/Alfred T Collins/Servant/16/Middlesex/Census
1881/Thomas S Doughty/Barman/20/Surrey/Census

1882/Henry Charles Day/../../../Post Office Directory

1884/John E Smith/../../../Post Office Directory

1891/John Edward Smith/../../../Post Office Directory

1895/John Edward Smith / Licensed Victualler /../../London Gazette, 26 March 1895 **

1899/Charles Henry Alexander/../../../Post Office Directory

1910Gurney & Co/../../../Post Office Directory

1921/Gurney & Co/../../../Post Office Directory

1938William Barker & Son (DD's) Ltd/../../../Post Office Directory



* Provided By Ray Anderson

** Provided By Stephen Harris