Search London wiki and Pub wiki history sites
All public house, restaurants, bars etc closed for the forseeable future from 20th March 2020, but this is a history site.
Bull & Mouth, 31 Bloomsbury way, St George Bloomsbury WC1
St George Bloomsbury pub index
The address was formerly at 31 Hart Street and is now closed and converted to restaurant use. **
A listing of historical London public houses, Taverns, Inns, Beer Houses and Hotels in St George Bloomsbury parish, London.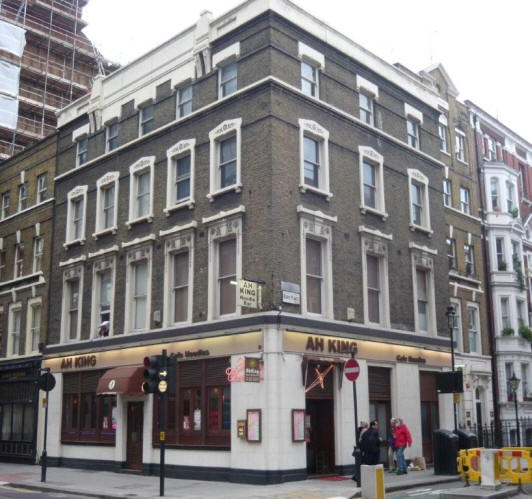 Bull & Mouth, 31 Bloomsbury Way, WC1 - in November 2008
Kindly provided by Stephen Harris
Residents at this address
1829/J Coleman, Bull & Mouth, 31 Hart street, Bloomsbury/../../Robsons Directory

1832/James Coleman/../../../Robsons Directory

1839/William Larcombe/../../../Pigots Directory

1842/Owen Jones/../../../Robsons Directory

1848/John Read/../../../Post Office Directory

1851/John Read/../../../Kellys Directory

1851/John Read/Victualler/39/Amersham, Buckinghamshire/Census
1851/Elizabeth Read/Wife/42/St James, Middlesex/Census
1851/George Read/Son/6/Middlesex/Census
1851/Elizabeth Read/Daughter/4/Bloomsbury/Census
1851/Ann Read/Daughter/1/Bloomsbury/Census
1851/Mark Moss/Pot Man/21/Yaldham, Essex/Census
1851/Louisa Tabor/Barmaid/27/Dagenham, Essex/Census
1851/Maria Menen/Nursemaid/13/Cripplegate, Middlesex/Census
1851/Rees Evans/Visitor, Journeyman Tailot/32//Census

July 1854/Charles Hart/Outgoing Licensee/../../Era

July 1854/George Mason/Incoming Licensee/../../Era

1856/George Mason/../../../Post Office Directory

1861/George Mason/Victualler/60/Essex/Census
1861/Sophia Mason/Wife/52/Birmingham/Census
1861/Agness Whitwell/Barmaid/26/Highgate/Census
1861/Ann Perriss/House Servant/16/Holborn, Middlesex/Census
1861/Elizabeth Merriweather/Boarder/27/Essex/Census
1861/Eliza Merriweather/Boarder/17/Lincolnshire/Census

1866/Mrs S Mason/../../../P.O. Directory **

1869/Mrs S Mason/../../../Post Office Directory

1874/Sophia Mason/../../../Licensed Victualler & Hoteliers Directory

1881/Thomas Turnham/Licensed Victualler/36/Lambeth, London/Census
1881/Emma E Turnham/Wife/36/Margate, Kent/Census
1881/Clara M Turnham/Daughter/9/Clerkenwell, Middlesex/Census
1881/Herbert M Turnham/Son/8/St George East, Middlesex/Census
1881/Albert M Turnham/Son/6/St George East, Middlesex/Census
1881/Cecil M Turnham/Son/1/Bloomsbury, Middlesex/Census
1881/Sara Grason/Barmaid/40/London, Middlesex/Census
1881/Mince Bates/Domestic General/18/Cambridge/Census
1881/Martha Harris/Potman/20/Cambridge/Census
1881/William Cane/Barman/18/Milburn Port, Somerset/Census

1882/Thomas Turnham/../../../Post Office Directory

1891/Thomas Turnham/../../../Post Office Directory

1899/William Chandler/../../../Post Office Directory

1901/William Chandler/Licensed Victualler, widow/60/Leighton Buzzard, Bedfordshire/Census
1901/Lottie Chandler/Daughter/25/St Pancras, London/Census
1901/Nellie Chandler/Daughter/24/St Pancras, London/Census
1901/Garnet Chandler/Son/18/St Pancras, London/Census
1901/Florence Chandler/Daughter/17/St Pancras, London/Census
1901/Chartles Holton/Barman/25/Northampton, Northamptonshire/Census
1901/Mary Lane/Cook, Widow/49/Hilbury, Norfolk/Census
1901/Benjamin Walmsley/Billiard marker/25/Leeds, Yorkshire/Census

1907/William Chandler/../../../P.O. Directory **

1910/William Chandler/../../../Post Office Directory

1921/Herbert Winter Moy/../../../Kelly's P.O. Directory **

1938/Mrs Amy M M Moy/../../../Post Office Directory

1944/Harry Myers/../../../Post Office Directory



** Provided By Stephen Harris