Search London wiki and Pub wiki history sites
All public house, restaurants, bars etc closed for the forseeable future on 20th March 2020, but this is a history site. But how about the landlords give their tenants a break, no business, then please charge them no rent.
Friend at Hand, 4 Herbrand street, St George Bloomsbury WC1
St George Bloomsbury pub index
Built in 1735; At 32 Colonnade, Brunswick Square in 1869 and earlier; at 4 Herbrand Street in 1934 & 1944. The 1901 census describes the address as at 64 Colonnade (known as 64 Herbrand Street) - the north side. **
A listing of historical London public houses, Taverns, Inns, Beer Houses and Hotels in St George Bloomsbury parish, London.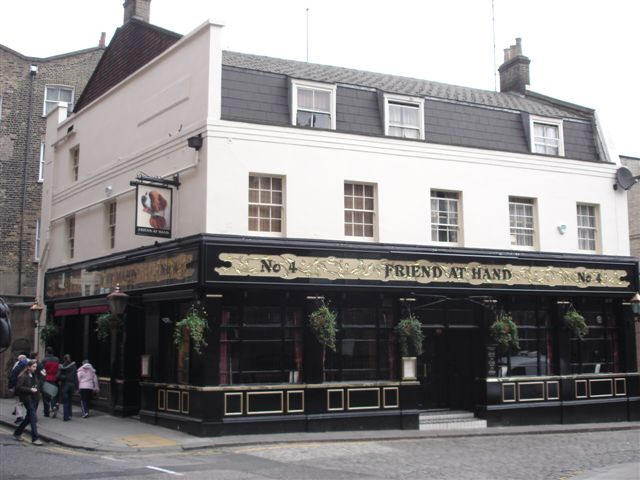 Friend at Hand, 4 Colonnade, WC1 - in March 2007
Kindly provided by Stephen Harris
Residents at this address
1833-34/Samuel Smith, Friend at Hand, 32 Colonnade, Brunswick square/../../Pigots Directory

1836/William Thornton/../../../Information Board at the Pub **

1839/William Carruthers/../../../Pigots Directory

1841/William Carruthers/../../../Post Office Directory

1842/W Carruthers/../../../Robsons Directory

January 1847/Charles Carruthers/Outgoing Licensee/../../Era

January 1847/James Smith/Incoming Licensee/../../Era

1848/James Smith/../../../Post Office Directory

1851/James Smith/Licensed Victualler, Widow/60/Chelsfield, Kent/Census
1851/Thomas W Smith/Son/26/southwark, Surrey/Census
1851/Betsy W Smith/Sister in Law, Housekeeper/57/Middlesex/Census
1851/E Spendloaf/House Servant/17/Mildenhall, Norfolk/Census

1856/Edmund Kent/../../../Post Office Directory

September 1855/Edward Kent/ Outgoing Licensee /../../The Era

September 1855/Robert David Marshall/ Incoming Licensee /../../The Era

1861/John Weeks/Licensed Victualler/45/Swindon, Wiltshire/Census
1861/Mary Weeks/Wife/46/Ellesmere, Shropshire/Census
1861/Susan Ponter/Niece/27/Liverpool/Census
1861/Mary Weeks/Daughter/9/Middlesex/Census

1869/Chas Stovell/../../../Post Office Directory

October 1869/Charles Sewell/Outgoing Licensee/../../Era

October 1869/William Surridge/Incoming Licensee/../../Era

1874/W Surridge/../../../LV Directory

1881/William Wrigglesworth/Publican/45/../Census
1881/Ann Wrigglesworth/Wife/43/../Census
1881/Ann Sarah Wrigglesworth/Daughter/16/Hoxton/Census
1881/Ada Wrigglesworth/Daughter/13/Hoxton/Census
1881/William Wrigglesworth/Son/10/Bermondsey/Census
1881/Emma Wrigglesworth/Daughter/6/Old Kent Road/Census
1881/Edwin Wrigglesworth/Son/4/Seven Sisters Rd Holloway/Census
1881/David Wrigglesworth/Son/3/Warne St New Kent Rd/Census
1881/Richard Wrigglesworth/Son/1/Bloomsbury/Census

1882/George Mills/../../../Post Office Directory

1884/George Mills/../../../Post Office Directory

1895/George Wigglesworth/../../../Post Office Directory

1899/Albert Green Gwunne/../../../Post Office Directory

1901/George W Gould/Licensed Victualler/43/Thrupp, Berkshire/Census
1901/Angelina Gould/Wife/37/Bristol, Somerset/Census
1901/William B Gould/Son/6/London, Middlesex/Census
1901/Emily K Gould/Daughter/4/London, Middlesex/Census
1901/Rosina Wolf/Niece, Barmaid/19/London, Middlesex/Census
1901/Helena M Dight/Niece, Cook/23/London, Middlesex/Census
1901/Minnie Sillett/Niece/14/London, Middlesex/Census
1901/Robert A Seymour/Potman/36/Peckham, Surrey/Census
1901/Thomas Brittains/Saloon Attendant/16/London, Middlesex/Census

1934/Solomon Martin/../../../Kellys Directory

1938/Mrs Mary E T Davis/../../../Post Office Directory

1944/Mrs Mary E T Davis/../../../Post Office Directory

1966/Samuel Silverman, Friend at Hand, 4 Herbrand street WC1/../../Licensed Victuallers Association



** Provided By Stephen Harris