Search London wiki and Pub wiki history sites
All public house, restaurants, bars etc closed for the forseeable future on 20th March 2020, but this is a history site. But how about the landlords give their tenants a break, no business, then please charge them no rent.
Kings Head, 142 High Holborn, St George Bloomsbury WC1
St George Bloomsbury pub index
The Kings Head, 142 High Holborn is at, or near to, the junction with Plummers Court which probably later becomes Oxford street
A listing of historical London public houses, Taverns, Inns, Beer Houses and Hotels in St George Bloomsbury parish, London.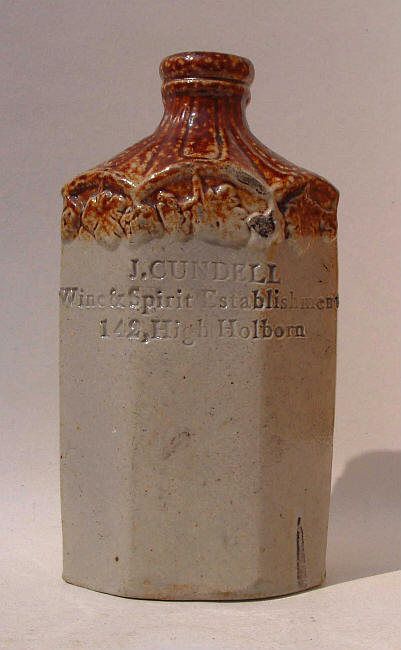 J Cundell, Wine & Spirit Merchant, 142 High Holborn - circa 1833
Kindly provided by Paul Cooper
The following entries are in this format:
Residents at this address
October 1792/Richard Simons, the Kings Head, 142 High Holborn, victualler/../../Sun Fire Insurance records held at the LMA

1805/Christopher Sanders, the Kings Head, 142 High Holborn/../../Holdens Directory

8 November 1809/Joseph Cooke, the Kings Head, 142 High Holborn, victualler/../../Sun Fire Insurance records held at the LMA

1811/Joseph Cook, Kings Head, 142 High Holborn/../../Holdens Directory s

August 1813/Samuel Tunnicliff, 142 High Holborn, victualler/../../Sun Fire Insurance records held at the LMA

My 4th great-grandfather John Cundell appears in a few documents as being either a wine and spirit merchant or a victualler in London between the 1820's and his death in 1833 at the age of 35. *

1825 – Marriage at St. Margarets Westminster to Jane Bamford of Hull. John described as a Wine and Spirit Merchant of London.
Witness Charles Bamford. *

August 1826/John Temple 142 High Holborn, victualler and spirit merchant/../../Sun Fire Insurance records held at the LMA

1826 – Baptism of daughter Sarah Jane in Hull. John listed as Spirit Merchant, London *

1827 – Baptism of son William. John is listed as a victualler living in George Yard, Whitechapel *

1827 – London Tax Record. John paying tax in George Yard for 5 houses and 2 tents in yard *

1829/John Temple, Kings Head, 142 High Holborn/../../Robsons Directory

1832/John Callaghan, Kings Head, 142 High Holborn/../../Robsons Directory

May 1832/James Law 142 High Holborn victualler/../../Sun Fire Insurance records held at the LMA

1833-34/John Callaghan, Kings Head, 142 High Holborn/../../Pigots Directory

1833 – Sun Fire Office - Contents: Insured: John Cundell, 142 High Holborn, victualler *

May 1833/John Cundell, 142 High Holborn, victualler/../../Sun Fire Insurance records held at the LMA

1833 - J. Cundell Wine and Spirit Establishment 142 High Holborn (see above photo of flask) *

1833 – Death St Giles in the Field. John Cundell High Holborn age 35 *

1833 – Court case after John's death (see below) referencing The King's Head, High Holborn *

The widow of a publican employed an undertaker to conduct the funeral of the deceased, and deposited with him the beer and spirit licences of the house as a security for the payment of his bill. A., one of the firm of the distillers who supplied the house with spirits, by arrangement with the widow, took out administration; B., the other partner in the firm, promised the undertaker, that, if he would give up the licences to him, he would pay his bill for the funeral:- Held, that the undertaker, having given up the licences to B., might recover his bill against B., although the widow was his original employer, and although he had made out his account, charging the administrator as his debtor.
The declaration stated, in substance, that one Mrs. Cundell was indebted to the plaintiff, and that the plaintiff had a lien on certain documents, and, in consideration that he would give up his lien and the documents, the defendant promised the plaintiff that he would pay his claim on Mrs. Cundell. It then averred that the plaintiff give up his lien and the documents, but the defendant did not pay, &c. Pleas, - first, non-assumsit; secondly, that Mrs. Cundell was not indebted to the plaintiff; and, thirdly, that the plaintiff had not any lien.
It was proved, on the part of the plaintiff, that a person named Cundell kept the King's Head, in Holborn, and died September, 1833; that his widow employed the plaintiff to conduct the funeral; that the defendant, Alfred Taylor, in conjunction with his brother and partner David Taylor, had supplied the house with spirits as distillers, and were creditors of the publican at the time of his death; that the defendant, wishing to administer to the deceased's effects, offered the widow 30l. to allow him to do so. She consented, but in addition stipulated that he should pay the undertakers bill; that the defendant paid her 30l., and gave orders to the plaintiff, who was also an appraiser, to make an inventory, and value the stock; that the letters of administration were granted in the name of David Taylor, and not of Alfred; and that the widow having delivered the beer and spirit licences to the plaintiff on a security for the payment of his bill, the defendant, Alfred Taylor, made application to him to give them up, and in consequence the plaintiff had an interview with him, in the presence of a witness, who stated that the defendant said to the plaintiff, "Have you got the licences and the bill?" that the plaintiff said he would give up the licences, and hand him the bill for the funeral, provided that the bill was paid; that the defendant said "he would see him paid," or "it should be paid;" and thereupon the plaintiff went away, leaving with the defendant both the licences and the bill.
Andrews, Serjt., for the defendant. – Is this such a promise as is binding? It is to pay the debt of another. Tindal, C.J. – You mean under the Statute of Frauds. But it is a new contract under a new state of circumstances. It is not "I will pay, if the debtor cannot;" but it is "in consideration of that which is an advantage to me I will pay you this money." There is a whole class of cases in which the matter is excepted from the statute, on account of a consideration arising immediately between the parties. It is a new contract; it has nothing to do with the Statute of Frauds at all. On the part of the defendant, a letter from the attorney of David Taylor, the administrator, addressed to the plaintiff, demanding the licences, and threatening proceedings if they were not given up, was put in; and also a bill of the plaintiff's, headed "the administrator of the late Mr. Cundell, to J. Walker;" and a letter from the plaintiff's attorney, applying for payment, addressed to Messrs. Taylor, distillers. Tindal, C.J. (in summing up) – As to the promise to pay the funeral bill, the plaintiff had a claim for the funeral expenses on Mrs. Cundell; but it was not necessarily confined to her. He would have a right to proceed against the administrator, and recover them from the estate. But, upon the evidence, it will be for you to say whether Alfred Taylor, the defendant, did or did not in effect promise to pay the money if the licences were given up. Verdict for the plaintiff. Wilde, Serjt., and Chandless, for the plaintiff. Andrews, Serjt., and Busby, for the defendant

November 1835/Henry Hartshorn, 142 High Holborn, victualler and spirit dealer/../../Sun Fire Insurance records held at the LMA

1836/Henry Hartshorn, Kings Head, 142 High Holborn/../../Pigots Directory

1839/Henry Hartshorn/../../../Pigots Directory

1841/H Hartshorn/../../../Post Office Directory

1841/Henry Hartshorn/Victualler/35/Middlesex/Census
1841/Sophia Hartshorn/../35/Middlesex/Census

1842/Henry Hartshorn/../../../Robsons Directory



* Provided By Paul Cooper