Museum Tavern, 49 Great Russell Street, St George Bloomsbury WC1
St George Bloomsbury pub index
This pub was founded in 1723 as the Dog & Duck. In 1762 the name was changed to the British Museum Tavern and in 1858 it was further revised to the Museum Tavern. It was rebuilt in its present form in 1855. ** The address in 1856 is 35 & 36 Museum street. Still open in 2018.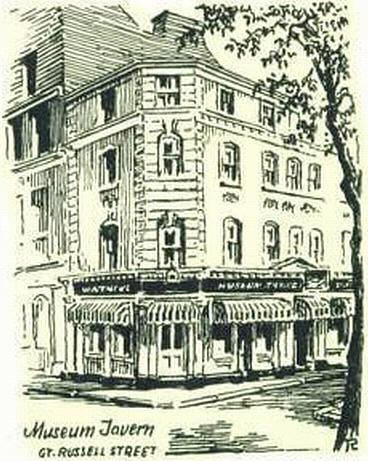 Museum Tavern, Great Russell Street
Kindly provided by Colleen
A listing of historical London public houses, Taverns, Inns, Beer Houses and Hotels in St George Bloomsbury parish, London.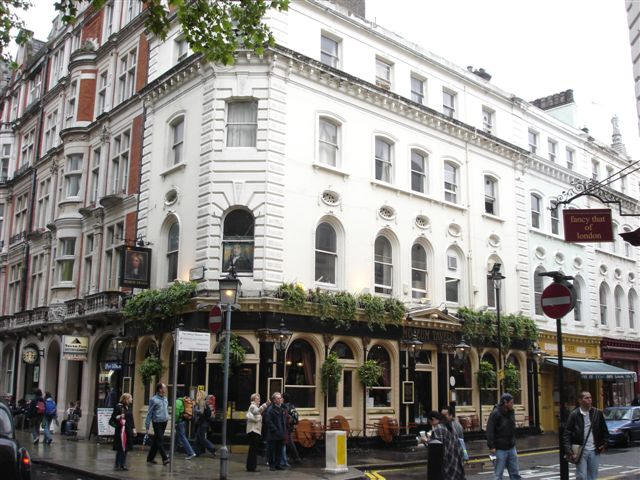 Museum Tavern, 49 Great Russell Street, WC1 - in May 2007
Kindly provided by Stephen Harris
Residents at this address
1798/William Reeves/../../../per Ted Bruning **

1806/Mr Houlden, British Museum, Great Russell street/../../London Brewery 1806 customer for supplying the public with genuine malt liquor

1825/Mr Wright, British Museum, Museum street, Bloomsbury/../../Licensed Victuallers Association

1827/George Steer, Museum Tavern, 16 Museum street/../../Pigots Directory

1832/John Castle, British Museum Tavern, 50 Great Russell street, Bloomsbury /../../Robsons Directory

1833-34/John Castle, British Museum, 50 Great Russell street, Bloomsbury /../../Pigots Directory

1832/Moore & Co, British Museum Tavern, 50 Great Russell street, Bloomsbury /../../Robsons Directory

1836/John Castle, British Museum, 48 Great Russell street, Bloomsbury /../../Pigots Directory

1839/John Castle, British Museum, 50 Great Russell street, Bloomsbury /../../Pigots Directory

1843/John Cooper/see Moore & Cooper/../../Post Office Directory

1845/Richard Maddren/../../../per Ted Bruning **

1851/Richard J Maddran/Victualler/38/Devonport, Devon/Census
1851/Ruth E Maddran/Wife/39/Lewes, Sussex/Census
1851/Richard Maddran/Son/9/St James Westminster, Middlesex/Census
1851/William Maddran/Son/5/St George Bloomsbury, Middlesex/Census
1851/Henry W Maddran/Son/4/St George Bloomsbury, Middlesex/Census
1851/Elizabeth J Maddran/Daughter/2/St George Bloomsbury, Middlesex/Census
1851/Louisa H Colcroft/Bar Servant/16/St Pancras, Middlesex/Census
1851/Sophia Baker/Nurse, Widow/46/Waldon, Essex/Census
1851/Mary Fristal/Kitchen Servant, Widow/26/Whitechapel, Middlesex/Census

1856/Richard John Maddren/../../../Post Office Directory

January 1857/Richard John Maddren/Outgoing Licensee/../../Era

January 1857/Richard Carpenter/Incoming Licensee/../../Era

1858/George David Blizard/../../../per Ted Bruning **

1861/George Blizard/Victualler/42/Worcester/Census
1861/George Blizard/Son/12/Marylebone, Middlesex/Census
1861/Alice Blizard/Daughter/15/Marylebone, Middlesex/Census
1861/Maria Frinsham/Visitor, Fundholder/73/City, Middlesex/Census
1861/Mary Dace/Housekeeper/50/Chelsea, Middlesex/Census
1861/Mary Froome/Barmaid/28/St George, Middlesex/Census
1861/Susan Gibbons/Cook/31/Portsmouth/Census
1861/Kate Britton/House Servant/27/East Ham, Essex/Census
1861/Hannah Pattison/House Servant/17/St Giles, Middlesex/Census
1861/Joseph Palmer/Waiter/27/Edmonton, Middlesex/Census
1861/Thomas Holdforth/Barman/22/Clapham, Surrey/Census
1861/Frederick Barrington/Potman/28/Bermondsey, Surrey/Census

1869/George Blizard/../../../Post Office Directory

1874/G Blizard/../../../Licensed Victualler & Hotelier Directory

1881/George D Blizard/Licensed Victualler/32/All Souls, Middlesex/Census
1881/Annie M Blizard/Wife/38/Paddington, Middlesex/Census
1881/Horace H Tucker/Barman/23/Southampton, Hampshire/Census
1881/Ellen B Cornwell/Barmaid/22/Birmingham, Warwick/Census
1881/Ann Upton/Domestic Cook/29/Marylebone, Middlesex/Census
1881/Margaret Stevens/Housemaid, Widow/33/Liverpool, Lancashire/Census
1881/Kate Fitzolimon/Kitchenmaid/20/Strand, Middlesex/Census

1882/Geo D Blizard/../../../Post Office Directory

1884/George Blizard/../../../Post Office Directory

1888/Geo Dvd Blizard/../../../Post Office Directory **

1891/Charles John Coombes/../../../Post Office Directory

1895/Alfred William Crow/../../../Post Office Directory

1899/Mrs Charlotte Wheeldon/../../../Post Office Directory

1901/Walter Cavey/Licensed Victualler/37/Plumstead, Kent/Census
1901/Amelia D Cavey/Wife/33/Devonport, Devon/Census
1901/Elsie B Cavey/Daughter/5/Plumstead, Kent/Census
1901/Georgina A Lawson/Barman/18/Islington, London/Census
1901/Rose A Chapman/Barmaid/23/Bloomsbury, London/Census
1901/Ellen Stevenson/Donmestic Servant/24/Dereham, Norfolk/Census
1901/Edwin J Bustle/Potman, Widow/35/Bridgwater, Somerset/Census

1910/Percy George Osborne Sanders/../../../Post Office Directory

1911/Percy George Osborne Sanders/Licensed Victualler & Commercial Traveller/32/Islington, London/Census
1911/Louisa Ann Sanders/Wife, Assistant/27/Camberwell, London/Census
1911/Annie laura Warrall/Sister in Law, Assistan/21/Camberwell, London/Census
1911/Lila Warrall/Sister in Law, Assistan/19/Peckham, London/Census
1911/Guy Herbert Percy Sanders/Son/3/Islington, London/Census
1911/Marjory Vera Lillian Sanders/Daughter/9 months/Bloomsbury, London/Census
1911/William Stickler/Manager/46/Westbury, Wiltshire/Census
1911/Edith Amelia Clark/Nursemaid/16/New Southgate/Census

1921/Harry A Lloyd/../../../Hughes Directory

1927/Harry A Lloyd/../../../Post Office Directory

1938/Charles George Henry Young/../../../Post Office Directory

1940/Charles George Henry Young/../../../Post Office Directory

1944/Julian Woolf/../../../Post Office Directory



** Provided By Stephen Harris