Search my Pub history, pubwiki and London
Museum Tavern, 49 Great Russell Street, St George Bloomsbury WC1
St George Bloomsbury pub index
This pub was founded in 1723 as the Dog & Duck. In 1762 the name was changed to the British Museum Tavern and in 1858 it was further revised to the Museum Tavern. It was rebuilt in its present form in 1855. ** The address in 1856 is 35 & 36 Museum street.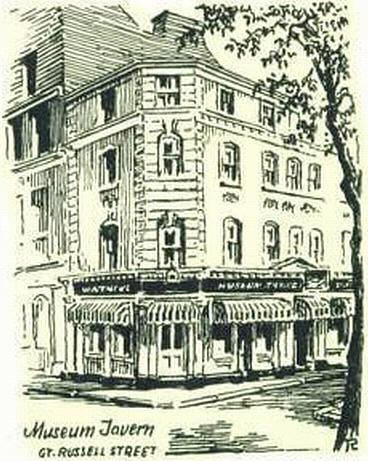 Museum Tavern, Great Russell Street
Kindly provided by Colleen
A listing of historical London public houses, Taverns, Inns, Beer Houses and Hotels in St George Bloomsbury parish, London. The St George Bloomsbury , London Public House Trade Directory uses information from census, Trade Directories and History to add licensees, bar staff, Lodgers and Visitors.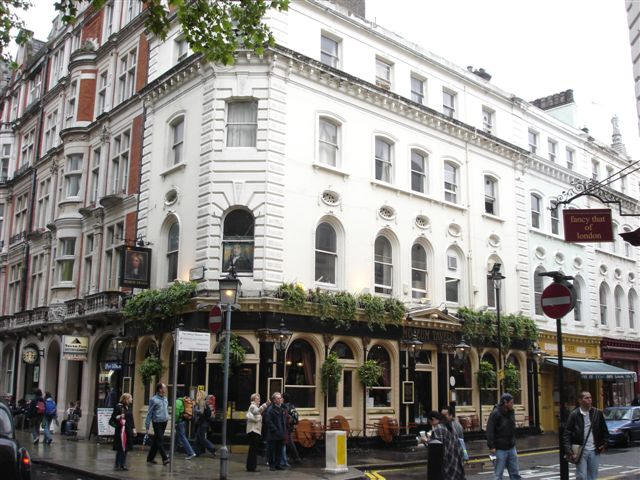 Museum Tavern, 49 Great Russell Street, WC1 - in May 2007
Kindly provided by Stephen Harris
The following entries are in this format:
Year/Publican or other Resident/Relationship to Head and or Occupation/Age/Where Born/Source.
1798/William Reeves/../../../per Ted Bruning **

1833-34/John Castle, British Museum, 50 Great Russell street, Bloomsbury /../../Pigots Directory

1843/John Cooper/see Moore & Cooper/../../Post Office Directory

1845/Richard Maddren/../../../per Ted Bruning **

1851/Richard J Maddran/Victualler/38/Devonport, Devon/Census
1851/Ruth E Maddran/Wife/39/Lewes, Sussex/Census
1851/Richard Maddran/Son/9/St James Westminster, Middlesex/Census
1851/William Maddran/Son/5/St George Bloomsbury, Middlesex/Census
1851/Henry W Maddran/Son/4/St George Bloomsbury, Middlesex/Census
1851/Elizabeth J Maddran/Daughter/2/St George Bloomsbury, Middlesex/Census
1851/Louisa H Colcroft/Bar Servant/16/St Pancras, Middlesex/Census
1851/Sophia Baker/Nurse, Widow/46/Waldon, Essex/Census
1851/Mary Fristal/Kitchen Servant, Widow/26/Whitechapel, Middlesex/Census

1856/Richard John Maddren/../../../Post Office Directory

January 1857/Richard John Maddren/Outgoing Licensee/../../Era

January 1857/Richard Carpenter/Incoming Licensee/../../Era

1858/George David Blizard/../../../per Ted Bruning **

1861/George Blizard/Victualler/42/Worcester/Census
1861/George Blizard/Son/12/Marylebone, Middlesex/Census
1861/Alice Blizard/Daughter/15/Marylebone, Middlesex/Census
1861/Maria Frinsham/Visitor, Fundholder/73/City, Middlesex/Census
1861/Mary Dace/Housekeeper/50/Chelsea, Middlesex/Census
1861/Mary Froome/Barmaid/28/St George, Middlesex/Census
1861/Susan Gibbons/Cook/31/Portsmouth/Census
1861/Kate Britton/House Servant/27/East Ham, Essex/Census
1861/Hannah Pattison/House Servant/17/St Giles, Middlesex/Census
1861/Joseph Palmer/Waiter/27/Edmonton, Middlesex/Census
1861/Thomas Holdforth/Barman/22/Clapham, Surrey/Census
1861/Frederick Barrington/Potman/28/Bermondsey, Surrey/Census

1869/George Blizard/../../../Post Office Directory

1874/G Blizard/../../../LV Directory

1881/George D Blizard/Licensed Victualler/32/All Souls, Middlesex/Census
1881/Annie M Blizard/Wife/38/Paddington, Middlesex/Census
1881/Horace H Tucker/Barman/23/Southampton, Hampshire/Census
1881/Ellen B Cornwell/Barmaid/22/Birmingham, Warwick/Census
1881/Ann Upton/Domestic Cook/29/Marylebone, Middlesex/Census
1881/Margaret Stevens/Housemaid, Widow/33/Liverpool, Lancashire/Census
1881/Kate Fitzolimon/Kitchenmaid/20/Strand, Middlesex/Census

1882/Geo D Blizard/../../../Post Office Directory

1884/George Blizard/../../../Post Office Directory

1888/Geo Dvd Blizard/../../../Post Office Directory **

1891/Charles John Coombes/../../../Post Office Directory

1895/Alfred Wn Crow/../../../Post Office Directory

1899/Mrs Charlotte Wheeldon/../../../Post Office Directory

1901/Walter Cavey/Licensed Victualler/37/Plumstead, Kent/Census
1901/Amelia D Cavey/Wife/33/Devonport, Devon/Census
1901/Elsie B Cavey/Daughter/5/Plumstead, Kent/Census
1901/Georgina A Lawson/Barman/18/Islington, London/Census
1901/Rose A Chapman/Barmaid/23/Bloomsbury, London/Census
1901/Ellen Stevenson/Donmestic Servant/24/Dereham, Norfolk/Census
1901/Edwin J Bustle/Potman, Widow/35/Bridgwater, Somerset/Census

1910/Percy George Osborne Sanders/../../../Post Office Directory

1944/Julian Woolf/../../../Post Office Directory



** Provided By Stephen Harris