Search London wiki and Pub wiki history sites
Old Crown, 33 New Oxford Street, St George Bloomsbury, WC1
St George Bloomsbury pub index
This pub was called the Crown until its most recent re-building in 1849. At 479 Oxford Street before 1891 - road name change ** The Crown was at 469 Oxford Street in the 1861 census.
A listing of historical London public houses, Taverns, Inns, Beer Houses and Hotels in St George Bloomsbury parish, London. The St George Bloomsbury , London Public House Trade Directory uses information from census, Trade Directories and History to add licensees, bar staff, Lodgers and Visitors.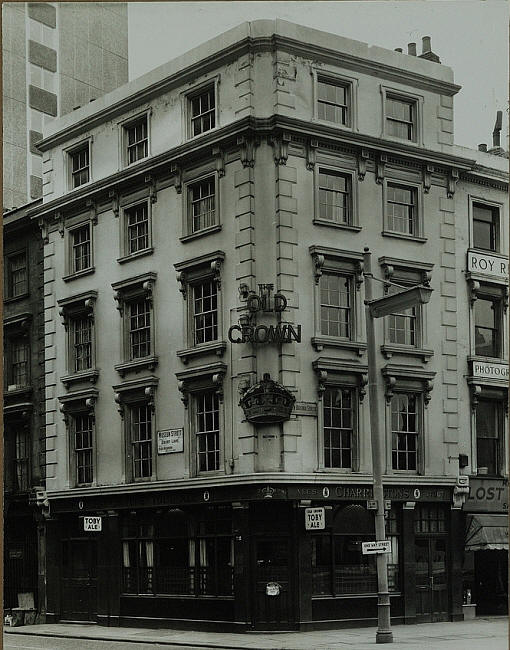 Old Crown, 33 New Oxford Street, St George Bloomsbury, WC1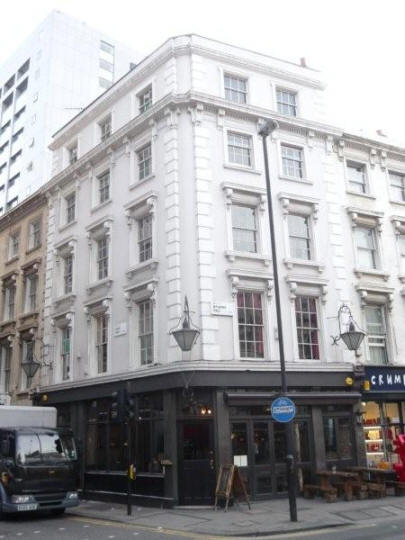 Old Crown, 33 New Oxford Street, WC1 - in November 2008
Kindly provided by Stephen Harris
The following entries are in this format:
Year/Publican or other Resident/Relationship to Head and or Occupation/Age/Where Born/Source.
1851/Hugh W Cooper/../../../Kellys Directory

1851/Hugh Welsh Cooper/Licensed Victualler/52/Dorset/Census
1851/Eliza J Cooper/Daughter/25/Middlesex/Census
1851/Samuel Pearse/Lodger, Bankers Clerk/24/Somerset/Census
1851/Henry E Wise/Barman/33/Essex/Census
1851/Elizabeth Morgan/Barmaid/27/Liverpool/Census
1851/Eliza Millard/Housemaid/30/Staffordshire/Census
1851/Thomas Durrah/Potboy/14/Middlesex/Census

1856/Hugh Welch Cooper/../../../Post Office Directory

1861/Hugh Welsh Cooper/Tavern Keeper/62/Bridport, Dorset/Census
1861/Eliza Cooper/Wife/53/Langport, Somerset/Census
1861/Emma Keyworth/Servant/35/St Johns, West/Census
1861/Mary Sullivan/Cook/28/../Census
1861/Charles Allen/Barman/29/Paddington, Middlesex/Census
1861/Stephen Boyster/Potman/23/Faringdon, Berkshire/Census
+ Lodgers

October 1862/Hugh Welch Cooper/Outgoing Licensee/../../Morning Post

October 1862/Henry Speedy/Incoming Licensee/../../Morning Post

1866/Hy. Speedy jun./../../../Post Office Directory **

July 1867 /William Henry Jordan/Outgoing Licensee/../../Era

July 1867 /Robert Clint Thornton/Incoming Licensee/../../Era

1869/Henry Jas Darkin/../../../Post Office Directory

1877/William Chapman/../../../Post Office Directory **

1881/William Chapman/Licensed Victualler/55/Dalston, Middlesex/Census
1881/Ann E Chapman/Wife/60/Dover, Kent/Census
1881/George A W Chapman/Son, House Agents Assistant/17/Southwark, Surrey/Census
1881/Edward Cooper/Potman/33/Stepney, Middlesex/Census
1881/Sarah Harman/Barmaid/26/Wolverhampton, Stafford/Census
1881/Martha Gill/Domestic Servant/26/Cheltenham, Gloucester/Census

1882/William Chapman/../../../Post Office Directory

1884/William Chapman/../../../Post Office Directory

1885/William Chapman/../../../Post Office Directory **

1891/William Chapman/../../../Post Office Directory

1895/William Chapman/../../../Post Office Directory

1899/William Chapman/../../../Post Office Directory

1904/Ernest Fleck /../../../Post Office Directory **

1906/Ernest Fleck/../../../Morris' Business Directory of London **

1934 - 1936/Mrs R Smith/../../../Post Office Directory **

1937 - 1938/F C Brake/../../../Post Office Directory **

1939 - 1946/Mrs Brake/../../../Post Office Directory **

1944/Frank C Brake/../../../Post Office Directory **

1946 - 1955/F C Brake/../../../Post Office Directory **

1956/Copes Taverns Ltd/../../../Post Office Directory **

1957/J Koubel/../../../Post Office Directory **

1958/Mrs L V Koubel/../../../Post Office Directory **

1958 - 1966/R Snell/../../../Post Office Directory **



** Provided By Stephen Harris