Search my Pub history, pubwiki and London
Plough Tavern, 27 Museum street, St George Bloomsbury WC1
St George Bloomsbury pub index
The pub is rebuilt in 1864, see license transfer records; hence the slightly earlier address of 26 Museum street.
A listing of historical London public houses, Taverns, Inns, Beer Houses and Hotels in St George Bloomsbury parish, London. The St George Bloomsbury , London Public House Trade Directory uses information from census, Trade Directories and History to add licensees, bar staff, Lodgers and Visitors.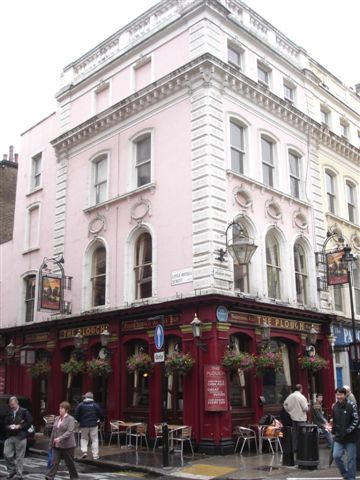 Plough Tavern, 27 Museum Street, WC1 - in May 2007
This pub was most recently rebuilt in 1863. **
Kindly provided by Stephen Harris
The following entries are in this format:
Year/Publican or other Resident/Relationship to Head and or Occupation/Age/Where Born/Source.
1833-34/William Pugh, Plough, 26 Museum Street, Bloomsbury/../../Pigot's Directory

1839/Thomas Bennett/../../../Pigots Directory

1841/Thomas Bennett/../../../Post Office Directory

1842/Thomas Bennett/../../../Robsons Directory

1848/Thomas Bennett/../../../Post Office Directory

1851/Thomas Bennett/Licensed Victualler, Widow/44/Bow, Middlesex/Census
1851/Eliza Evans/Niece, Visitor/21/Dublin/Census
1851/Alfred Jamper/Waiter/24/Chewlmsford, Essex/Census
1851/Margaret Price/Servant/31/Wales/Census
1851/James Whitbred/Potman/17/Enfield, Middlesex/Census

June 1853/Benjamin Peeling/Outgoing Licensee/../../Era

June 1853/Benjamin Peeling/Incoming Licensee/../../Era

1856/Benjamin Peeling/../../../Post Office Directory

September 1857/Benjamin Peeling/Outgoing Licensee/../../Era

September 1857/Robert Clint Thornton/Incoming Licensee/../../Era

January 1858/Robert Clint Thornton/ Outgoing Licensee /../../The Era

January 1858/Henry Smith Emery/ Incoming Licensee /../../The Era

1861/Joseph Jaggers/Publican/42/Lambeth/Census
1861/Elizabeth Jaggers/Wife/44/Kent/Census
1861/Thomas John Jaggers/Son/13/St Catherine Cree, London/Census
1861/Eleanor Jaggers/Daughter/13/Lambeth, Surrey/Census
1861/Joseph John Jaggers/Son/12/Lambeth, Surrey/Census
1861/Mary Eliza Jaggers/Daughter/10/Leybourne, Lincolnshire/Census
1861/Mary Regan/General Servant/24/County Cork, Ireland/Census
1861/Thomas Charles Roberts/Potboy/17/St Pancras/Census

September 1864/Joseph Jaggers applied to remove old house, pulled down in road widening, and to new house on opposite corner./Licensee/../../Era

1867/Mr William Turbeville/../../../LV Association

1869/John Stephenson/../../../Post Office Directory

1881/Stephen Carlton/Licensed Victualler/38/London, Middlesex/Census
1881/Eliza Carlton/Wife/36/London, Middlesex/Census
1881/Thomas N Carlton/Son/7/London, Middlesex/Census
1881/Florence O Carlton/Daughter/5//Census
1881/Eliza Sherwood/Step Daughter/13/Manchester/Census
1881/Eliza Loy/Annuitant/59/Yiewsley, Middlesex/Census
1881/Mary A Lock/Cousin, Dressmaker/27/London, Middlesex/Census
1881/Mary A Cox/Domestic Servant/40/Dunsfor Nr Exeter/Census
1881/Susanna Leach/Domestic Servant/19/Peterboro, Northampton/Census

1882/Stephen Oliver Carlton/../../../Post Office Directory

1884/Stephen O Carlton/../../../Post Office Directory

1888/George Ledson/../../../Post Office Directory **

1891/Thomas John Taylor/../../../Post Office Directory

1895/Charles Austin Lewis/../../../Post Office Directory

1899/William Cottrell Podger/../../../Post Office Directory

1901/William Cottrell Podger/Licensed Victualler, Widow/43/Donyatt, Somerset/Census
1901/Ada Matilda Podger/Daughter/21/Hornsey, London/Census
1901/Frank William Podger/Son/19/Dalston, London/Census
1901/William Victor Podger/Son/12/Kentish Town, London/Census
1901/Nellie Podger/Niece/20/Broadway, Somerset/Census
1901/Henry Luke Weatley/Barman/23/Millwall, London/Census
1901/Stanley Frank Duncow/Barman/21/Marylebone, London/Census
1901/Elizabeth Culder/Cook/41/Haymarket, London/Census

1910/Fredk Cornelius Dawe/../../../Post Office Directory

1921/Charles G Weston/../../../Hughes Directory

1938/Geo Jefcoate/../../../Post Office Directory

1944/Pioneer Catering Co Ltd/../../../Post Office Directory



** Provided By Stephen Harris