Three Compasses, 146 High Holborn, St George Bloomsbury WC1V
This is the Three Compasses, Oxford street in the 1853 license transfer, the 1856 directory shows this to be near the junction with Oxford Street. This pub has been rebuilt in modern times and has been recently renamed Brown Sugar (2008). ** Closed permanently in June 2015.
St George Bloomsbury pub index
A listing of historical London public houses, Taverns, Inns, Beer Houses and Hotels in St George Bloomsbury parish, London.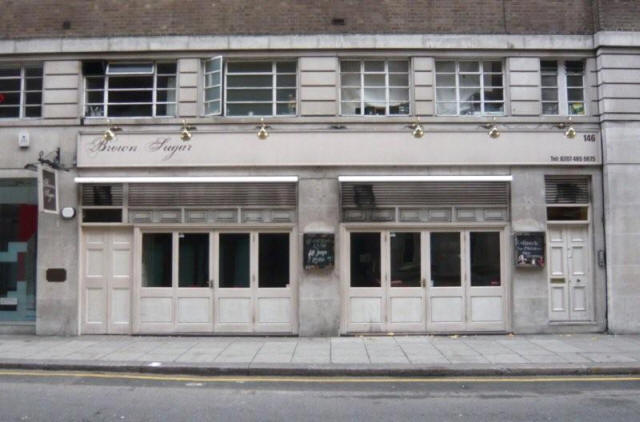 Three Compasses, 146 High Holborn, WC1 - in November 2008
Kindly provided by Stephen Harris
Residents at this address
July 1799/John Caldwell, The Three Compasses 146 High Holborn, victualler/../../Sun Fire Insurance records held at the LMA

August 1804/Thomas Wise, the Three Compasses, High Holborn, victualler/../../Sun Fire Insurance records held at the LMA

January 1805/Thomas Wise, the Three Compasses, High Holborn, victualler/../../Sun Fire Insurance records held at the LMA

October 1806/Thomas Wise, The Three Compasses, High Holborn, victualler/../../Sun Fire Insurance records held at the LMA

1806/Mr Wise, Three Compasses, High Holborn/../../London Brewery 1806 customer for supplying the public with genuine malt liquor

October 1807/John Taylor, the Three Compasses, High Holborn, victualler/../../Sun Fire Insurance records held at the LMA

1811/William Furlanger, Three Compasses, High Holborn/../../Holdens Directory

December 1820/Charles Webb 146 High Holborn victualler/../../Sun Fire Insurance records held at the LMA

June 1821/Charles Webb 146 High Holborn victualler/../../Sun Fire Insurance records held at the LMA

October 1823/Charles Webb, 146 High Holborn, victualler/../../Sun Fire Insurance records held at the LMA

December 1825/Charles Webb, 146 High Holborn victualler/../../Sun Fire Insurance records held at the LMA

May 1827/Charles Webb, 146 High Holborn, victualler/../../Sun Fire Insurance records held at the LMA

1832/John Rogers/../../../Robsons Directory

1833-34/John Rogers/../../../Pigots Directory

1836/John Rogers/../../../Pigots Directory

1839/John Rogers/../../../Pigots Directory

1841/J Rogers/../../../Post Office Directory

1842/Jno Rogers/../../../Robsons Directory

1848/Thomas Probyn/../../../Post Office Directory

1851/Thomas Probyn/../../../Kellys Directory

1851/John Babledge Potter/Licensed Victualler/31/Barnstaple, Devon/Census
1851/Elizabeth Potter/Wife/28/Lapford, Devon/Census
1851/John A Potter/Son/4/Stepney, Middlesex/Census
1851/George A Potter/Son/1/Stepney, Middlesex/Census
1851/Henry Potter/Son, Printer/24/Barnstaple, Devon/Census
1851/Selina Potter/Visitor/24/Lapford, Devon/Census
1851/William Lewis/Barman/19/St Clements, Middlesex/Census
1851/Mary Eltham/House Servant/36/St James, Middlesex/Census
1851/Eliza Brooks/Nursemaid/14/Queens Hospital, Middlesex/Census

November 1853/William Wells/Outgoing Licensee/../../Era

November 1853/John Skidmore/Incoming Licensee/../../Era

October 1854/John Skidmore/ Outgoing Licensee /../../The Era

October 1854/Samuel Mullett/ Incoming Licensee /../../The Era

June 1855/Samuel Mullett/Outgoing Licensee/../../Era Newspaper

June 1855/John Durrant/Incoming Licensee/../../Era Newspaper

1856/Vacant/../../../Post Office Directory

January 1857/Alfred Utting/Outgoing Licensee/../../Era

January 1857/William Biddle/Incoming Licensee/../../Era

1861/Mary Lewis/Licensed Victualler, Widow/57/Stamford, Lincolnshire/Census
1861/William Capendall/Brother in Law, Cellerman/66/Stamford, Lincolnshire/Census
1861/Leonore Plimsaul/Barmaid/25/Norfolk/Census

October 1862/Edward Ley/Outgoing Licensee/../../Morning Post

October 1862/Thomas Cooke/Incoming Licensee/../../Morning Post

1869/Thomas Cooke/../../../Post Office Directory

1873/Thomas Cooke/../../../Post Office Directory **

1881/John Foot/Licensed Victualler/39/Whitechapel, Middlesex/Census
1881/Henrietta Foot/Wife/39/Bethnal Green, Middlesex/Census
1881/Elizabeth Jane Foot/Daughter/7/Whitechapel, Middlesex/Census
1881/Mary Ann Foot/Daughter/6/Whitechapel, Middlesex/Census
1881/John William Foot/Son/4/Whitechapel, Middlesex/Census
1881/Henrietta Crouch Foot/Daughter/3/Whitechapel, Middlesex/Census
1881/George Thomas Foot/Son/2/Shoreditch, Middlesex/Census
1881/Charles Edward Miller/Barman/21//Census
1881/Henry Thomas Bush/Potman/27/Mile End, Middlesex/Census
1881/Jane Gilding/Nurse SMS, Widow/60/St Giles Cripplegate, Middlesex/Census

1882/John Foot/../../../Post Office Directory

1885/Thomas Gibbs/../../../Post Office Directory **

1891/Thomas Brown/../../../Post Office Directory

1895/Henry Goodman/../../../Post Office Directory

1899/Herbert Chas Roger Targett/../../../Post Office Directory

1900/Jn Hodgkins/../../../Post Office Directory **

1910/Francis Arthur Dunn/../../../Post Office Directory

In 1910/George Frank Dunn, Licensed Victualler of this address, aged 37 ; marries Maud Bell, aged 36 - at St James, Hatcham.

1911/George Frank Dunn/Licensed Victualler/38/Bermondsey, London/Census
1911/Maud Dunn/Wife, Assistant/37/Brockley, London/Census
1911/Alfred Henry Pott/Barman & Potman/30/deal, Kent/Census
1911/Jane Davidson/cook/45/Aberdeen, Scotland/Census

1921/George Davies/../../../Post Office Directory

1938/Harry Woodcock/../../../Post Office Directory

1944/Harry John Chas Woodcock/../../../Post Office Directory

1971/../Three Compasses, 146 High Holborn WC1/../../Post Office Directory



** Provided By Stephen Harris