Search my Pub history, pubwiki and London
Wheatsheaf, 44 Kenton street, St George Bloomsbury WC1
St George Bloomsbury pub index
At 37 Kenton street in 1856, 1869 and earlier
A listing of historical London public houses, Taverns, Inns, Beer Houses and Hotels in St George Bloomsbury parish, London. The St George Bloomsbury , London Public House Trade Directory uses information from census, Trade Directories and History to add licensees, bar staff, Lodgers and Visitors.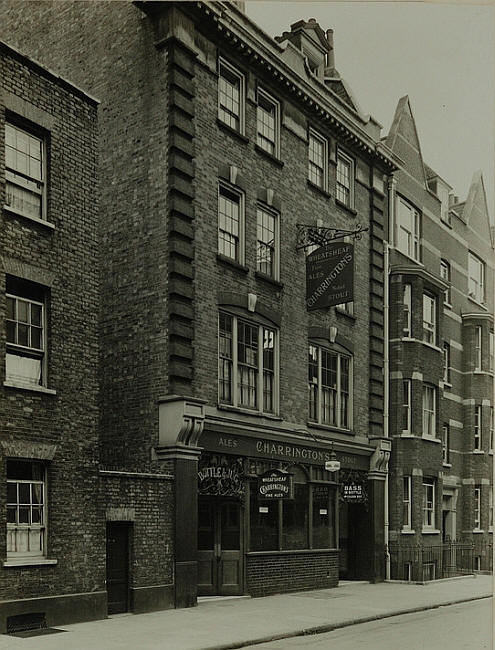 Wheatsheaf, 44 Kenton Street, St George Bloomsbury WC1
The following entries are in this format:
Year/Publican or other Resident/Relationship to Head and or Occupation/Age/Where Born/Source.
1839/Joseph Harding/../../../Pigots Directory

1841/J Harding/../../../Post Office Directory

1842/R Parker/../../../Robsons Directory

1848/Robert Parker/../../../Post Office Directory

June 1849/Robert Parker/Outgoing Licensee/../../Era

June 1849/Charles White/Incoming Licensee/../../Era

1851/Charles White/../../../Kellys Directory

1851/Charles White/Licensed Victualler/34/Reading, Berkshire/Census
1851/Ann White/Wife/35/Wokingham, Berkshire/Census
1851/Caroline Butler/Sister/14/Wokingham, Berkshire/Census
1851/Selina A White/Daughter/5/Middlesex/Census
1851/Georgiana M White/Daughter/3/Middlesex/Census
1851/Matilda A White/Daughter/2/Middlesex/Census
1851/Elizabeth Skinner/General Servant/16/Devon/Census
1851/Samuel Sheppard/Potman/19/London/Census

1856/Charles White/../../../Post Office Directory

April 1861/Ed Ubadell/Outgoing Licensee/../../Era

April 1861/Mark Richards/Incoming Licensee/../../Era

1861/Mark Richards/Licensed Victualler/35/Hythe, Kent/Census
1861/Emma Richards/Wife/28/Hoddesdon, Hertfordshire/Census
1861/Eliza C Richards/Daughter/14/Folkestone, Kent/Census
1861/Mary A Richards/Daughter/11/Folkestone, Kent/Census
1861/Alfred Cox/Servant/20/Lambourne, Berkshire/Census
1861/Mary Mahoney/Servant/15/Poplar, Middlesex/Census

1869/W Riches jun/../../../Post Office Directory

1881/Henry Richards/Licensed Victualler/40/Marylebone/Census
1881/John Catley/Barman/29/Tisbury, Wiltshire/Census
1881/William Chilcott/Potman/33/Clerkenwell/Census
1881/Fanny Bond/Servant/24/Tamerton, Devon/Census

1882/Henry Kitchen/../../../Post Office Directory

1884/Henry Riches/../../../Post Office Directory

1891/Henry Riches/../../../Post Office Directory

1899/Richard Burden/../../../Post Office Directory

1901/Richard Burden/Licensed Victualler/50/New Kent Road, London/Census
1901/Sophia Burden/Wife/52/London/Census
1901/Florence Burden/Daughter/21/Lambeth, London/Census
1901/Eliza Burden/Daughter/19/Lambeth, London/Census
1901/Reginald Philps/Grandson/6/Walthamstow/Census
1901/Getrude Ford/General Servant/17/Bloomsbury, London/Census

1910/Mrs Florence North/../../../Post Office Directory

1921/William Charles Smith/../../../Hughes Directory

1921/Herbert Charles Merry/../../../Post Office Directory

1934/Alfred Charles Grimstone/../../../Kellys Directory

1938/Rd Putman/../../../Post Office Directory

1944/Rd Putman/../../../Post Office Directory