Pub history, pubwiki and London
Princess Royal, 365 Cable Street, St George In East
St George in East Index
The address is listed as 58 Lucas Street in the 1861 census, which is the intersecting street (now called Lukin Street). George Smith is listed at this address in the 1856 directory, but as a grocer. Rebuilt in 1892. *
A listing of historical public houses, Taverns, Inns, Beer Houses and Hotels in St George In East, London - in East London. The St George In East, East London listing uses information from census, Trade Directories and History to add licensees, bar staff, Lodgers and Visitors.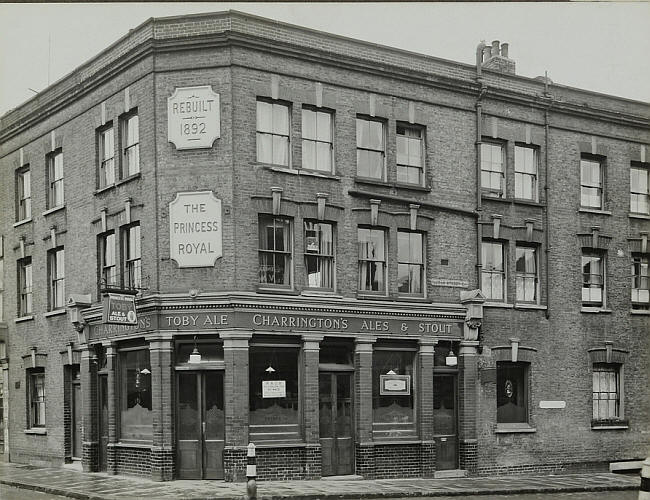 Princess Royal, 365 Cable Street, St George In East
Year/Publican or other Resident/Relationship to Head and or Occupation/Age/Where Born/Source.
1861/George Smith/Beer Retailer/33/Middlesex/Census *
1861/Alice Smith/Wife/44/Middlesex/Census
1861/Selina Smith/Daughter/8/St George in the East, Middlesex/Census
1861/Hildreth Smith/Son/6/St George in the East, Middlesex/Census
1861/Joshua Smith/Son/4/St George in the East, Middlesex/Census
1861/Alfred Smith/Son/2/St George in the East, Middlesex/Census
1861/Margaret King/Mother-in-Law/64/South Shields, Durham/Census

1869/Thomas Scott/Beer Retailer/../../Post Office Directory

1881/William Barham/Beer House Keeper/51/Norfolk/Census
1881/Eliza Barham/Wife/51/Norfolk/Census
1881/Mrs Bamshaw/Widower/29/Norfolk/Census

1882/William Barham/Beer Retailer/../../Post Office Directory

1891/William Lawrence Howell/Beer Retailer/39/Birmingham, Warwickshire/Census

1895/Stephen William Pettit/beer retailer/../../Post Office Directory *

1899/Stephen William Pettit/Beer Retailer/../../Post Office Directory

1901/S W Pettit/Beer Retailer/46/London/Census
1901/Rebecca Pettit/Wife/36/Bethnal Green, London/Census
1901/Louie Pettit/Daughter/11/Bethnal Green, London/Census
1901/May Pettit/Daughter/9/Ratcliff, London/Census
1901/Matilda Pettit/Daughter/3/St Georges East, London/Census
1901/George Pettit/Son/6/St Georges East, London/Census
1901/Rebecca Pettit/Daughter/12/London/Census

1910/Stephen William Pettit/Beer Retailer/../../Post Office Directory

1914/Stephen William Pettit/Beer Retailer/../../Post Office Directory

1915/Stephen William Pettit/beer retailer/../../Post Office Directory *

1921/Stephen William Pettit/Princess Royal/../../Post Office Directory

1933 - 1936/Higgins/../../../Freehold

1934/Jas Higgins/Beer Retailer/../../Kellys Directory

1937/McCulloch/../../../Freehold

1938 - 1938/Hannann/../../../Freehold

1940/William Hamaan/beer retailer/../../Post Office Directory

1940 - 1941/St Just/../../../Freehold

1942 - 1943/E A Mazey/../../../Freehold

1944 - 1950/J W Marsh/../../../Freehold

1951 - 1962/E H Carr/../../../Freehold



* Provided By Ewan