Search my Pub history, pubwiki and London
Swedish Flag, 1-2 Princes Street , St George In East
St George in East Index
The sale in 1851 notes that this was previously the Coopers Arms at some stage in its earlier life, At 2 Princes Street, St George Street in 1856; the address changes to 2 Swedenborg street by 1921
A listing of historical public houses, Taverns, Inns, Beer Houses and Hotels in St George In East, London - in East London. The St George In East, East London listing uses information from census, Trade Directories and History to add licensees, bar staff, Lodgers and Visitors.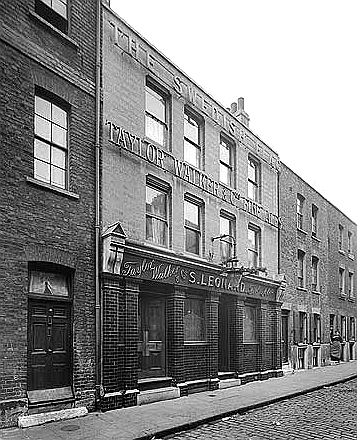 Swedish Flag, 1-2 Princes Street , St George In East - Licensee S Leonard circa 1912
Kindly provided by John Carnaby
Year/Publican or other Resident/Relationship to Head and or Occupation/Age/Where Born/Source.
1835/William Osterbery/Advert/../../Morning Advertiser

1839/William Osterberry/../../../Pigots Directory

1843/Richard Thomas/../../../Kellys Directory

1848/Richard Morris/../../../Post Office Directory

March 1849/Richard Morris/Outgoing Licensee/../../Morning Advertiser

March 1849/Sarah Wells/Incoming Licensee/../../Morning Advertiser

1851/Mary Richardson/../../../Kellys Directory

1851/Mary Richardson/Licensed Victualler/41/Monmouthsire/Census
1851/Thomas Tuesday/Assistant/42/Farnham, |Surrey/Census

May 1851/Sale of the Swedish Flag, long known as the Coopers Arms/../../../Morning Advertiser

1856/Miss Mary Richardson/../../../Post Office Directory

March 1858/Mary Nixon (late Richardson)/Outgoing Licensee/../../East London Observer

March 1858/John Nixon, her husbandy/Incoming Licensee/../../East London Observer

August 1866/Sarah Burdall, landlady and widow at time of a burglary/../../../London Evening Standard

29th September 1866/John Weston Bendell, deceased/Outgoing Licensee/../../East London Observer +

29th September 1866/Charles Terry/Incoming Licensee/../../East London Observer +

November 1866/Sarah Bendel, administratrix of John Weston Bendel, late occupier/Outgoing Licensee/../../Era

November 1866/Charles Terry/Incoming Licensee/../../Era

May 1870/Mr Edward Jefford/../../../Morning Advertiser

1874/Edward Jefford/../../../Licenced Victualler & Hotelier Directory

1881/Edward C Jefford/Licenced Victualler/66/Bermondsey, Surrey/Census
1881/Sarah Jefford/Wife/51/Axmouth, Devon/Census
1881/Selinah Williams/Domestic Servant/15/St Georges E, Middlesex/Census

1891/Mrs Sarah Jefford/../../../Post Office Directory

1895/Mrs Sarah Jefford/../../../Post Office Directory

1899/Mrs Sarah Jefford/../../../Post Office Directory

1901/Sarah Jefford/Licensed Victualler, Widow/71/Axmouth, Devonshire/Census
1901/Rose Lennard/Niece, Tailor/17/St Georges East, London/Census
1901/Ellen Jackson/Housekeeper/17/St Georges East, London/Census

Ellen Augusta Jefford married Stephen Leonard in 1870

1910/Mrs Ellen Leonard/../../../Post Office Directory

1911/Stephen Leonard/Licensed Victualler/72/Austria/Census
1911/Ellen Leonard/Wife, Assistant/65/Devon/Census
1911/Mary Leonard/Daughter in Law, Widow/32/Shadwell, London/Census
1911/Stephen Leonard/Grandson/12/St George East, London/Census
1911/Edward Leonard/Grandson/11/St George East, London/Census
1911/Herbert Leonard/Grandson/9/St George East, London/Census
1911/John Leonard/Grandson/8/St George East, London/Census
1911/Beatrice Leonard/Grand Daughter/7/St George East, London/Census
1911/Francis Leonard/Grandson/4/St George East, London/Census

1918/Mrs Ellen Leonard/Death at the age of 73/../../BMD

1921/Benjamin Gates/../../../Post Office Directory

1934/Albert J Harding/../../../Kellys Directory

1938/Albert J Harding/../../../Post Office Directory



+ Provided by Friends of Tower Hamlets Cemetery Park