Victory, 266 Commercial Road E1
St George in East Index
A listing of historical public houses, Taverns, Inns, Beer Houses and Hotels in St George In East, London - in East London.
This pub was badly damaged in the Blitz of 1941, but lived on until at least 1959. It is now demolished. **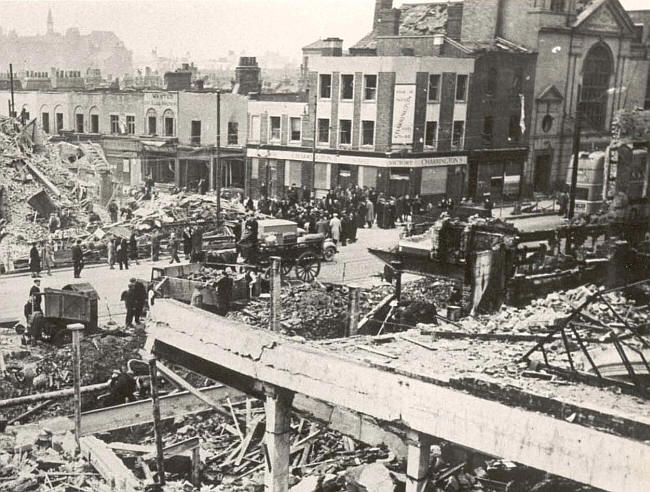 Victory, 266 Commercial Road - In this 1941 photo, the Victory can be seen amidst the Blitz wreckage.
photo supplied by Mick O'Rorke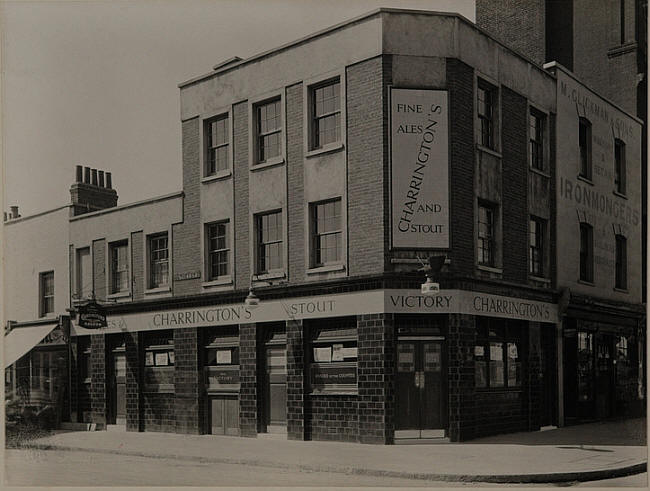 Victory, 266 Commercial Road, St George In East
Residents at this address
1877/Edwd. Thos. Goddard/../../../P.O. Directory **

1882/Thomas Lands/Beer Retailer/../../Post Office Directory

1891/William Catherine/Beer Retailer/47/Clerkenwell, London/Census
1891/Anna Catherine/Wife/34/Lambeth, London/Census
1891/William Catherine/Son/6/Limehouse, London/Census
1891/Anna Catherine/Daughter/4/Old Ford, London/Census
1891/Arthur Catherine/Son/2/St Georges E, London/Census
1891/Edith Catherine/Daughter/3 months/St Georges E, London/Census
1891/Henry Hodge/Barman/18/St Georges E, London/Census
1891/Alfred Brett/Barman/19/Bethnal Green, London/Census
1891/Anna Rowell/Domestic Servant/21/Stepney, London/Census

1892/William Catherine / Landlord/../../Proceedings of the Old Bailey **
1892/Henry Hodges / Barman/../../Proceedings of the Old Bailey **

1901/William F Trawley/Beer House Keeper/29/Shoreditch, London/Census
1901/Lydia C Trawley/Wife/24/Stepney, London/Census
1901/Annie Trawley/Daughter/6/Stepney, London/Census
1901/Edith Trawley/Daughter/9/Mile End, London/Census
1901/William Trawley/Father, Potman, Widow/58/Bethnal Green, London/Census
1901/Mary Lester/Domestic Servant, Widow/54/Yarmouth, Norfolk/Census

1903/William Francis Trawley/Beer Retailer/../../Post Office Directory

1910/William Francis Trawley/Beer Retailer/../../Post Office Directory

1917/William Francis Trawley/Beer Retailer/../../Post Office Directory

1921/William Francis Trawley/Beer Retailer/../../Post Office Directory

1923/William Francis Trewley/../../../P.O. Directory **

1948/Mrs Louisa Kirk/../../../P.O. Directory **

1958/Letitia Mary Margaret Newberry / Licensed Victualler/../../London Gazette, 6 January 1959 **



** Provided By Stephen Harris