Pub history and pub wiki
Coopers Arms, 15 Watney Street, St George In East
St George in East Index
Between 1921 and 1934, Heron Sharod is now a confectioner at this address.
A listing of historical public houses, Taverns, Inns, Beer Houses and Hotels in St George In East, London - in East London. The St George In East, East London listing uses information from census, Trade Directories and History to add licensees, bar staff, Lodgers and Visitors.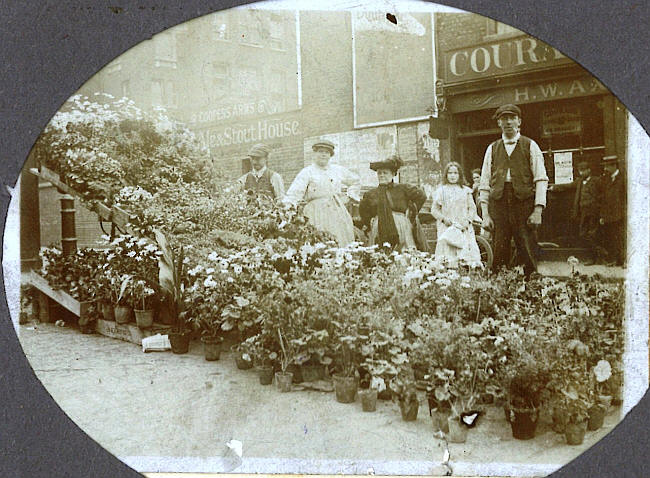 Coopers Arms, 15 Watney Street, St George in the East - Landlord H W Axford
This is likely to be my Great Aunt in the photograph
Kindly provided by Michael Cooper
The following entries are in this format:
Year/Publican or other Resident/Relationship to Head and or Occupation/Age/Where Born/Source.
1882/John Smith/Beer Retailer/../../Post Office Directory ****

1891/George Smith/Beer Retailer/../../Post Office Directory ****

1891/George Smith/Beer Retailer/35/Colchester, Essex/Census ****
1891/Rebecca Smith/Wife/40/Flintshire/Census
1891/Ellen Brown/Domestic Servant/15/St Georges E, London/Census

1899/William Taylor/Beer Retailer/../../Post Office Directory ****
1899/George Card/Beer Retailer/../../Post Office Directory ****

1901/Henry A Connor/Beer Shop Keeper/22/Bethnal Green, London/Census ****
1901/Sarah Connor/Grandmother, Widow/70/Shoreditch, London/Census
1901/Rosetta Connor/Aunt, tailoress/26/Bethnal Green, London/Census

Henry William Axford marries Caroline Martha Chew in 1876 at St Peter, Mile end. In 1901 he can be found at the Masons Arms, 121 Bow Common Lane

1910/Henry William Axford/Beer Retailer/../../Post Office Directory ****

1911/Henry William Axford/Beer House Keeper/57/Bristol/Census ****
1911/Caroline Martha Axford/Wife/59/St George in the East/Census
1911/Percy Robert Axford/Son, Assistant/27/Essex/Census
1911/Grace Barbara Axford/Daughter in Law/24/Bow, Middlesex/Census
1911/Albert Percy James Axford/Grandson/5 months/St George in the East/Census

1916/Henry William Axford of 15 Watney Street St George in the East Middlesex died 9 May 1916 Probate London 27 May to Caroline Martha Axford widow. Effects £214 1s 7d./Probate

1921/Henry Sharod/Beer Retailer/../../Post Office Directory ****

1934/Henry Sharod/Confectioner/../../Kellys Directory ****



**** Provided By Kevan
Search for a pub, an address or person
And Last updated on: Wednesday, 03-Jul-2019 01:18:15 BST