Pub history and pub wiki
Barley Mow, 82 Duke Street, Grosvenor Street W1
St George Hanover Square pub history index
At 40 Duke Street in 1851 and 1862, then at 39 Duke Street in 1899 & 82 Duke Street by 1910; This pub was most recently rebuilt in 1896.
A listing of historical London public houses, Taverns, Inns, Beer Houses and Hotels in St George Hanover Square - London; and includes such areas of London as Knightsbridge, Mayfair and Pimlico.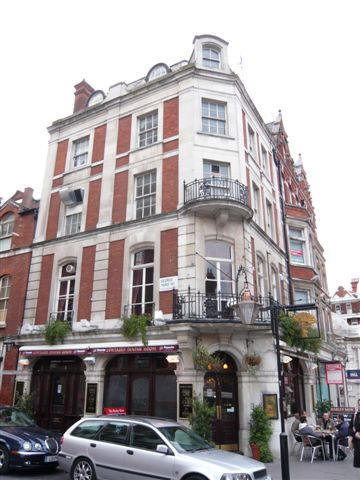 Barley Mow, 82 Duke Street, W1 - in March 2008
Kindly provided by Stephen Harris
The following entries are in this format:
Year/Publican or other Resident/Relationship to Head and or Occupation/Age/Where Born/Source.
1811/Samuel Willman, Old Barley Mow, Duke street, Grosvenor square/../../Holdens Directory

1823/Henry Thompson/victualler/../../Sun Fire Office records held at the London Metropolitan Archives *

1827/Henry Thompson/../../../Licensed Victuallers Association

1839/Richard Pearce/../../../Pigot's Directory *

1841/Richard Pearce/../../../Post Office Directory *

1842/Richard Pearce/../../../Robsons Directory

1848/Mrs Deborah Seabrook/../../../Post Office Directory *

1851/James Penn/../../../Kellys Directory

1852/James Penn/../../../Watkins Directory **

1856/Charles Gibbs/../../../Post Office Directory

1861/William Williams/Victualler (employing 1 man)/42/Greenwich, Kent/Census
1861/Harriet Williams/Wife/44/Milford, Suffolk/Census
1861/George Finch/Potboy/21/North Ockendon, Essex/Census
1861/John Johnston/Lodger, Servant/34/Northumberland/Census
1861/Edward Bland/Lodger, Skinner/38/Lancashire/Census
1861/John Bliss/Lodger, Servant/23/Cheltenham, Gloucestershire/Census
1861/James Kent/Lodger, Servant/35/Tunbridge, Kent/Census
1861/Thomas Cardinal/Lodger, Butcher/37/Coggleshall, Essex/Census
1861/James Rose/Lodger, Servant/20/Surrey/Census
1861/William Coleman/Lodger, Servant, Widow/73/Devon/Census

1862/William Williams/../../../Post Office Directory

November 1862/William Williams/Outgoing Licensee/../../Era

November 1862/Charles Cornwall/Incoming Licensee/../../Era

March 1864/Charles Cornwell/Outgoing Licensee/../../Era

March 1864/Edward Sharp/Incoming Licensee/../../Era

May 1866/Reuben Wooder/Outgoing Licensee/../../Era

May 1866/John Henry Hubert/Incoming Licensee/../../Era

1869/John Henry Hubert/../../../Post Office Directory

1870/John Henry Hubert/../../../Post Office Directory **

1881/John Rowell/Publican Employing 1 Man/53/Milton, Cambridge/Census
1881/Louisa Rowell/Wife/43/Devizes, Wiltshire/Census
1881/Alice Rowell/Daughter/20/Clerkenwell, Middlesex/Census
1881/Eliza Rowell/Daughter/17/Clerkenwell, Middlesex/Census
1881/Hannah Rowell/Daughter/14/Clerkenwell, Middlesex/Census
1881/Emma Rowell/Daughter/12/Clerkenwell, Middlesex/Census
1881/John Rowell/Son/11/Clerkenwell, Middlesex/Census
1881/Lydia Rowell/Daughter/5/Clerkenwell, Middlesex/Census
1881/Joseph Proctor/Potman/51/High Cross, Hertford/Census

1882/John Rowell/../../../Post Office Directory

1884/John Rowell/../../../Post Office Directory

1891/Frederick William Bevan/../../../Post Office Directory

1899/Frederick William Bevan/../../../Post Office Directory

1895/Frederick William Bevan/../../../Post Office Directory *

1901/William Collings/Licensed Victualler/40/Holloway, London/Census
1901/Zilpah Collings/Wife/25/Mile End, London/Census
1901/William Collings/Son/13/Putney, London/Census
1901/Vera Collings/Daughter/1/Balham, London/Census
1901/Ellen Chandler/Barmaid/28/Cranbrook, Kent/Census
1901/Florence Moorcroft/Barmaid/22/Kent/Census
1901/Selina Mont/General Servant/35/Mitre Square, London/Census
1901/Elizabweth Rule/General Servant/20/Epsom, Surrey/Census

1908/Henry John Gibbs/../../../Post Office Directory **

1910/Henry John Gibbs/../../../Post Office Directory

1914/Henry John Gibbs/../../../Post Office Directory

1915/Henry John Gibbs/../../../Post Office Directory *

1917/Henry John Gibbs/../../../Post Office Directory **

1921/Henry John Gibbs/../../../Post Office Directory

1938/Noble Frederick Hollingbery/../../../Post Office Directory

1944/Sidney Fredk Cox/../../../Post Office Directory



* Provided By Ewan

** Provided By Stephen Harris

Search for a pub, an address or person
And Last updated on: Wednesday, 03-Jul-2019 01:18:18 BST