Pub history and pub wiki
Clarence, 4 Dover Street, London W1S
St George Hanover Square pub history index
This pub was established in 1724 and rebuilt in its present form in 1953. It had been renamed the Clarence, by 1899; being the Coach & Horses up until that time. Although named the Clarence in the 1861 census. ** In the 1930 photo of The Clarence, Dover street; you can see on the left is Dover Street underground station. This entrance was abandoned when the station was rebuilt with escalators in 1933 and renamed Green Park. *** In 2017 it is a Nicholsons (Mitchell & Butlers) pub.
A listing of historical London public houses, Taverns, Inns, Beer Houses and Hotels in St George Hanover Square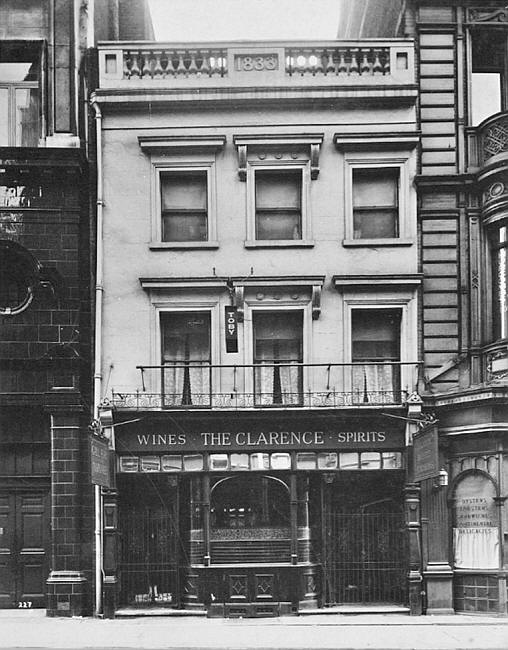 Clarence, 4 Dover Street, W1 - in 1930 showing the year 1833 in the parapet
Kindly provided by Vincent O'Loughlin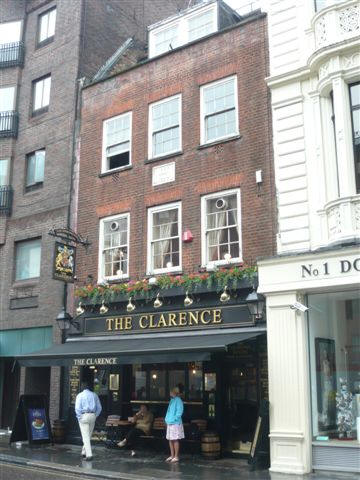 Clarence, 4 Dover Street, W1 - in July 2008
Kindly provided by Stephen Harris
The following entries are in this format:
Year/Publican or other Resident/Relationship to Head and or Occupation/Age/Where Born/Source.
1827/James Howard/../../../Licensed Victuallers Association

1833-34/James Howard, Coach & Horses, 4 Dover street, Piccadilly/../../Pigots Directory

1839/James Howard/../../../Pigot's Directory *

1841/James Howard/../../../Post Office Directory *

1848/Mrs Anna Howard/../../../Post Office Directory *

1851/Mrs Anna Howard/../../../Kellys Directory

1851/Anna Howard/Licensed Victualler (Widow)/61/Shropshire/Census *
1851/James Howard/Son/21/London, Middlesex/Census
1851/Mary Howard/Daughter/26/London, Middlesex/Census
1851/Susan Brand/Bar Maid/21/Richmond, Surrey/Census
1851/Mary Chuter/House Maid/24/Guildford, Surrey/Census
1851/Mary Everyn/Cook/40/Maidstone, Kent/Census
1851/Richard Stocker/Potman/20/Wimbledon, Surrey/Census
1851/John Spark/Potman/25/Brompton, Middlesex/Census

1856/Mrs Anna Howard/../../../Post Office Directory *

1861/David Watts/Victualler/30/Middlesex/Census
1861/Rhoda Watts/Sister/25/Middlesex/Census
1861/Sally Plummer/Assistant/31/Ascot, Berks/Census
1861/Ribing Rumbkings/Cook/40/Perthshire/Census
1861/Ann Witfield/Housemaid/20/Reading, Berks/Census
1861/George P Burnard/Waiter/28/Middlesex/Census

1869/Joseph Jones/../../../Post Office Directory

1872/Joseph Jones/../../../Post Office Directory **

1880/Joseph Jones/../../../Post Office Directory **

1881/Joseph Jones/Licensed Victualler/40/Bicester, Oxford/Census
1881/Matilda Jones/Wife/50/Devonport, Devon/Census
1881/Ellen Chubb/Assistant/42/Devonport, Devon/Census
1881/Mary C Moore/Assistant/22/Dunbarton, Scotland/Census
1881/Annie Tipple/General Servant/53/Middlesex/Census
1881/Harry J Scales/Servant/21/Newbury, Berkshire/Census

1882/Joseph Jones/../../../Post Office Directory

1884/Joseph Jones/../../../Post Office Directory

1891/William Terrington/../../../Business Directory of London **

1891/William Terrington/../../../Post Office Directory

1895/George Marshall/../../../Post Office Directory *

1899/Francis Henry Penney/../../../Post Office Directory

1901/Francis H Penney/Licensed Victualler/38/St Georges in East, London/Census
1901/Mary Penney/Wife/31/Ireland/Census
1901/Gladys M Penney/Daughter/1/St Georges Hanover Square, London/Census
1901/Elizabeth Wilton/Cook, Widow/50/St Martins, London/Census
1901/Ballinda Pitt/Barmaid/28/Ireland/Census
1901/Harriet J Rogers/Nurse/29/CAmberwell, London/Census
1901/Theresa S Bailey/Housemaid/25/St Martins, London/Census
1901/Florrie Bell/Barmaid/21/Deal, Kent/Census

1906/Joseph Abrahams/../../../Post Office Directory

1910/Cope & Spear/../../../Post Office Directory

1915/Cope & Jarmin/../../../Post Office Directory *

1921/Cope & Spear/../../../Hughes Directory

1921/Cope & Jarmin/../../../Post Office Directory

1938/Copes Taverns Ltd/../../../Post Office Directory

1942/Cope's Taverns Ltd/../../../Post Office Directory

1944/Cope's Taverns Ltd/../../../Post Office Directory *



* Provided By Ewan

** Provided By Stephen Harris

*** Provided By Vincent O'Loughlin
Search for a pub, an address or person
And Last updated on: Wednesday, 03-Jul-2019 01:18:21 BST