Pub history and pub wiki
Grosvenor Basin, 29 Wilton Road, Pimlico, St George Hanover Square
St George Hanover Square pub history index
At 14 Wilton Road in 1851, now demolished.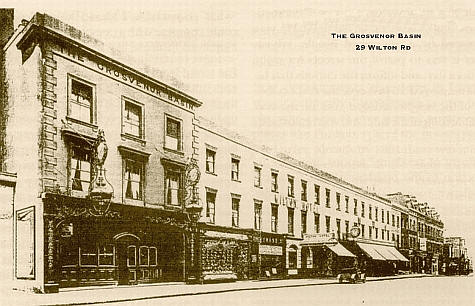 The Grosvenor Basin, 29 Wilton Road, Pimlico
Kindly provided by Peter Fry
A listing of historical London public houses, Taverns, Inns, Beer Houses and Hotels in St George Hanover Square - London; and includes such areas of London as Knightsbridge, Mayfair and Pimlico.
The following entries are in this format:
Year/Publican or other Resident/Relationship to Head and or Occupation/Age/Where Born/Source.
1851/James Campbell/../../../Kellys Directory

1869/James Farrent/../../../Post Office Directory

1881/James Farrent/Licensed Victualler/44/Camberwell, Surrey/Census
1881/Anne Farrent/Wife/41/Fulham, Middlesex/Census
1881/George Gedwell/Stepson/22/Fulham, Middlesex/Census
1881/Elizabeth Gedwell/Step Daughter/20/Fulham, Middlesex/Census
1881/James Farrent/Son, Bell Hanger/16/Pimlico, Middlesex/Census
1881/Sarah H Rowley/Aunt, Widow/60/Putney, Surrey/Census
1881/Susan J Bishop/General Servant, Widow/60/Lanford, Oxford/Census
1881/John Mills/Barman/18/Stockwell, Surrey/Census

1882/James Farrent/../../../Post Office Directory

1884/Geo Yeowell/../../../Post Office Directory

1891/Geo Yeowell/../../../Post Office Directory

1895/Geo Yeowell/../../../Post Office Directory

1899/Geo Yeowell/../../../Post Office Directory

1901/Frederick J Walter/Public House Manager/48/Clerkenwell, London/Census
1901/Annie S Walter/Public House Manageress/38/Clerkenwell, London/Census
1901/William G Pegg/Barman/26/Lancashire/Census
1901/Maude A Hall/Barmaid/23/Lancashire/Census
1901/Victoria L Carter/Barmaid/27/London/Census
1901/Emma White/General Servant/39/Oxford/Census
1901/Liugi Galigani/Potboy/19/Italy/Census

1910/George Yeowell/../../../Post Office Directory

1914/George Yeowell/../../../Post Office Directory

1938/Carrs (London) Ltd/../../../Post Office Directory

1944/Carrs (London) Ltd/../../../Post Office Directory



Search for a pub, an address or person
And Last updated on: Wednesday, 03-Jul-2019 01:18:28 BST