Search London wiki and Pub wiki history sites
All public house, restaurants, bars etc closed for the forseeable future from 20th March 2020, but this is a history site.
Gun Tavern, 125 Lupus street, Pimlico, St George Hanover Square SW1
St George Hanover Square pub history index
In 1805 and earlier, at 12 Stafford Row in Pimlico - this was actually a different address. Seemingly long demolished, 125 Lupus Street is now a post office in a shopping arcade below flats.
A listing of historical London public houses, Taverns, Inns, Beer Houses and Hotels in St George Hanover Square - London; and includes such areas of London as Knightsbridge, Mayfair and Pimlico.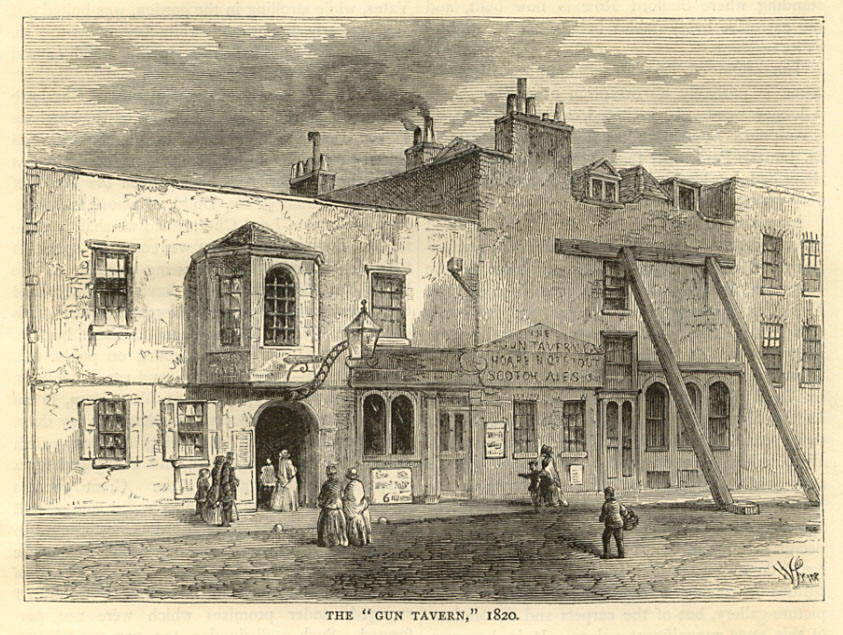 Gun Tavern, Stafford Row, Pimlico - circa 1820
Kindly provided by Colleen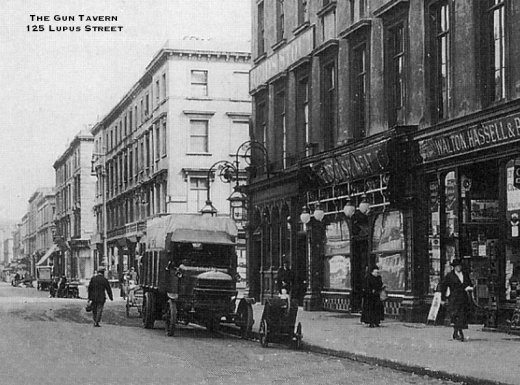 The Gun Tavern, 125 Lupus Street, Pimlico
Kindly provided by Peter Fry
Residents at this address
1805/Mrs C Adams, Gun Tavern, Stafford road, Pimlico/../../Holdens Directory

1832/Wale, Gun Tavern, 12 Stafford row, Pimlico/../../Robsons Directory

1839/Walt Day/../../../Pigots Directory

1842/William Rackstraw, Gun Tavern, 12 Stafford row, Pimlico/../../Robsons Directory

1843/William Rackstraw/../../../Kellys Directory

1848/William Rackstraw/../../../Post Office Directory

1851/William Rackstraw/../../../Kellys Directory

1856/William Rackstraw/../../../Post Office Directory

1869/F Matthews/../../../Post Office Directory

1881/John Freebone/Victuallers Manager/35/St Pancreas, Middlesex/Census
1881/Elizabeth W Freebone/Wife/30/St Pancreas, Middlesex/Census
1881/Charles Hudson/Cellarman/26/Mitcham, Surrey/Census
1881/Albert Baker/Barman/19/Canterbury, Kent/Census
1881/Edward E Smith/Barman/20/Liverpool, Lancashire/Census
1881/James West/Barman/19/St Lukes, Middlesex/Census
1881/Alfred W Cane/Barman/24/Mortlake, Surrey/Census
1881/Margaret Brosnan/General Servant/19/St Geo Han Sq, Middlesex/Census

1882/Smith & King/../../../Post Office Directory

1884/Joseph Hollyman/../../../Post Office Directory

1891/Edward Elden/../../../Post Office Directory

1899/Wm Carpenter Hall/../../../Post Office Directory

1901/Frederick C Knight/Public House Manager/23/Clapham, London/Census
1901/Winifred W Knight/Wife, Public House Manageress/24/Colchester, Essex/Census
1901/Alice C Walker/Barmaid/20/Northfield, Kent/Census
1901/Sidney F Lowden/Barman/22/Devonshire/Census
1901/Isabella Armstead/Cook, Widow/46/../Census
1901/Frank Ball/Barman/18/Glamorganshire/Census
1901/William A Doughty/Barman/21/Millis, Suffolk/Census

1910/Wm Cole Banbery/../../../Post Office Directory

1915/John Egan & Co Ltd/../../../Post Office Directory

1938/John Egan & Co Ltd/../../../Post Office Directory

1944/Jn Egan & Co Ltd/../../../Post Office Directory