Horse & Groom, 17 Kinnerton street, St George Hanover Square SW1
St George Hanover Square pub history index
Previously this would have been 29 & 30 Kinnerton Street in 1895 and earlier
A listing of historical London public houses, Taverns, Inns, Beer Houses and Hotels in St George Hanover Square - London; and includes such areas of London as Knightsbridge, Mayfair and Pimlico.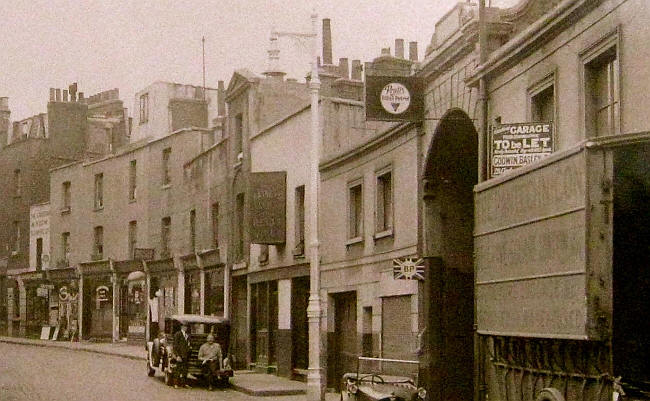 Horse & Groom, Kinnerton Street - circa 1930
Kindly provided by Rick Walsh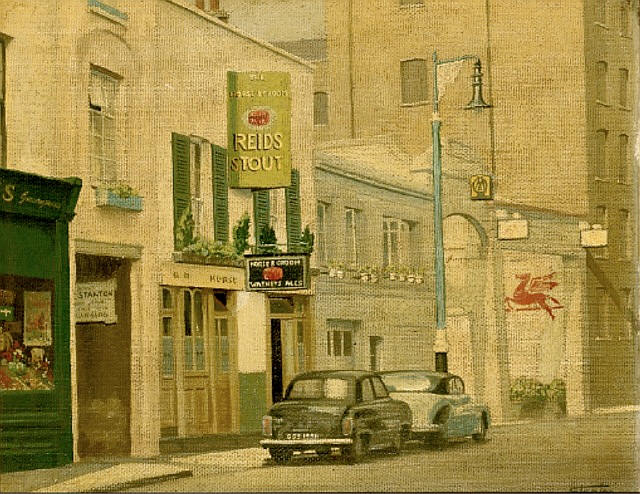 Horse & Groom, Kinnerton Street - circa 1950
Patrick McGoohan, as the SECRET AGENT MAN from the mid-1960s TV show, runs across Kinnerton Street towards Motcomb Street and the Turk's Head. The large dark rectangular sign of the Horse & Groom can be seen above the last of the three cars parked along the left side of the road. Tho one cannot actually read the lettering on the sign, one can make out the number of letters in each of the main words. All of what is shown in the photo was razed around 1970.
All kindly provided by Rick Walsh
Residents at this address
1869/Mrs Ann Smith/Beer Retailer/../../Post Office Directory

1881/William Arthur Aylott/Beer House Keeper/26/Walkern, Hertford/Census
1881/Louisa Aylott/Wife/25/Stoke By Wayland, Suffolk/Census
1881/Emily Dearman/Cousin, Servant Domestic/18/Walkern, Hertford/Census
1881/James Joseph Overill/Cousin, Gardener/35/Walkern, Hertford/Census
1881/Rose Cowling/Servant Domestic/16/Hackney, Middlesex/Census
1881/John Cornthwaite/Lodger, Servant Indoor/20/Holker, Lancashire/Census
1881/John Engledew/Lodger, Coachman/29/Swafham, Norfolk/Census
1881/Henry Lee/Lodger, Servant Indoor/28/Bishopstoke, Hampshire/Census

1882/William Aylett/Beer Retailer/../../Post Office Directory

1891/Thomas Holland/Beer Retailer/../../Post Office Directory

1895/Walter John Gilding/Beer Retailer/../../Post Office Directory

1901/William R H Ballsdon/Beer House Keeper/36/Ringerswell, Devon/Census
1901/Fanny H Ballsdon/Wife/30/Pimlico, London/Census
1901/Geo W Ballsdon/Son/9 months/Knightsbridge, London/Census
1901/Harriett Sweetlove/Domestic Servant/39/Pimlico, London/Census

1910/Thomas George Cook/Beer Retailer/../../Post Office Directory

1911/Thomas George Cook/Beer Retailer/46/Clerkenwell, London/Census
1911/Jessie Cook/Wife, Assistant/45/Westminster, London/Census
1911/Emma Cook/Daughter, Assistant/22/Westminster, London/Census
1911/Jessie Caroline Cook/Daughter, Assistant/20/Westminster, London/Census
1911/Mary Ann Cook/Daughter/18, Assistant/Westminster, London/Census
1911/George Snell/Relative, Farrier, widow/85/Chelsea, London/Census

1921/Mrs Jessie Caroline Beesley/Beer Retailer/../../Post Office Directory