Pub history, pubwiki and London
Spread Eagle, 79 Grosvenor Road, St George Hanover Square SW1V
St George Hanover Square pub history index
Spread Eagle, 79 Grosvenor Road SW1V - in 1986
Provided by Frank Koletar
This is now the Grosvenor (2009)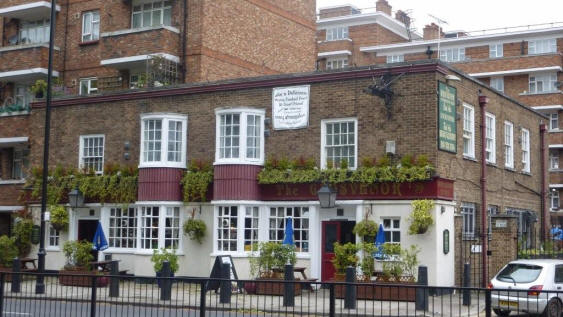 Spread Eagle, 79 Grosvenor Road, SW1 - in May 2010
Kindly provided by Stephen Harris
A listing of historical London public houses, Taverns, Inns, Beer Houses and Hotels in St George Hanover Square - London. The St George Hanover Square, London listing uses information from census, Trade Directories and History to add licensees, bar staff, Lodgers and Visitors; and includes such areas of London as Knightsbridge, Mayfair and Pimlico.
The following entries are in this format:
Year/Publican or other Resident/Relationship to Head and or Occupation/Age/Where Born/Source.
1881/James T Skinner/Licensed Victualler/48/Hackney, Middlesex,/Census ****
1881/Margaret Skinner/Wife/40/Islington, Middlesex/Census
1881/Mary M Skinner/Daughter/7/Pimlico, Middlesex/Census
1881/Eleanor Skinner/Mother, Widow/82/Newington, Kent/Census
1881/William Cloon/Barman/26/Paddington, Middlesex/Census
1881/George W Watts/Barman/15/Poplar, Middlesex/Census
1881/Henry Bransford/Potman/28/Smithfield, Middlesex/Census
1881/Mary Humphreys/Cook/47/Melton Mowbray, Leicester/Census

1882/James T Skinner/../../../Post Office Directory ****

1884/James T Skinner/../../../Post Office Directory ****

1891/James Bott/../../../Post Office Directory ****

1899/James Henry Gandar/../../../Post Office Directory ****

1901/J H Gandar/Licensed Victualler/39/Farnham, Surrey/Census ****
1901/N C Gandar/Wife/24/Surrey/Census
1901/E J Gandar/Son/ 4 months/Pimlico/Census
1901/K Browning/Nurse Maid/14/Farnham, Surrey/Census
1901/J Munday/Barman/26/Kensal Green, London/Census
1901/W Smith/Barman/24/Kensington, London/Census
1901/W W Ewar/Barman/21/Westminster, London/Census
1901/J Hurley/Barman/21/Oxford, Oxon/Census
1901/Rose Shern/Housemaid/20/Camberwell, London/Census
1901/Ann Lowrie/Cook/31/Kenington, London/Census

1910/James Henry Gandar/../../../Post Office Directory ****

1914/Thomas Hy Rawlings/../../../Post Office Directory ****

1921/Frederick Charles Goldby/../../../Post Office Directory ****

1938/Wm Morgan Garwood/../../../Post Office Directory ****

1944/Leslie Lewis Jones/../../../Post Office Directory ****



**** Provided By Kevan