Pub history and pub wiki
Victoria Hotel, 46 Buckingham Palace Road, St George Hanover Square
St George Hanover Square pub history index
Originally licensed in 1860, and rebuilt in its current form in the 1980s, and no longer functions as a hotel ** The modern address may also be at 1 Lower Grosvenor street which is / was at the junction with 56 Buckingham palace road.
A listing of historical London public houses, Taverns, Inns, Beer Houses and Hotels in St George Hanover Square - London. The St George Hanover Square, London listing uses information from census, Trade Directories and History to add licensees, bar staff, Lodgers and Visitors; and includes such areas of London as Knightsbridge, Mayfair and Pimlico.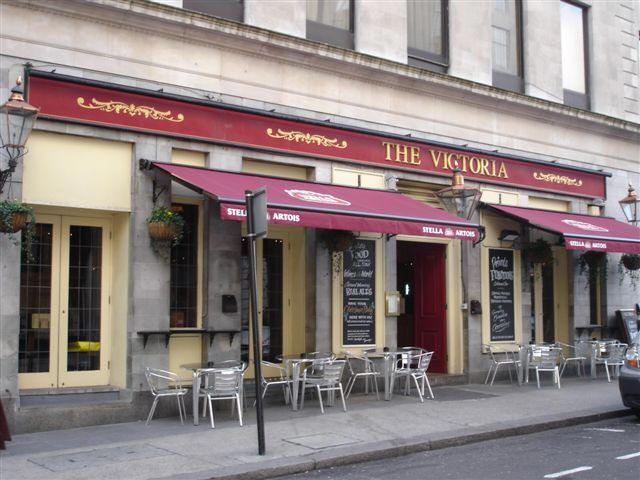 Victoria (Hotel), 56 Buckingham Palace Road, SW1 - in December 2007
Kindly provided by Stephen Harris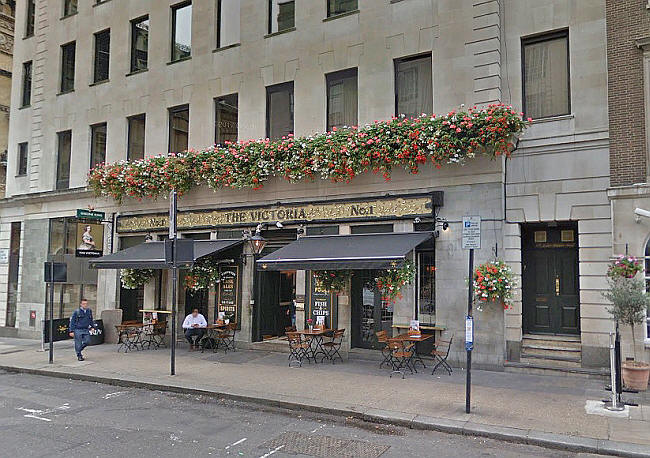 The Victoria, 56 Buckingham Palace Road, SW1 - in 2018
Kindly provided by John Carnaby
The following entries are in this format:
Year/Publican or other Resident/Relationship to Head and or Occupation/Age/Where Born/Source.
1869/W Ball/../../../Post Office Directory ****

June 1870/William Ball/Outgoing Licensee/../../Era ****

June 1870/George Anthony Smith/Incoming Licensee/../../Era ****

1881/George A Smith/Licensed Victualler/58/London, Middlesex/Census ****
1881/Eliza A Smith/Wife/54/London, Middlesex/Census
1881/George Smith/Son, Wine Merchant/27/London, Middlesex/Census
1881/Emily Smith/Daughter/24/London, Middlesex/Census
1881/Eliza Smith/Daughter, Teacher/22/London, Middlesex/Census
1881/Sarah Smith/Daughter, Court Dress Maker/21/London, Middlesex/Census
1881/Amy Smith/Daughter, Teacher/20/London, Middlesex/Census
1881/Thomas Smith/Daughter/19/London, Middlesex/Census
1881/Annise Smith/Daughter/15/London, Middlesex/Census
1881/Catherine Worboys/Niece, Governess/23/London, Middlesex/Census
1881/Charles Ashley/Barman/26/Clapham, Surrey/Census
1881/William Qinley/Barman/20/London, Middlesex/Census
1881/Rosa Sharland/Barmaid/20/Wellington, Somerset/Census
1881/Hannah M Reeve/Barmaid/21/Lynn, Norfolk/Census
1881/Harriet Granger/Nurse/29/Clerkenwell, Middlesex/Census
1881/Lucy A Russell/Housemaid/23/London E C, Middlesex/Census
1881/Eliza Obin/Cook/40/Stantonwick, Gloucester/Census

1882/George Anthony Smith/../../../Post Office Directory ****

1938/Rehm Brothers Ltd/../../../Post Office Directory ****

1944/Rehm Brothers Ltd/../../../Post Office Directory ****



** Provided By Stephen Harris

**** Provided By Kevan
Search for a pub, an address or person
And Last updated on: Wednesday, 03-Jul-2019 01:18:44 BST