Pub history and pub wiki
Victoria Stores, 10 Allington Street, St George Hanover Square SW1
St George Hanover Square pub history index
In 1871, this is also listed as Stockbridge Terrace, which is at the corner of Allington Street. In 1881, Richard Roe is at a coffee house, where his widowed mother is manageress. This pub was first licensed in 1860 and was rebuilt in 1924 at No. 3 Allington Street, its present address. In 1963 the pub was re-named the Stage Door, the name which remains in use today. ** Closed around 2012 and demolished as part of the Victoria Circle redevelopment. *
A listing of historical London public houses, Taverns, Inns, Beer Houses and Hotels in St George Hanover Square - London. The St George Hanover Square, London listing uses information from census, Trade Directories and History to add licensees, bar staff, Lodgers and Visitors; and includes such areas of London as Knightsbridge, Mayfair and Pimlico.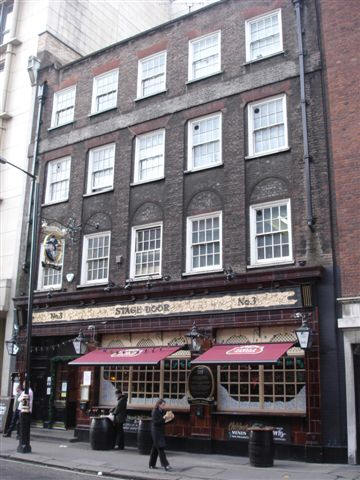 Victoria Stores, 10 Allington Street, SW1 - in November 2007
Kindly provided by Stephen Harris
The following entries are in this format:
Year/Publican or other Resident/Relationship to Head and or Occupation/Age/Where Born/Source.
1869/Richard Roe/Coffee Rooms/../../Post Office Directory ****

1871/Richard Roe/Borking Office Keeper & Coffee Rooms/50/Brixton, Surrey/Census ****
1871/E Roe/Wife/51/Brighton, Sussex/Census
1871/R Roe/Son/27/Pimlico, Middlesex/Census
1871/E Roe/Son/25/Lambeth, Surrey/Census
1871/E Roe/Daughter/20/East Sheen, Surrey/Census
1871/A Roe/Daughter/18/Pimlico, Middlesex/Census
1871/W Roe/Son/16/Pimlico, Middlesex/Census
1871/Elizabeth Ladd/Servant/52/Wellingborough, Northampton/Census
1871/Elizabeth Downs/Servant/25/Weybridge, Surrey/Census
1871/Emily Reeves?/Servant/27/Northampton/Census
1871/George Downes/Servant/28/London/Census

1876/Richard Roe/../../../Post Office Directory **

1881/Richard Roe/Son, Barman/36/London, Middlesex/Census ****

1891/Richard Roe/Beer Retailer/../../Post Office Directory ****

1901/Wm Thomas Hearn/../../../Post Office Directory **

1910/Mrs Eliza Ledger/Beer Retailer/../../Post Office Directory ****

1915/Mrs Eliza Ledger/Beer Retailer/../../Post Office Directory ****



* Provided By Tris

** Provided By Stephen Harris

**** Provided By Kevan
Search for a pub, an address or person
And Last updated on: Wednesday, 03-Jul-2019 01:18:45 BST