Search London wiki and Pub wiki history sites
All public house, restaurants, bars etc closed for the forseeable future from 20th March 2020, but this is a history site.
George & Dragon, 18 New North street WC1
St George Martyr pub history index
aka George; By the 1980s it had been re-named the Moon. It is now closed and in commercial use. *
A listing of historical London public houses, Taverns, Inns, Beer Houses and Hotels in St George Martyr parish, London. The St George Martyr, London Public House Trade Directory uses information from census, Trade Directories and History to add licensees, bar staff, Lodgers and Visitors.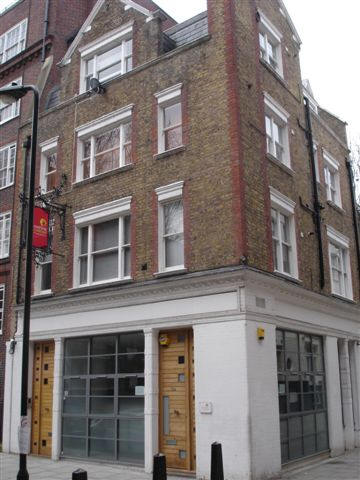 George & Dragon, 18 New North Street, WC1 [renamed the Moon in the 1980's - in March 2007
Kindly provided by Stephen Harris
Residents at this address
1843/John Cover/../../../Post Office Directory

1848/John Cover/../../../Post Office Directory

1851/John Cover/../../../Kellys Directory

1856/John Sutton/../../../Post Office Directory

1861/Charles Brookbank/Licensed Victualler/38/Paddington, Middlesex/Census
1861/Maria Brookbank/Wife/41/St Germains, Cornwall/Census
1861/Maria Brookbank/Daughter/17/Bloomsbury, Middlesex/Census
1861/Julia Brookbank/Daughter/4/St George Martyr, Middlesex/Census
1861/Thomas Hudson/Potman/27/Kew, Surrey/Census
1861/Susannah Mays/House Servant/38/Lavenham, Suffolk/Census
1861/Martha Phillips/House Servant/17/London, Middlesex/Census

February 1862/Charles Brookbank/Outgoing Licensee/../../Era

February 1862/Robert Wilson/Incoming Licensee/../../Era

October 1866/James Webb/ Outgoing Licensee /../../The Era

October 1866/Thomas Weatherley/ Incoming Licensee /../../The Era

1867/Thomas Weatherley/Steward/../../Licensed Victuallers Association

1869/Thomas Weatherley/../../../Post Office Directory

May 1872/Edward Henry Clayton/ Outgoing Licensee /../../The Era

May 1872/George Tienken/ Incoming Licensee /../../The Era

1873/Mary Ann Hancock/../../../Holborn Petty Sessions

1874/Mary Ann Hancock/../../../Holborn Petty Sessions

1875/George White/../../../Holborn Petty Sessions

1876/George White/../../../Holborn Petty Sessions

1877/George White/../../../Holborn Petty Sessions

1878/Henry Horns/../../../Holborn Petty Sessions

1879/Henry Horns/../../../Holborn Petty Sessions

1880/Henry Horns/../../../Holborn Petty Sessions

1881/Louisa Bannell/../../../Holborn Petty Sessions

1881/Louisa Bonnell/Licensed Victualler, Mother, Widow/50/Norwich/Census
1881/Louise Eade/Daughter, Out Of Business, Widow/27/London, Middlesex/Census
1881/John W Bonnell/Son, Barman/25/London, Middlesex/Census
1881/Frederick J Bonnell/Son, Clerk In Insurance Office/23/London, Middlesex/Census
1881/Annie Bonnell/Daughter/14/London, Middlesex/Census
1881/Hannah Murrell/Domestic Servant/36/Norwich/Census
1881/Thomas Bradford/Potman/16/Exeter, Devon/Census

1882/Louisa Bannell/../../../Holborn Petty Sessions

1882/Mrs L Bannell/../../../Post Office Directory

1884/Louisa Bannell/../../../Post Office Directory

1895/William Huett/../../../Post Office Directory

My grandfather, Jack Bird, owned the George & Dragon, 18 New North Street **

1899/Jack Bird/../../../Post Office Directory

1901/John J Bird/Publican/40/St Pancras, London/Census ***
1901/Francis Bird/Wife/39/Islington, London/Census
1901/Francis M A Bird/Daughter, Barmaid/20/St Pancras, London/Census
1901/Florence A Bird/Daughter, Barmaid/19/St Pancras, London/Census
1901/John J Bird/Son, Labouring Cyclist - Port/16/St Pancras, London/Census
1901/James C Bird/Son/13/St Pancras, London/Census
1901/Robt A Bird/Son/10/St Pancras, London/Census
1901/Chas J Bird/Son/9/St Pancras, London/Census
1901/Fred A Bird/Son/6/St Pancras, London/Census

1910/Jack Bird/../../../Post Office Directory

1914/Jack Bird/../../../Post Office Directory

1915/Jack Bird/../../../Post Office Directory

1934/Mrs Eliz Susan Porter/../../../Post Office Directory

1938/Walter Hy Wood/../../../Post Office Directory

1944/Charles A Sinfield/../../../Post Office Directory



* Provided By Stephen Harris

** Provided by Ed Lock

*** Provided by Sheila