Pub history, pubwiki and London
Swan, 7 Cosmo Place, St George Martyr, City of London
St George Martyr pub history index
It was present by 1797 and was re-built in its current form in 1931. At 5 Little Ormond Street in 1884 and earlier **
A listing of historical London public houses, Taverns, Inns, Beer Houses and Hotels in St George Martyr parish, London. The St George Martyr, London Public House Trade Directory uses information from census, Trade Directories and History to add licensees, bar staff, Lodgers and Visitors.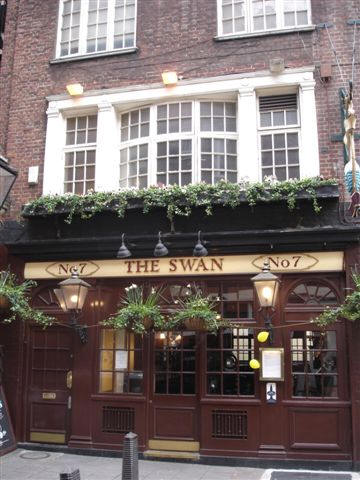 Swan, 7 Cosmo Place, WC1 - in March 2007
Kindly provided by Stephen Harris
The following entries are in this format:
Year/Publican or other Resident/Relationship to Head and or Occupation/Age/Where Born/Source.
1825/Mrs Abigail Harmer, Swan, Little Ormond street, Queen square /../../Licensed Victuallers Association

1832/S Bridges/../../../Robsons Directory

1839/Samuel Bridges/../../../Pigots Directory

1841/William Cockin/../../../Post Office Directory

1842/William Edward Watson/../../../Robsons Directory

1843/William Edward Watson, Swan, 5 Little Ormond street, Queen square/../../Kellys Directory

1848/William Edward Watson/../../../Post Office Directory

1851/William Edward Watson/../../../Kellys Directory

1851/William Edward Watson/Publican/43/Rochester, Kent/Census
1851/Ann Watson/Wife/34/Norwich, Norfolk/Census
1851/Mary Ann Watson/Daughter/10/St Martins, Middlesex/Census
1851/Frances Emily Watson/Daughter/2/St George the Martyr, Middlesex/Census

1856/J Smith/../../../Post Office Directory

1861/John Turner/Publican, Widow/30/Highgate, Middlesex/Census
1861/Jane Turner/Daughter/5/Whitechapel, Middlesex/Census
1861/Louisa Turner/Daughter/4/Spitlfields, Middlesex/Census
1861/Ann Turner/Daughter/2/Leather Lane, Middlesex/Census
1861/Ellen Turner/Daughter/1/Leather Lane, Middlesex/Census
1861/Lucy App/Housekeeper/23/Worcestershire/Census
1861/Jno Jeffries/Barman/18/Bermondsey/Census
1861/Benjamin Whitehead/Boarder, Lawyers Clerk, Widow/66/St George the martyr, Middlesex/Census
1861/Robert Wilson/Boarder, Auctioneer/21/At Sea/Census
1861/John Wells/Servant/35/Deptford, Kent/Census
1861/Sophia Holland/Servant/20/Lambeth, Surrey/Census
1861/Harriet Wells/Servant/36/City of London/Census

October 1861/assignees of John Tanner/Outgoing Licensee/../../Morning Post

October 1861/John James Lawrence/Incoming Licensee/../../Morning Post

April 1862/John James LawrenceOutgoing Licensee/../../Era

April 1862/William Jordan/Incoming Licensee/../../Era

1869/John Charles Smith/../../../Post Office Directory

1873/Sidney Dickett/../../../Holborn Petty Sessions

1874/Sidney Dickett/../../../Holborn Petty Sessions

1875/Sidney Dickett/../../../Holborn Petty Sessions

1876/Edwin Collett/../../../Holborn Petty Sessions

1877/Edwin Collett/../../../Holborn Petty Sessions

1878/Edwin Collett/../../../Holborn Petty Sessions

1879/Edwin Collett/../../../Holborn Petty Sessions

1880/Edwin Collett/../../../Holborn Petty Sessions

1881/Edwin Collett/../../../Holborn Petty Sessions

1881/Edwin Collett/Licensed Victualler/62/Somerse/Census
1881/Martha Collett/Wife/65/London, Middlesex/Census
1881/Harriet M Collett/Daughter/36/London, Middlesex/Census
1881/Henry E Collett/Son/33/London, Middlesex/Census
1881/William Lucas/Potman/32/Eastbourne, Sussex/Census
1881/Ann Bradley/Domestic Servant, Widow/40/Essex/Census

1882/William Meredith/../../../Holborn Petty Sessions

1884/William Meredith/../../../Post Office Directory

1891/William Meredith/../../../Post Office Directory

1891/William Meredith/Publican, Widow/55/Brecosnhire, Wales/Census
1891/Mary Ann Morgan/Niece, Barmaid/17/Brecosnhire, Wales/Census
1891/Martja Clarke/Hosekeeper/45/Mere, Wiltshire/Census
1891/Catherine Hayes/General Servant/29/London/Census
1891/Daniel W Hoare/Potman/30/St Pancras, London/Census

1895/William Meredith/../../../Post Office Directory

1899/Augustus Jeffs/../../../Post Office Directory

1901/Pauline Baggett/Licensed Victuallers Manager/36/Germany, Naturalized/Census
1901/William A Kidd/Barman/22/Edinburgh, Scotland/Census
1901/Jesse Halliday/Barman/21/London/Census
1901/William Keys/Potman/49/London/Census
1901/Victoria Hine/Domestic Servant/16/London/Census

1910/Augustus Jeffs/../../../Post Office Directory

1911/Richard Mayston/Licensed Victuallers Manager/33/Walworth/Census
1911/Ada Mayston/Wife, Manageress/37/London/Census
1911/James Day/Potman/23/Kennington/Census
1911/Albert Meacham/Assistant/23/Sheffield/Census
1911/Christine Brown/Domestic Servant/32/Bethnal Green/Census
1911/Florence Boston/Domestic Servant/20/Camberwell/Census

1921/Clarke & Harwood/../../../Post Office Directory

1944/Arthur Clarke Ltd/../../../Post Office Directory



** Provided By Stephen Harris