Search London wiki and Pub wiki history sites
All public house, restaurants, bars etc closed for the forseeable future from 20th March 2020, but this is a history site.
Wheatsheaf, 51 Red Lion street WC1R
St George Martyr pub history index
At 51 Red Lion Street in 1856, Long closed as a pub. *
A listing of historical London public houses, Taverns, Inns, Beer Houses and Hotels in St George Martyr parish, London. The St George Martyr, London Public House Trade Directory uses information from census, Trade Directories and History to add licensees, bar staff, Lodgers and Visitors.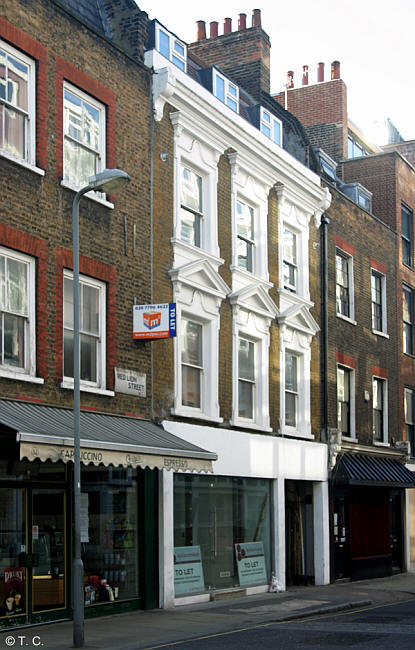 Wheatsheaf, 51 Red Lion Court, St George Martyr - in 2013
Kindly provided by Tris
Residents at this address
1811/J Ridley, Wheatsheaf, Red Lion street, Holborn/../../Holdens Directory

1825/Mr Spencer/../../../Licensed Victuallers Association

1839M Roberts/../../../Pigots Directory

1841/John Madew/../../../Post Office Directory

1842/J Madew/../../../Robsons Directory

1848David Dudman/../../../Post Office Directory

November 1850/Charles Dear/Outgoing Licensee/../../Era

November 1850/Robert Caunt/Incoming Licensee/../../Era

1856/James Cossins/../../../Post Office Directory

February 1857/James Cossins/ Outgoing Licensee /../../The Era

February 1857/William Holloway/ Incoming Licensee /../../The Era

October 1859/George Thomas/Outgoing Licensee/../../Era

October 1859/Benjamin Sudell/Incoming Licensee/../../Era

July 1861/Benjamin Sudell/Outgoing Licensee/../../Era

July 1861/Emma Louisa Collier/Incoming Licensee/../../Era

April 1862/Emma Louisa Collier/Outgoing Licensee/../../Era

April 1862/Alfred Wilson/Incoming Licensee/../../Era

1869/W Rippin/../../../Post Office Directory

1873/Martin John Sunderland/../../../Holborn Petty Sessions

1874/Augusta Stockbridge/../../../Holborn Petty Sessions

1875/Augusta Stockbridge/../../../Holborn Petty Sessions

1876/Robert George/../../../Holborn Petty Sessions

1877/James Symes/../../../Holborn Petty Sessions

1878/Launcelot Hollingsworth/../../../Holborn Petty Sessions

1879/Edwin Tompkins/../../../Holborn Petty Sessions

1880/Edwin Tompkins/../../../Holborn Petty Sessions

1881/Joseph Charles Schleicher/../../../Holborn Petty Sessions

1881/Joseph Charles Schleicher/Licensed Victualler/34/Shadwell, Middlesex/Census
1881/Charlotte Alice Schleicher/Wife/35/Bourne Hall Farm, Hertford/Census
1881/Henry Gregory/Servant/22/Cheltenham, Gloucester/Census
1881/Emma Ellick/Servant/16/Poplar, Middlesex/Census

1882/Henry Howard/../../../Holborn Petty Sessions

1884/Henry Howard/../../../Post Office Directory

1891/Geo Webster Partington/../../../Post Office Directory

1895/Frank Edward Grimley/../../../Post Office Directory

1899/Frank Edward Grimley/../../../Post Office Directory

1910/Alfred Law/../../../Post Office Directory

1914/Alfred Law/../../../Post Office Directory

1915/Alfred Law/../../../Post Office Directory

1921/Alfred Law/../../../Post Office Directory



* Provided By Tris