Search London wiki and Pub wiki history sites
All public house, restaurants, bars etc closed for the forseeable future from 20th March 2020, but this is a history site.
Camden Arms, 18 Store street WC1
St Giles pub history index
This pub was established in 1861 as the Camden Arms, was renamed the University Tavern in 1971 and renamed the College Arms in 2002. **
A listing of historical public houses, Taverns, Inns, Beer Houses and Hotels in St Giles in Fields, London. The St Giles in Fields , London listing uses information from census, Trade Directories and History to add licensees, bar staff, Lodgers and Visitors.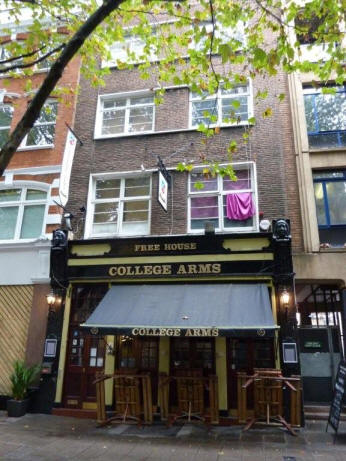 Camden Arms, 18 Store Street, WC1 - in October 2009
Kindly provided by Stephen Harris
Residents at this address
1861/Samuel South/Victualler/63/Nepton, Leicestershire/Census
1861/Hannah South/Wife/32/Sea, Lincolnshire/Census
1861/John S South/Son/8/St Andrew, Middlesex/Census
1861/Henry P South/Son/6/St Lukes, Middlesex/Census
1861/James S South/Son/4/St Lukes, Middlesex/Census
1861/Harriett E South/Daughter/2/St Lukes, Middlesex/Census
1861/Harriett Page/Sister in Law, Dressmaker/27/Sea, Lincolnshire/Census
1861/Louisa Page/Sister in Law, Barmaid/20/Sea, Lincolnshire/Census
1861/Fanny South/Niece, Servant/19/Beaton, Lincolnshire/Census

1862/Samuel South/../../../Post Office Directory

1869/John Hine/../../../Post Office Directory

1871/John Hine/Licensed Victualler/41/Knotting, Bedfordshire/Census
1871/Jenny Hine/Wife/32/Ipswich, Essex/Census
1871/Flora Hine/Daughter/15/Epping, Essex/Census
1871/Kate Matthews/Barmaid/16/Bassingbourne, Cambridge/Census
1871/Sarah Ellis/Domestic Servant/18/Cornwall/Census
1871/N? Wilson/Potman/28/West Ham, Essex/Census

1873/John Hine/../../../Holborn Petty Sessions

1874/John Hine/../../../Holborn Petty Sessions

1875/John Hine/../../../Holborn Petty Sessions

1876/John Hine/../../../Holborn Petty Sessions

1877/John Hine/../../../Holborn Petty Sessions

1878/John Hine/../../../Holborn Petty Sessions

1879/John Hine/../../../Holborn Petty Sessions

1880/John Hine/../../../Holborn Petty Sessions

1881/John Hine/Licenced Victualler/51/Knotting, Bedford/Census
1881/Elizabeth Hine/Wife/42/Ipswich, Suffolk/Census
1881/Elizabeth York/Domestic Servant, Widow/47/Brentford, Middlesex/Census
1881/Margaret Walsh/Barmaid/24/Bromley, Middlesex/Census
1881/Maria Dickinson/Barmaid/21/(B S), France/Census
1881/Edward Cromin/Waiter/21/St Pancras, Middlesex/Census

1881/John Hine/../../../Holborn Petty Sessions

1882/John Hine/../../../Holborn Petty Sessions

1884/Henry Keeble/../../../Post Office Directory

1891/Frederick Anderson/../../../Post Office Directory

1899/Frederick Anderson/../../../Post Office Directory

1906/Mark Hildyard/../../../Post Office Directory

1921/William A Smith/../../../Hughes Directory

1938/Henry Sisson Hyde/../../../Post Office Directory

1940/Henry S Hyde/../../../Post Office Directory

1944/Henry Sisson Hyde/../../../Post Office Directory



** Provided By Stephen Harris