Search London wiki and Pub wiki history sites
All public house, restaurants, bars etc closed for the forseeable future from 20th March 2020, but this is a history site.
Crown & Anchor, 22 Neal street WC2H 9PS
St Giles pub history index
The address changes from 36 King Street to 22 Neal Street sometime after 1882. Ex-Watney's/Reid's. Rebuilt 1904. *
A listing of historical public houses, Taverns, Inns, Beer Houses and Hotels in St Giles in Fields, London.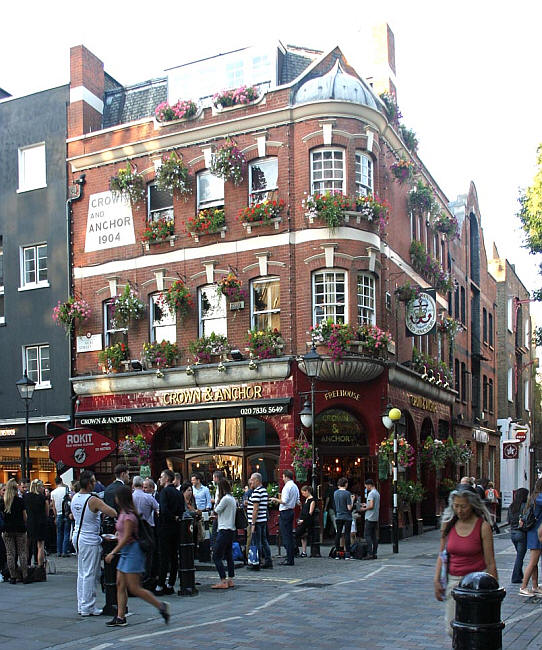 Crown & Anchor, 22 Neal Street, London WC2H 9PS
Kindly provided by Tris
Residents at this address
1811/William Allen, Crown & Anchor, King street, Seven dials/../../Holdens Directory

1825/Mr. Canner, Crown and Anchor, King street, Seven Dials/../../Licensed Victuallers Association

1829/G Simmons, Crown & Anchor, 36 King street, Seven Dials/../../Robsons Directory

1832/A H Farr, Crown & Anchor, 36 King street, Seven Dials/../../Robsons Directory

1836/William Wills/../../../Pigots Directory

1842/William Wills/../../../Robsons Directory

1846/William Wills/../../../Post Office Directory

1848/William Wills/../../../Post Office Directory

1851/William Wills/Victualler, Widow/57/Westminster, Middlesex/Census
1851/Robert Wills/Son, Carpenters Apprentice/16/St Giles, Middlesex/Census
1851/Harriet Wills/Daughter/14/St Giles, Middlesex/Census
1851/Charles Goodland/Barman/27/Somerset/Census
1851/Mary Goodland/Niece/26/Bloomsbury, Middlesex/Census
1851/Mary Cronin/House Servant/21/Ireland/Census
1851/G Ford/Visitor, Brewers Servant/42/Wiltshire/Census

September 1855/William Wills/ Outgoing Licensee /../../The Era

September 1855/Thomas Hicklin/ Incoming Licensee /../../The Era

1856/Thomas Hickling/../../../Post Office Directory

1861/Samuel Coulson/Licensed Victualler/39/Lincolnshire/Census
1861/Mary Coulson/Wife/37/Lincolnshire/Census
1861/Mary Coulson/Daughter/11/St Georges, Middlesex/Census
1861/Susan Coulson/Daughter/9/St Georges, Middlesex/Census
1861/Ann Coulson/Daughter/4/St Giles, Middlesex/Census
1861/Elizabeth Coulson/Daughter/2/St Giles, Middlesex/Census
1861/Susan Huckberry/Visitoor/13/St Georges, Middlesex/Census
1861/Mary Gulliton/Servant/23/Cork, Ireland/Census
1861/James Rutherford/Lodger, Labourer/37/St James, Middlesex/Census
1861/Henry Lindsey/Lodger, Labourer/25/St Giles, Middlesex/Census
1861/George Tow/Lodger, Labourer/50/Collingbow, Wiltshire/Census
1861/Edward Barnes/Lodger, Servant/17/Lincolnshire/Census
1861/James Broom/Lodger, Labourer/23/Newton, Norfolk/Census
1861/Walter Crick/Lodger, Labourer/16/Thorpe, Suffolk/Census

1862/S Coulson/../../../Post Office Directory

1869/Charles Thornton/../../../Post Office Directory

1873/John Coulson/../../../Holborn Petty Sessions

1874/John Coulson/../../../Holborn Petty Sessions

1875/John Coulson/../../../Holborn Petty Sessions

1876/John Coulson/../../../Holborn Petty Sessions

1877/John Coulson/../../../Holborn Petty Sessions

1878/John Coulson/../../../Holborn Petty Sessions

1879/John Coulson/../../../Holborn Petty Sessions

1880/John Coulson/../../../Holborn Petty Sessions

1881/John Harnston Coulson/../../../Holborn Petty Sessions

1882/John Harnston Coulson/../../../Holborn Petty Sessions

1891/John Harnston Coulson/../../../Post Office Directory

1899/Samuel John Coulson/../../../Post Office Directory

1910/Samuel John Coulson/../../../Post Office Directory

1921/Samuel J Coulson/../../../Hughes Directory

1927/Mrs Mary Ann Lovett/../../../Post Office Directory

1934/Mrs Mary Ann Lovett/../../../Post Office Directory

1938/Harry White/../../../Post Office Directory

1940/Cecil John Chandler/../../../Post Office Directory

1944/Cecil John Chandler/../../../Post Office Directory



* Provided by Tris