Search London wiki and Pub wiki history sites
All public house, restaurants, bars etc closed for the forseeable future from 20th March 2020, but this is a history site.
Crown & Cushion, 51 Parker street WC2B
St Giles pub history index
At 51 Parker Street, Drury Lane by 1891; This pub went through a succession of names in the late 20th century, including Kingsway Tavern, Fulmar & Firkin and Parker Place. It closed in around 2007 and is currently disused. **
A listing of historical public houses, Taverns, Inns, Beer Houses and Hotels in St Giles in Fields, London. The St Giles in Fields , London listing uses information from census, Trade Directories and History to add licensees, bar staff, Lodgers and Visitors.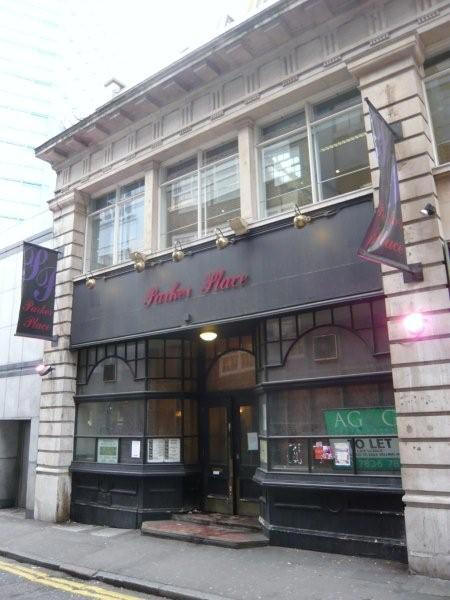 Crown & Cushion, 51 Parker Street, WC2 - in November 2008
Kindly provided by Stephen Harris
Residents at this address
1848/Benjamin Jones/../../../Post Office Directory

September1850/Nathaniel Davis/Outgoing Licensee/../../Era

September 1850/William Bouch/Incoming Licensee/../../Era

1851/<atilda Bailey/Licensed Victualler, Widow/42/St Lukes, Middlesex/Census
1851/John Bailey/Son, Barman/20/Vauxhall, Middlesex/Census

1856/Frederick Melen/../../../Post Office Directory

1861/Fanny Chapman/Licensed Victualler, Widow/36/Essex/Census
1861/Robert Chapman/Son/13/Bishopsgate, Middlesex/Census
1861/George Chapman/Son/9/Bishopsgate, Middlesex/Census
1861/John Chapman/Son/7/Bishopsgate, Middlesex/Census
1861/Emily Stanford/Niece, Barmaid/16/Chieveley, Berkshire/Census
1861/Joseph Cornell/Potman/28/Stifford, Essex/Census
1861/Jane Davis/Cook/45/Portsea, Hampshire/Census

1873/Denis Andrew Lyons/../../../Holborn Petty Sessions

1874/Mary Agnes Lyons/../../../Holborn Petty Sessions

1875/Mary Agnes Lyons/../../../Holborn Petty Sessions

1876/Mary Agnes Lyons/../../../Holborn Petty Sessions

1877/Mary Agnes Lyons/../../../Holborn Petty Sessions

1878/Arthur James Jerram/../../../Holborn Petty Sessions

1879/Arthur James Jerram/../../../Holborn Petty Sessions

1880/Arthur James Jerram/../../../Holborn Petty Sessions

1881/Arthur James Jerram/../../../Holborn Petty Sessions

1882/Arthur James Jerram/../../../Holborn Petty Sessions

1885/Arthur James Jerram/../../../Post Office Directory **

1891/Charles Auborn/../../../Post Office Directory

1895/Charles Auborn/../../../Post Office Directory

1899/Mrs Annie Elizabeth Crouch/../../../Post Office Directory

1904/William Best/../../../Post Office Directory **

1910/William Usher/../../../Post Office Directory



** Provided By Stephen Harris