Search London wiki and Pub wiki history sites
All public house, restaurants, bars etc closed for the forseeable future from 20th March 2020, but this is a history site.
Freemasons Tavern, 61 to 63 Great Queen street WC2B
St Giles pub history index
The Freemasons Tavern existed from about 1775. It becomes the Connaught Rooms after being demolished in 1909 (maybe earlier); it is listed in the hotels, inns and taverns listing in 1829 and 1899, and as late as 1904.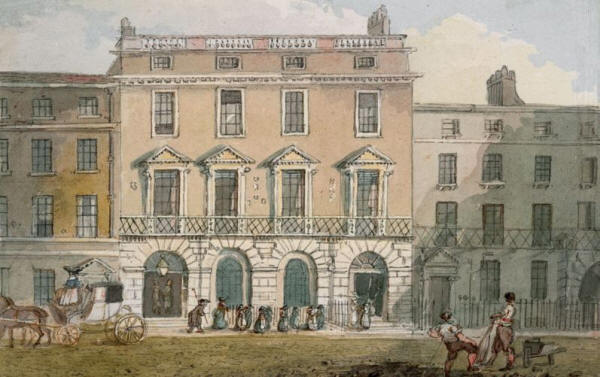 Watercolour of the Freemasons Tavern, Great Queen street by John Nixon in 1800
John Nixon (c.1750-1818) - http://www.freemasonry.london.museum/resources/history-of-freemasons-hall/

A listing of historical public houses, Taverns, Inns, Beer Houses and Hotels in St Giles in Fields, London.
Residents at this address
1775/An additional Abstract of title to a freehold estate situated in Great Queen Street...[on] which formerly stood two messuages or tenements one whereof was in the possession or occupation of Mr Hudson and Mr Worledge and the other with a garden behind the same in the possession or occupation of Philip Carteret Webb, Esq but whereon have since been erected two messuages or tenements called Free Masons Hall and Free Masons Tavern,' c November 1775/held by the Museum of Freemasonry

March 1790/Insured: Michael Richold and John Mollard, for themselves and in trust for the proprietors of Free Masons Tavern (Other property or occupiers: Free Masons Tavern, Great Queen Street, Lincolns Inn Fields/ Sun Fire Insurance records held by the LMA

1805/Reilly and Harrison, wine merchants, Free Masons Tavern, Great Queen street, Lincolns Inn fields/../../Holdens Directory

1811/Thorn and Cuff, tavern keepers, Freemasons Tavern, Great Queen street, Lincolns Inn fields/../../Holdens Directory

1822/Freemasons Tavern, I J Cuff, Great Queen street, Lincolns Inn fields/../../Robsons Directory

1829/Cuff & Son, Freemasons Tavern, 59 Great Queen street, Lincoln's inn fields/../../Robsons Directory

1832/Cuff & Son, Freemasons Tavern, Great Queen street, Lincoln's inn fields/../../Robsons Directory

1842/Cuff & Bacon, Freemasons Tavern, 62 Great Queen street, Lincoln's inn fields/../../Robsons Directory

1843/Cuff & Bacon, Freemasons Tavern, 62 Great Queen street, Lincoln's inn fields/../../Post Office Directory

1848/Thomas Michael Bacon/../../../Post Office Directory

1851/Thomas Michael Bacon/Hotel Tavern Keeper/43/Bridgenorth, Shropshire/Census
1851/Louisa Bacon/Wife/43/Marylebone/Census
1851/John Coles/Stepson, Book Keeper/24/Chelmsford/Census
1851/Thomas Bacon/Son, Assistant/18/St Giles in Fields, Middlesex/Census
1851/Edward Bacon/Son, Engineer at Exhibition/15/St Giles in Fields, Middlesex/Census
1851/Frances E Bacon/Daughter/11/St Giles in Fields, Middlesex/Census
1851/Louisa Bacon/Daughter/4/St Giles in Fields, Middlesex/Census
1851/Henry Roberts/Lodger, Wine Merchant/43/Warwickshire/Census
1851/Elizabeth Roberts/Lodger/43/Somerset/Census
1851/Mary Ann Davies/Housekeeper/38/Bromley, Kent/Census
1851/Sarah Jones/Stillroom maid, Widow/27/Chelsea/Census
1851/Sarah Walker/Chambermaid/32/South Ockendon/Census
1851/Sarah Bailey/Housemaid/23/Leicestershire/Census
1851/E,,a Beckett/Housemaid/18/St Giles in Fields, Middlesex/Census
1851/Mary Ann Smith/Cook, Widow/32/Witham, Essex/Census
1851/Robert Plum/Porter/22/Norfolk/Census
1851/James Nichols/Porter/28/Buckinghamshire/Census
1851/Louis S Banks/Waiter/31/Germany/Census
1851/Ann Erswell/Housekeeper, Widow/45/Yorkshire/Census
1851/Sarah Hill/Nursemaid/24/Easton, Suffolk/Census
1851/Sarah Thompries/Barmaid/24/Montgomeryshire/Census
1851/Jane Taylor/Store Room maid/29/Borough/Census
1851/Ellen Woodfall/Housemaid/29/Suffolk/Census
1851/Charlotte Shanton/Kitchenmaid/28/Hampshire/Census
1851/Margaret Damery/Kitchenmaid/20/Dublin/Census
1851/Ann Logan/Housemaid/31/Dublin/Census
1851/Sarah Eastherton/Housemaid/15/Ratcliff/Census
1851/Eliza Cheeseman/Housemaid/23/Purbright, Surrey/Census
1851/Margaret Holey/Housemaid/23/St Clements/Census
1851/James Brook/Porter/28/Coasfield, Suffolk/Census
1851/William Lucy/Visitor, Mayor of Birmingham/46/Stratford on Avon/Census
1851/William James/Visitor, Alderman/56/Peckham Rye/Census
1851/James James/Visitor, Alderman, Widow/60/Blandford, Dorset/Census
1851/Spencer Birks/Cook Apprentice/20/Camden Town/Census
1851/Joseph Boyce/Porter/28/Sunning Hill/Census
1851/Samuel Rondo/Waiter/23/Lydford, Devon/Census
1851/James Dyer/Waiter/19/Blackfriars road/Census
1851/Robert Williamson/Waiter/23/Castle street, Oxford street/Census
1851/Charles Zyrell/Porter/21/Brentwood, Essex/Census
1851/John Hodson/Cook Apprentice/16/Brighton, Sussex/Census
+ Many Visitors

June 1855/William Watson, Thomas John Coggin and Benjamin Banks/Outgoing Licensee/../../Era Newspaper

June 1855/George Goode Elkinton/Incoming Licensee/../../Era Newspaper

1856/Elkington & Co/../../../Post Office Directory

1861/George E Elkington/Tavern Keeper, Widow/50/Northampton/Census
1861/Phoebe Barr/Cousing, Housekeeper/35/Walwick, Walgrave/Census
1861/Ann Goswell/Head Barmaid, Widow/61/Wuby, Yorkshire/Census
1861/Jane Loneyman/Housemaid/33/Bethnal Green, Middlesex/Census
1861/Mary Kerby/Storeroom Maid/27/Ireland/Census
1861/Elizabeth Dearlove/Under Barmaid/23/Marylebone, Middlesex/Census
1861/John Darcocks/Doorkeeper/63/Rempsey, Worcestershire/Census
1861/John Flinn/Porter/23/Northampton/Census
1861/Joseph Mington/Waiter/20/Preston, Suffolk/Census
1861/Thomas H Ayten/Porter/18/St Margarets, Middlesex/Census
1861/Catherine Day/Kitchenmaid/23/Liverpool, Lancashire/Census
1861/Jane Arnold/Scullerymaid/30/Reading, Berkshire/Census
1861/Clementina Mackenzie/Housemaid/30/Scotland/Census
1861/Jane Nash/Housemaid/19/Minster, Kent/Census
1861/William Butter/Plate Cleaner/22/Beny, Berkshire/Census

February 1866/Benjamin Banks/Outgoing Licensee/../../Era

February 1866/Charles Gosden/Incoming Licensee/../../Era

1869/Chas Gosden/Manager/../../Post Office Directory

1871/Charles Elme Francatelle/Manager of Hotel, 65/London, Middlesex/Census
1871/Elizabeth Francatelle/House Keeper, Wife/30/Ramsgate, Kent/Census
1871/Sarah Ranger/Housemaid/25/Southwark, Surrey/Census
1871/Matilda Broom/Domestic Servant/25/Domyatt, Somerset/Census
1871/Mina Norton/Domestic Servant/25/London, Middlesex/Census
1871/Jane Jones/Domestic Servant/26/London, Middlesex/Census
1871/Sarah Bridges/Domestic Servant/23/London, Middlesex/Census
1871/Emma Bush/Domestic Servant/30/Norwich, Norfol/Census
1871/Charlotte Hammond/Domestic Servant/18/Essex/Census
1871/George Young/Cellarman/18/London, Middlesex/Census
1871/James Piggott/Porter/20/London, Middlesex/Census
1871/John Miller/Clerk/27/London, Middlesex/Census
1871/George Sawyer/Cook/18/Brick Long, Cornwall/Census
1871/Joseph Wood/Scullery Man/?/London, Middlesex/Census
1871/James Pope/House Porter/22/Edmonton, Middlesex/Census

1873/Charles Elme Francatelle/../../../Holborn Petty Sessions

1874/Charles Elme Francatelle/../../../Holborn Petty Sessions

1875/Charles Elme Francatelle/../../../Holborn Petty Sessions

1876/Charles Elme Francatelle/../../../Holborn Petty Sessions

1877/Edwin Dawkins/../../../Holborn Petty Sessions

1878/Edwin Dawkins/../../../Holborn Petty Sessions

1879/Edwin Dawkins/../../../Holborn Petty Sessions

1880/Edward Dawkins/../../../Holborn Petty Sessions

1881/Edward Dawkins/../../../Holborn Petty Sessions

1882/Edward Dawkins/../../../Holborn Petty Sessions

1899/Spiers & Pond Limited, proprietors/../../Post Office Directory

1904/Spiers & Pond Limited, proprietors/../../Post Office Directory