Search London wiki and Pub wiki history sites
All public house, restaurants, bars etc closed for the forseeable future from 20th March 2020, but this is a history site.
Ship, 12 Gate Street, St Giles in Fields WC2
St Giles pub history index
This pub was established in 1549 and rebuilt in its present form in 1923. Address formerly 3 Gate Street, until about 1891. **
A listing of historical public houses, Taverns, Inns, Beer Houses and Hotels in St Giles in Fields, London. The St Giles in Fields , London listing uses information from census, Trade Directories and History to add licensees, bar staff, Lodgers and Visitors.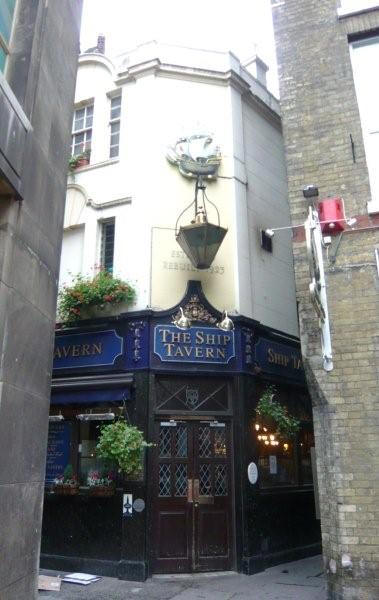 Ship, 12 Gate Street, London, WC2 - in November 2008
Kindly provided by Stephen Harris
The following entries are in this format:
Residents at this address
1851/William Grey/Victualler/55/Mark, Warwickshire/Census
1851/Mary Grey/Wife/50/Rugby, Warwickshire/Census
1851/Emma Grey/Daughter/18/Rugby, Warwickshire/Census
1851/William Grey/Son/26/Middlesex/Census
1851/Susan Robinson/Domestic Servant/20/Middlesex/Census
1851/Frederick Robinson/Pot Boy/18/Middlesex/Census

1856/James Kevis/../../../Post Office Directory

1861/Edward Mence/Licensed Victualler/55/Soho/Census
1861/Sarah Mence/Wife/50/Buckinghamshire/Census
1861/Mary Negus//Niece/20/Leatherhead, Surrey/Census
1861/Alice Negus/Daughter/1/South Weald, Essex/Census
1861/Eliza Cumber/Servant/24/Andover, Hampshire/Census
1861/Joseph Crouch/Potman/24/Newington/Census
1861/William Lamy/Lodger/34/Petershead, Aberdeen/Census

1869/J Cox/../../../Post Office Directory

1873/John Cox/../../../Holborn Petty Sessions

1874/John Cox/../../../Holborn Petty Sessions

1875/John Cox/../../../Holborn Petty Sessions

1876/John Cox/../../../Holborn Petty Sessions

1877/John Cox/../../../Holborn Petty Sessions

1878/John Cox/../../../Holborn Petty Sessions

1879/John Cox/../../../Holborn Petty Sessions

1880/John Cox/../../../Holborn Petty Sessions

1881/John Cox/../../../Holborn Petty Sessions

1882/John Cox/../../../Holborn Petty Sessions

1885/John Cox/../../../Post Office Directory **

1891/Arthur George Theobald/../../../Post Office Directory

1895/Arthur George Theobald/../../../Post Office Directory

1899/Geo Grange/../../../Post Office Directory

1900/Harry Spurway/../../../Post Office Directory **

1910/Thomas William Berry/../../../Post Office Directory



** Provided By Stephen Harris